UPDATE …
John Sidoti surrenders minister pay months into ICAC investigation

December 17, 2019
Sidelined minister John Sidoti has surrendered his ministerial salary and entitlements indefinitely, but not before earning as much as $17,300 in wages at the higher pay level while awaiting the findings of a corruption probe.
Mr Sidoti stood aside on full pay as Sports and Multiculturalism Minister on September 17 after the Independent Commission Against Corruption launched a preliminary investigation into his property investments.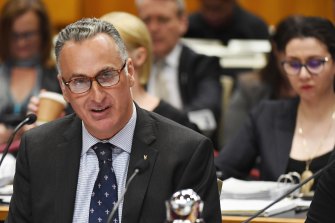 But after coming under intense criticism for continuing to draw a full ministerial salary, worth $309,621 per year including entitlements, the Liberal MP for Drummoyne voluntarily gave up the extra money in November.
In a brief statement, Mr Sidoti declined to respond to the Herald's questions, including what prompted him to make the request. He also declined to provide the date on which it was made.
"While the ICAC is conducting a preliminary investigation, I will not be making any comment," the statement said.
Based on a cutoff date of November 1, Mr Sidoti earned about $17,300 in ministerial pay – including a pro-rata expense allowance – in the intervening 45-day period, despite the fact his portfolio responsibilities were transferred to Skills Minister Geoff Lee on the day he stepped aside.
Shadow treasurer Walt Secord said Mr Sidoti "had to be dragged and shamed" into giving up his ministerial salary, after Labor repeatedly raised the issue.
"The Premier is almost as guilty as John Sidoti as she allowed him to draw a ministerial salary for almost two months – even though he was not carrying out the duties of a minister. That is incredible and simply inexcusable," Mr Secord said.
Mr Sidoti has previously denied "any allegations of wrongdoing" and has claimed he has "no undeclared conflicts of interest or benefits" in connection with his property portfolio.
The ICAC launched its investigation after Mr Sidoti's property interests were scrutinised by a parliamentary estimates committee in September, including a 10 per cent share he had acquired in a Rouse Hill development near the new Tallawong metro station.
During the estimates hearing, Labor and the Greens also alleged Mr Sidoti had belatedly declared his interests in properties owned by him and his parents in Five Dock.
RELATED ARTICLE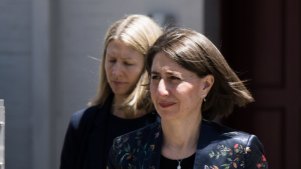 EDITORIAL
Greens MLC David Shoebridge used parliamentary privilege to accuse Mr Sidoti of using "decisions and information" about the proposed Five Dock metro to purchase properties.
When the Berejiklian government confirmed the site of the Five Dock metro station in October, it emerged that properties linked to the Sidoti family were located within 100 metres of it, including one directly opposite the site.
At the announcement, Premier Gladys Berejiklian said she "never ever" had a discussion with Mr Sidoti about the location of a metro train station in his electorate of Drummoyne.
Lisa Visentin is a state political reporter at The Sydney Morning Herald.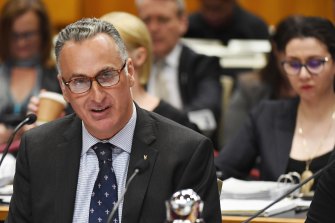 SOURCE: https://www.smh.com.au/politics/nsw/minister-sidoti-surrenders-minister-pay-months-into-icac-investigation-20191217-p53kq6.html
CAAN FACEBOOK:
https://www.facebook.com/Community-Action-Alliance-for-NSW-744190798994541/?ref=aymt_homepage_panel
WEBSITE:
https://caanhousinginequalitywithaussieslockedout.wordpress.com/