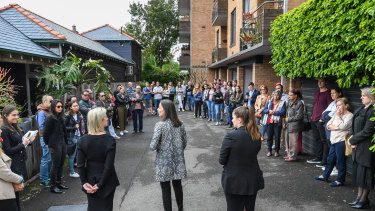 Dwelling values across the nation's capitals have had their largest monthly gain since 2003, according to CoreLogic.CREDIT:PETER RAE
IF the trend continues, housing affordability in Australia could plumb new lows before you know it …
HOW did this happen?
FOREIGN BUYERS
IN the late 1990s when the Liberal Coalition Howard Government introduced the changes to our immigration policy for the Chinese middle class to embrace the offer of "flexible citizenship" in return for investing in property and education … that obviously led to the 2003 record high house prices …
How humongous is the amount of real estate owned by foreign buyers?
-does the Australian Government know the level of assets in foreign ownership?
.Australia does not have a Foreign Ownership Register that is retrospective
.the 100% sell-off of 'new homes' to foreign buyers (FIRB ruling 2009; incr. from 50%)
.Proxy Buyers
.Anti-money laundering laws (second tranche shelved for 13 years)
.real estate gatekeepers made exempt from second tranche AML L October 2018: Morrison Government
MAKE YOUR OBJECTIONS KNOWN TO THE LABOR PARTY !

Photo: David Rowe: Morrison takes on Howard's Mantle
SYDNEY BUYERS STARVED OF STOCK
-increase in buyer numbers not matched by sellers
-with not a lot of stock to buy sellers are reluctant to list their property
Booming Australian house prices are approaching record highs, growing at their fastest rate since 2003
JACK DERWIN DEC 10, 2019
New house prices records appear near (Photo by Jonathan Brady, PA Images via Getty Images)
Australian capital city house prices shot up 2.4% in the September quarter, according to the ABS – four times what was forecast.
It marks sustained momentum in the Australian property market, with both Sydney and Melbourne prices rising 3.6% over the same period.
The latest data indicates that property prices are quickly bouncing to near their 2017 peak.
---
House prices in this country are still soaring and they show no sign of slowing down.
RELATED VIDEO
In the three months to September, house prices rose 2.4% across combined capital cities, led higher by a 3.6% jump in both Sydney and Melbourne, according to the latest ABS data.
The numbers shred expectations, with forecasts pointing to capital city growth of just 0.6% for the quarter. Comparing the numbers to its own figures, property research house CoreLogic noted the bounce is remarkable.
"Post-September the CoreLogic series has gathered further momentum with the national series recording the fastest growth since 2003 in November," head of research Tim Lawless tweeted.
ABS property price indices out today: shows a slightly stronger reading over Sep quarter relative to @corelogicau hedonic indices. Post-September the CoreLogic series has gathered further momentum with the national series recording the fastest growth since 2003 in November pic.twitter.com/M1UFR9FaqX

— Tim Lawless (@timlawless) December 10, 2019
The bounce has helped erode the losses sustained in 2018 and early 2019 – values are just 3.7% lower than they were just 12 months ago across capitals. If current momentum persists, house prices could roar back to record highs within six months.
READ MORE: If Australian property prices keep growing at this rate, they'll be breaking all-time highs by the start of next year
Sydney and Melbourne, Australia's largest real estate markets, are disproportionately leading the trend. Hobart came in third for the quarter, rising 1.3% with Brisbane values lifting 0.7%, according to the ABS. Meanwhile, Perth and Adelaide both declined.
It comes as auction clearance rates remain above 70%, again pushed higher by Australia's largest two cities. Last weekend, the busiest of the year, more than 74% of homes sold at some 3,206 auctions, according to property research house CoreLogic.
With rates above 65% signalling moderate price growth, according to Domain economist Trent Wiltshire, it's no wonder prices are shooting higher.
*As pay rises remain elusive, it's doing little for affordability, as house price growth outstrip wages.
Australia's dwelling price-to-income ratio ticked up slightly in the September quarter. Now 8.2% below its peak.

Saving for a deposit though is still incredibly hard, compared with what was typically from 2003 to 014 #ausproperty pic.twitter.com/fuKVtGP08L

— Callam Pickering (@CallamPickering) December 10, 2019
*If the trend continues, housing affordability in Australia could plumb new lows before you know it.
Sydney buyers starved of stock continue to storm the market and push clearance rates to exceptionally high levels: SMH
SOURCE: https://www.businessinsider.com.au/australia-house-prices-sydney-melbourne-bounce-abs-2019-12?utm_source=Business+Insider+Australia+-+10+things+you+need+to+know+in+the+morning+in+Australia&utm_campaign=d5d71fa0d9-businessinsider_2019_12_11&utm_medium=email&utm_term=0_8a990bd96b-d5d71fa0d9-278993497
CAAN FACEBOOK:
https://www.facebook.com/Community-Action-Alliance-for-NSW-744190798994541/?ref=aymt_homepage_panel
WEBSITE:
https://caanhousinginequalitywithaussieslockedout.wordpress.com/