HEFTY FINES FOR AUSSIES … who do not comply with Level 2 Water Restrictions
IT is understandable with dam levels across GREATER SYDNEY sitting at 45 per cent …
BUT WHY does the Morrison Government allow 160,000 Permanent Migrants annually … and more importantly why it maintains:
-2.2 MILLION VISA HOLDERS IN AUSTRALIA … AT ANY POINT IN TIME?
The PUSH for the second Airport at Badgery's Creek has always been about flying in more …
… Home Buyers from our Big Neighbour to the North to become 'Permanent Residents' … a diaspora of 3 or 4 million now!
THE INFRASTRUCTURE that the Premier and her team boast about is all about facilitating:
–Development and Residency for them!
NSW Constituents are losing their heavy rail network to be replaced by the privatised Hong Kong Consortium MTR dinky Metro
WHERE is the emergency grey water system policy? A subsidy for every building?
And strict high WELS tapware policy?
We have been notified that the 100,000 slums have no grey water systems at all! Is this so?
AND the consequences are:
"Currently, dam levels across Greater Sydney are sitting at 45 percent — the lowest in a decade.
"Given the rapid rate of decline of our dam levels we have decided to enact the next level of restrictions sooner than planned," Premier Gladys Berejiklian said in a statement.
"We're experiencing one of the most severe droughts on record and we expect introducing level two restrictions to save 78.5 gigalitres of water per year.""
Hefty Fines Ahead As Tough New Water Restrictions Kick In
Play VideoPlayMute0:00/2:02Loaded: 0%Progress: 0% Fullscreen
10 daily news reporter
Mon 09 Dec 2019
Level two water restrictions are about to kick in for a huge number of NSW residents with hefty fines to be handed out to those who don't comply.
As another long, hot summer gets underway, water restrictions have been ramped up in a bid to retain as much water in our dams as possible.
From Tuesday, anyone living or working in Sydney, the Blue Mountains or Illawarra will have to abide by the following rules:
HOSES AND SPRINKLERS CANNOT BE USED TO WATER GARDENS
Residents are allowed to water their lawn or garden before 10am and after 4pm but only using a watering can or bucket.
Drip irrigation systems or 'smart' watering systems can also be used but only for a maximum of 15 minutes a day.
Sprinklers and hoses are banned.
VEHICLES MUST BE WASHED WITH BUCKET AND SPONGE
Similarly, hoses cannot be used to wash a vehicle even it is fitted with a trigger nozzle.
Cars, trucks, vans, motorbikes or caravans can only be washed using a bucket and sponge or at a commercial car wash.
If a private boat has been in seawater, a hose fitted with a trigger nozzle may be used for a maximum of 10 minutes.
ONLY EVAPORATED WATER CAN BE REPLACED IN POOLS AND SPAS
An existing pool or spa can only be topped up with a watering can, bucket or hose with a trigger nozzle for 15 minutes per day.
Residents can only replace water lost through evaporation, not an amount deliberately removed. A permit is required before a new or renovated pool of any size is filled.
Recycled water, greywater, rainwater or bore water can be used to fill or top up your pond or water feature.
WATER RELATED KIDS TOYS ARE ALSO BANNED
Any toy connected to a hose such as slip n slides are now banned.
Sprinklers cannot be turned on for children to play under.
Individuals caught not complying with the new water restrictions will be slapped with a $220 fine, businesses will face a $550 fine for businesses
YOU CAN SPOT CLEAN HARD SURFACES IF THERE ARE HEALTH HAZARDS
Sydney Water has confirmed that hard surfaces can be spot cleaned with a hose fitted with a trigger nozzle or a high-pressure cleaner if there is a health, safety or emergency reason.
Garbage bins can also be washed with a hose fitted with a trigger nozzle. However, driveways or windows will need to be cleaned with a bucket and sponge or a broom.
You can find plenty more information here.
With the drought only getting worse, Level 2 restrictions will be in place from 10 December.
Fines will apply, so find out how restrictions apply to you https://lovewater.sydney/restrictions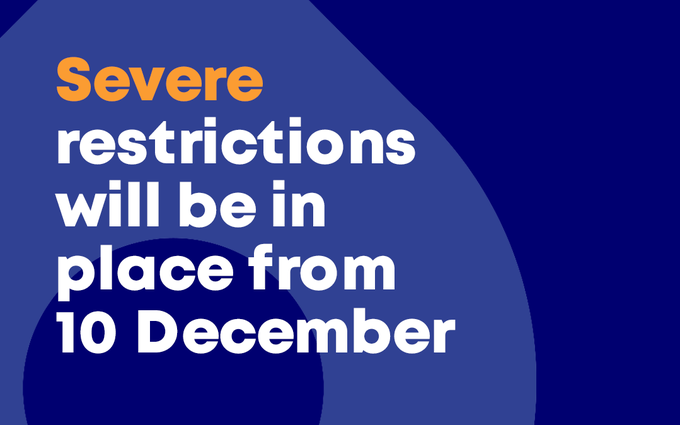 1412:19 PM – Nov 21, 2019Twitter Ads info and privacy22 people are talking about this
READ MORE
Even Tougher Water Restrictions Are Coming: What Do They Mean For You?
Why Such Stringent Water Levels?
More than 85 percent of Sydney's water supply relies on rain, which means our water is in short supply during intensive drought.
Currently, dam levels across Greater Sydney are sitting at 45 percent — the lowest in a decade.
"NSW is currently experiencing one of the most severe droughts on record and Sydney is not exempt from the drought. By introducing Level 2 restrictions we will save 78.5 gigalitres of water," Water Minister Melinda Pavey said on Monday.
"We're doing the work to save as much drinking water as we can, particularly as we go into another hot and dry summer".
Businesses who rely upon outdoor water use as part of their operations will need to get an exemption.
"If a business applied for and received a permit under the previous level of restrictions, they'll need to contact Sydney Water to confirm it's still valid," Pavey said.
SOURCE: https://10daily.com.au/news/a191208qhykz/hefty-fines-ahead-as-tough-new-water-restrictions-kick-in-20191209?utm_medium=social&utm_content=tnn-facebook&utm_source=facebook&utm_campaign=socialflow&fbclid=IwAR24G_q9pSuTEFFXq_2aZoYRGUMgbIxTB8_tjXaUtEpjwNkop5CHAqXpOes
CAAN FACEBOOK:
https://www.facebook.com/Community-Action-Alliance-for-NSW-744190798994541/?ref=aymt_homepage_panel
WEBSITE:
https://caanhousinginequalitywithaussieslockedout.wordpress.com/