The great "skills shortage" myth debunked again
By Unconventional Economist in Australian Economy
December 6, 2019 | 2 comments
Businesses incessant claims about 'skills shortages' has been shattered again, with university graduates taking 2.6 years after graduation to land a full-time job, according to a recent report from the Foundation for Young Australians:
The proportion of young Australians in full-time work prior to age 25 has also declined markedly over the past 30 years. In 1980, 53% of 15 to 24 year-olds were in full-time work, compared to only 26% today (Figure 2). Although some of this decline has been driven by young people spending longer in post-school education, many young people would like to work more if they had the opportunity. In other words, young people are underutilised in the labour market.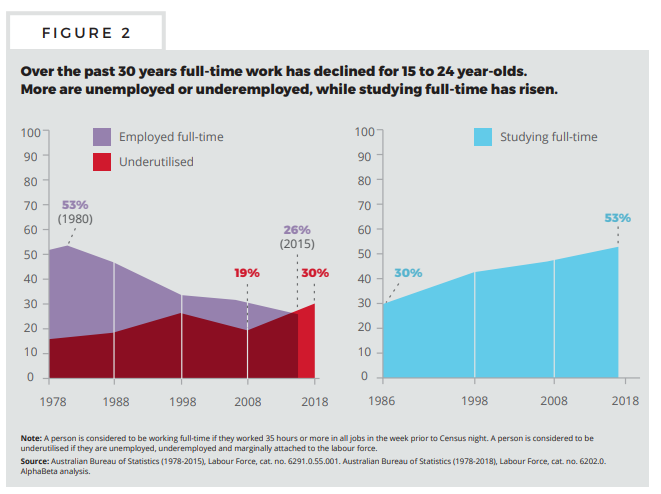 The underutilisation rate for 15 to 24 year-olds has increased from 19% to 30% over the past decade, well above the forty-year average of 24%. Additionally, young people aged 15 to 24 now comprise 26.6% of the long-term unemployed pool despite only making up 12.8% of the population. For young people in particular, extended periods of underemployment increase the risk of unemployment…
The reality is while nearly 60% of young Australians aged 25 hold a post-school qualification, 50% of them are unable to secure more than 35 hours of work per week…
On average the transition from full-time education to full-time work took the young people in LSAY 2.6 years.
Interestingly, Seek's latest employment report showed that Engineers, Architects, Accountants and IT are among the least in demand, but curiously remain on the skilled migrant list because of imaginary skills shortages: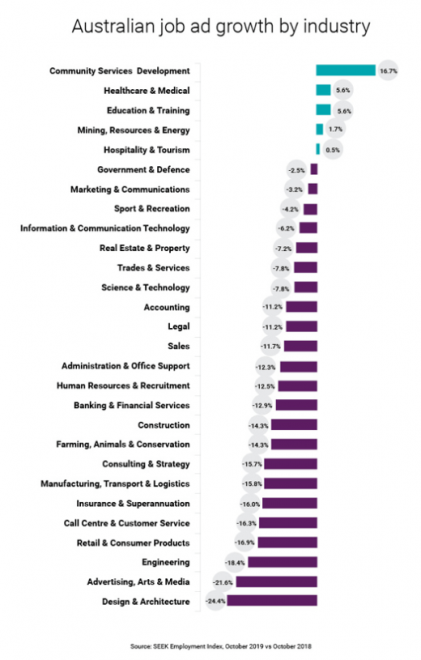 That's right, Australia's skilled occupation lists have no requirement that an occupation is actually experiencing skills shortages. Therefore, we have a bizarre situation whereby oversupplied areas like engineering, accounting, and IT (among many others) continue to import workers en masse. And the 'skilled' visa system is being used by employers to access foreign workers for ulterior motives, such as to undercut local workers and lower wage costs, rather than to overcome genuine skills shortages.
Accordingly, many 'skilled' migrants also cannot find work in their nominated field, leaving them either unemployed or underemployed. This has been evidenced by various academic studies, including here, here, and here.
All of which begs the question: why does Australia operate a strong skilled visa program when there are minimal shortages and insufficient jobs? To add to the pool of underemployed and unemployed? To destroy employment opportunities for Australia's youth? To rob developing nations of their skilled workers? To suppress wages?
Australia's skilled visa program is one giant con that is failing dismally to meet its original intent, while also crush-loading the major cities and smashing wages. It needs root-and-branch reform.
Leith van Onselen is Chief Economist at the MB Fund and MB Super. Leith has previously worked at the Australian Treasury, Victorian Treasury and Goldman Sachs.
SOURCE: https://www.macrobusiness.com.au/2019/12/the-great-skills-shortage-myth-debunked-again/
CAAN FACEBOOK:
https://www.facebook.com/Community-Action-Alliance-for-NSW-744190798994541/?ref=aymt_homepage_panel
WEBSITE:
https://caanhousinginequalitywithaussieslockedout.wordpress.com/