ENTIRE INDUSTRIES have become heavily reliant on migrant workers to perform low-skilled work
–for below award rates
–unambiguously undercutting local worker
–lowering overall wage growth
A POLICY OF HALVING IMMIGRATION not only makes perfect sense economically
-but would be very popular politically
-given most opinion polls show a strong preference for lower levels of immigration and a stabilising population
IF LABOR wants to win the next election it must return to its working class roots …
-that were captured by PHON and UAP … which gave preferences to the Coalition FFS! Esp. in Queensland …
-because Labor gained the inner-city progressive votes
Labor must slash immigration to save wages (and itself)
By Unconventional Economist in Australian Economy, Australian Politics
December 6, 2019 | 15 comments
Shadow treasurer Jim Chalmers will urge the federal government to address issues such as low wages growth, underemployment and falling productivity in its mid-year economic outlook. He will tell a Chifley Research Centre conference that the economy is not working for ordinary Australians, while warning of the dangers associated with the rise of populism. From The Australian:
"Wages growth has been so persistently low under the Liberals that last week the Reserve Bank said it was the 'new normal'," he will say.

"Most Australians would consider this to be an appalling outcome that the government should be ashamed about. But the Liberals think it is a triumph. For them, it's mission accomplished.
"This is why suburbs and towns feel cut off from prosperity and opportunity and why populism has flourished.

"It's why people feel like no matter how hard they work they just can't get ahead, that the system is busted, or rigged. The economy's not working for ordinary Australians."
Chalmers' sentiments are correct. But to truly make a difference to wages, Labor must abandon its globalist 'open borders' dogma in favour of deep cuts to immigration. *
A key reason why Australian wage growth remains in the gutter is because labour supply via immigration is running well beyond labour demand.
This has kept Australia's unemployment and underemployment rates elevated (despite strong jobs growth), reduced worker bargaining power, and removed the need for employers to lift wages to attract talent.
Indeed, a recent paper by Melbourne University Professor, Peter McDonald, found that around three quarters of employment growth in Australia between 2011 and 2016 was attributed to immigration:
The permanent and temporary skilled migration policies established by the Australian Government from 1995 played an important role in meeting that labour demand, especially in the boom years of the first decade of the 21st century…
*From July 2011 to July 2016, employment in Australia increased by 738,800. Immigrants accounted for 613,400 of the total increase…
Migration has had a very large effect on the age structure of employment with most new immigrant workers (595,300) being under 55 years.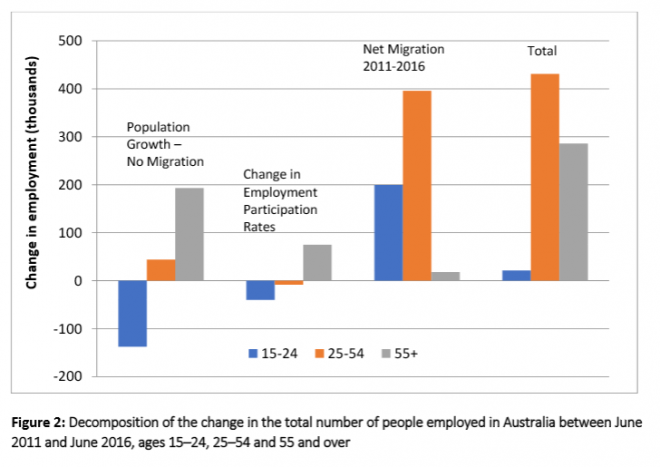 Therefore, the ongoing supply shock from immigration is the primary reason why labour supply continues to outrun demand and why wage growth remains anaemic.
Of course, the systemic wage theft from ballooning numbers of temporary migrants has also become entrenched across the entire Australian economy: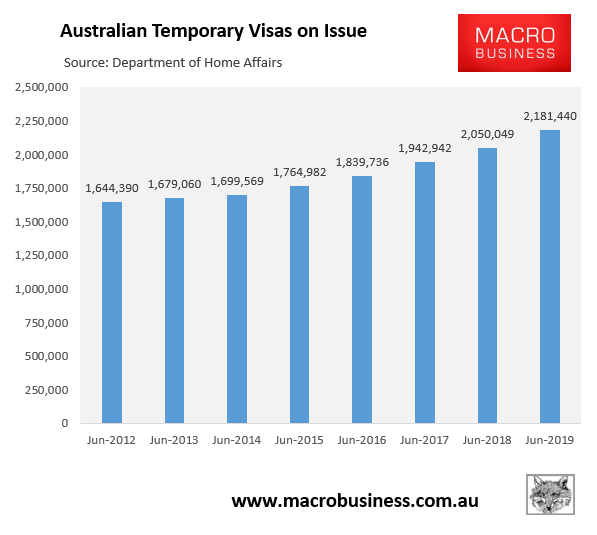 *Entire industries have become heavily reliant on migrant workers to perform low-skilled work in the labour market for below award rates, which is unambiguously undercutting local workers and lowering overall wage growth.
*Therefore, if Labor genuinely wants to 'solve' Australia's low wage growth, as well as maximise its chances of winning the next federal election, it must halve immigration.
*Not only does this policy make perfect sense economically, but it would be very popular politically, given most opinion polls show a strong preference for lower levels of immigration and a stabilising population.
All Labor needs to argue is that it will slash immigration because:
an excessive flow of migrant workers are displacing locals, reducing employment opportunities and lowering wage growth;
excessive immigration is driving up demand for housing, pushing prices beyond the reach of locals, especially in Sydney and Melbourne; and
excessive immigration is overrunning infrastructure and water supplies, reducing amenity and liveability, and pushing up the cost of living.
Most Australians know these to be true and would resonate with these common-sense arguments.
Moreover, Labor could argue that it is merely seeking to lower immigration back toward the historical (pre-2003) average, and that the new lower intake would still be at the higher end of developed nations: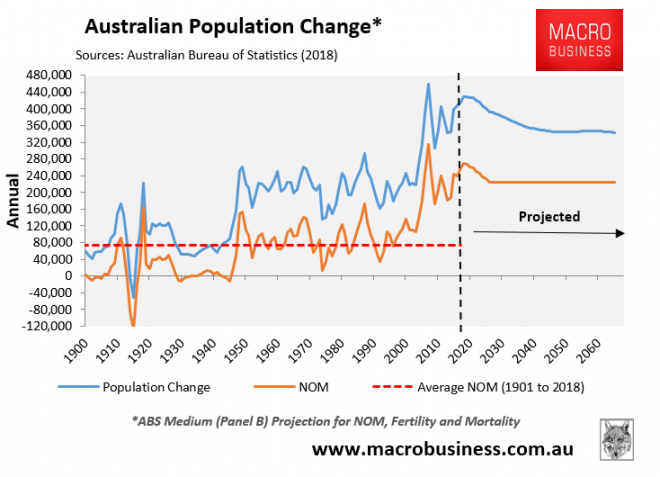 If Labor wants to have any chance of winning the next election, it must return to its working class roots and represent the interests of regular Australians over inner-city progressives.
Leith van Onselen is Chief Economist at the MB Fund and MB Super. Leith has previously worked at the Australian Treasury, Victorian Treasury and Goldman Sachs.
SOURCE: https://www.macrobusiness.com.au/2019/12/labor-must-slash-immigration-to-save-wages-and-itself/
CAAN FACEBOOK:
https://www.facebook.com/Community-Action-Alliance-for-NSW-744190798994541/?ref=aymt_homepage_panel
WEBSITE:
https://caanhousinginequalitywithaussieslockedout.wordpress.com/