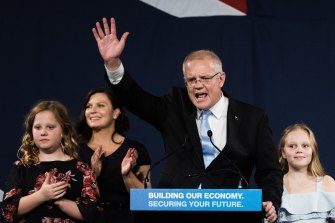 IT's all to do with what happened in Queensland … *
ScoMo's 'quiet Australians' con exposed
By Houses and Holes in Australian Politics
December 2, 2019 | 2 comments
The Coalition has nicely illustrated why it is a very weak government. Via Domain:
A Liberal Party review into Scott Morrison's stunning election victory has warned the Coalition's future chances of forming government will remain "worryingly narrow" unless it improves its standing in Victoria and parts of NSW.

The review warns there is "no room for any complacency" within the party following the 2019 election campaign, recommending a "comprehensive impartial candidate vetting process" for candidates to avoid a similar situation where 10 Liberals were disendorsed during the campaign.

Undertaken by former senator Arthur Sinodinos and former New Zealand government minister Steven Joyce, the report – released on Friday – identified the federal budget as a "key turning point" in the party's electoral recovery and the almost single-handed successful prosecution of the campaign by Prime Minister Scott Morrison.
*No, it wasn't.
It was the small immigration cut that was the key moment. That's when ScoMo captured the imagination of the Queenslanders that supported nationalist fringe parties that put Scummo into office via preferences.
The Coalition is very right to note how narrow this power base is. QLD is all that mattered in the election as Labor dominated the major states.
*Why Labor hasn't noticed it is testament to something crucial missing from its brains trust.
That's why the Coalition backlash against Pauline Hanson and her correct decision to vote down the union-busting bill last week is revealing. At The Australians:
A central Queensland CFMEU official, condemned for his behaviour in a major industria­l dispute, incited Pauline Hanson to block the government's union-busting bill in a betray­al of written assurances of support she gave senior ministers.
Senior government figures continue to vent their fury at the One Nation leader's 11th-hour ­decision and have vowed to re­introduce the bill next week, amid warnings from business that its defeat amounts to a green light for union thuggery.
Senator Hanson held meetings with Queensland CFMEU construction division organiser Chris Brodsky, who led the union's fierce dispute with miner Glencore at Oaky North in the Bowen Basin, which ended in February last year after 230 days.
This is very dangerous territory for Team Scummo, as its own election deconstruction shows. QLD is its power base. PH is QLD's most glorified anti-politician and bashing her nearly always backfires with her supporters.
And there is another, greater danger. It never made much sense that PH supported the bill in the first place. Her QLD constituency are marginalised, working class folks. They may be battlers not bludgers, and not like unions and handouts, but they are smart enough to know that decimating union strike power will not help their shrinking pay packets.
*Thus bashing PH over unions shows that ScoMo is not in their corner after all, is for the big end of town, and has basically conned them into thinking otherwise with phony nationalism (at this point a comparison with El Trumpo is appropriate).
If ScoMo takes this line for long, he will not only prove to be the greatest politcal comeback artist since Paul Keating retined by slaying the GST in 1993, but he will also share his fate at the subsequent election.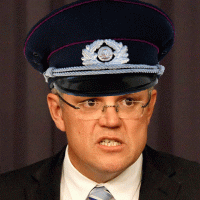 David Llewellyn-Smith is Chief Strategist at the MB Fund and MB Super. David is the founding publisher and editor of MacroBusiness and was the founding publisher and global economy editor of The Diplomat, the Asia Pacific's leading geo-politics and economics portal.
He is also a former gold trader and economic commentator at The Sydney Morning Herald, The Age, the ABC and Business Spectator. He is the co-author of The Great Crash of 2008 with Ross Garnaut and was the editor of the second Garnaut Climate Change Review.
SOURCE: https://www.macrobusiness.com.au/2019/12/scomos-quiet-australians-con-exposed/
CAAN FACEBOOK:
https://www.facebook.com/Community-Action-Alliance-for-NSW-744190798994541/?ref=aymt_homepage_panel
WEBSITE:
https://caanhousinginequalitywithaussieslockedout.wordpress.com/