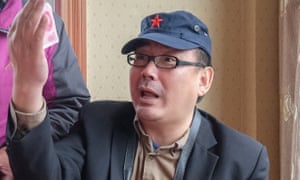 IS there any vetting done of those flying in on Real Estate Tours? Seriously …
HOW many thousands flying in each week? With 2.2 MILLION Visa Holders … largely from the PRC … in Australia at any given time … and all the grubmnt have coughed up is a mere $90M to fund a new Taskforce …
Cowards of Canberra launch minimal China pushback
By Houses and Holes in Australian Politics, China American Cold War
December 2, 2019 | 19 comments
This morning we find an Aussie being tortured in China, via The Guardian:
The detained Australian writer Dr Yang Hengjun is being subjected to daily interrogations with his arms and legs shackled, as Chinese security officials try to "break" him, his lawyers say, pushing for him to confess to unspecified allegations of espionage that potentially carry the death penalty.

Yang, an Australian citizen and globally influential pro-democracy political blogger, has been held by China's Ministry of State Security since being detained in Guangzhou in January. After months held in secret detention, Yang's conditions of incarceration had eased, but sources with knowledge of his case have told the Guardian his maltreatment was now growing worse.

For some of his incarceration, he had been subjected to a single interview each month during which he was not shackled, but the last 10 days had seen a return to daily interrogation sessions, sometimes commencing at midnight, while his wrists and ankles were held in chains.
No worries. It's just re-education. Weekend coverage of the China Cold War kicked off with an excellent piece by Greg Sheridan:
…it is still difficult, understandably, for Australians to adjust­ to the new paradigm, and how radically different it is from the old. From 1972 to 2014, the Australia-China relationship was like a market stock that trended ever upwards. There were ups and downs along the way, but the chart of the stock, the band in which it moved, trended ever upwards­. This era began when Gough Whitlam extended diplomatic recognition to the People's Republic of China.

And it ended in 2014 when Abbott hosted China's President, Xi Jinping. On that visit, Xi embraced a Comprehens­ive Strategic Partnership between­ Beijing and Canberra.

During Abbott's tenure the two nations also negotiated and finalised a wide-ranging free-trade agreement.

…Since then, Xi has changed Chinese political culture fundamentally. His government has crushed all internal dissent, ­suppressed religious minorities, arrested all the human rights lawyers­, occupied and militarised the South China Sea, forged a dangerous strategic relationship with Moscow, interfered in the domestic politics of numerous nations­, incarcerated foreign indiv­iduals as bargaining chips in bilateral disputes, and aggressively engaged in cyber and other espionage at a level beyond that of other nations. These actions are where the big change lies.

Abbott's Lowy Institute speech is more use to Australia as a guide today than Kevin Rudd's weighty analysis or Paul Keating's pretty wordscapes. Rudd's analysis is alway­s valuable but he, too, conveniently blames Trump for the disruption to the Beijing-Washington­ accord, whereas the fundamental change is that which Xi has brought to the political, strategic, economic and social arc of Chinese development.

…Australia has not lost the formul­a for good relations with Beijing. It's just the formula doesn't work any more in a new and different environment. It's not paradigm lost; it's reality changed. This past few weeks, we've come some distance in catching up with reality.
Exactly. We've been grovelling as usual but it hasn't stopped the CCP from overwhelming the Pacific with strategic loans and violating our sovereignty to capture Canberra.
Sadly the awakening has not yet encompassed the dodgy Glady Liu who, amazingly, still holds the ScoMo Government majority in her hands. She was pictured on the weekend with others enveigled by the espionage scandal:
The man who claimed he was offered $1 million by a suspected Chinese spy to infiltrate the Australian Parliament attended a Liberal Party meeting with MP Gladys Liu at her former home.
Nick Zhao – who died in a Melbourne motel in March after he disclosed the suspected spy's approach to ASIO – attended the Australia Day 2016 meeting of a Liberal Party multicultural branch at the former Glen Iris home of Ms Liu, who was the president of the branch.
When shown a photograph of Nick Zhao, Ms Liu said she "had no recollection" of seeing him, and said she was unaware of any attempt by Chinese operatives to support candidates into office.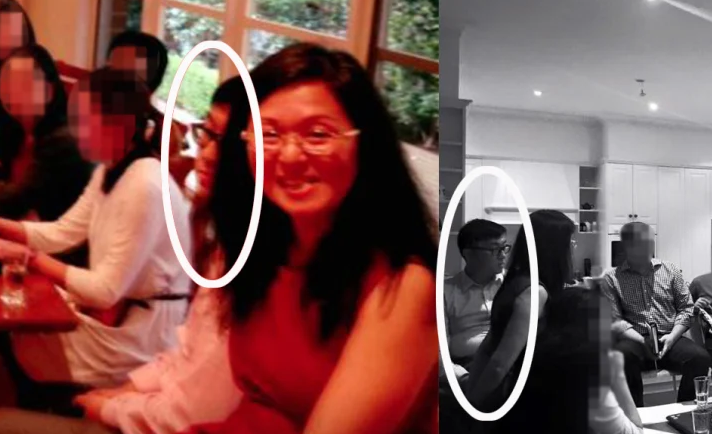 No recollection. Shocked, shocked!
There are more news and leaks hosing down a second figure in last week's spy drama, at The Saturday Paper:
Australia's security agencies are sceptical about a self-described Chinese defector's claims of involvement in high-profile espionage and kidnapping activities, and are seeking to rule out the possibility he is a double agent.

Security sources say Wang Liqiang's decision to launch his bid for asylum in the pages of the Nine newspapers and on current affairs program 60 Minutes has elevated the already high levels of caution among those assessing the veracity of his claims.

"People who do this work are naturally sceptical, clinical and dispassionate," one senior source told The Saturday Paper, referring to the intelligence officers scrutinising the information Wang has provided to support his asylum claim.

"Lesson one of the week: You don't defect through 60 Minutes."

Another warns that nobody should "rush into any conclusions" about the allegations, adding: "It is highly unusual for an intelligence officer who defects … to go to the media."
Peter Harcher offered some execllent texture but a clangor conclusion:
I've learned a lot in the past few weeks. In the process of launching and then talking about the Quarterly Essay I've written about China and Australia, Red Flag: Waking up to China's challenge, I've seen and heard many dimensions of fear of Beijing.

It extends from the top to the bottom. One of our elite universities was interested in hosting me for a discussion of the essay until it emerged that it involved China. Suddenly, higher authorities needed to be consulted.

Similarly, a senior parliamentary figure was keen to help with arrangements for a launch in Parliament House until the word "China" was mentioned. At that, he explained that it was just too sensitive.

Our universities and our national Parliament are supposedly the very cradles of free inquiry and free debate in our society. Yet at least some officials have been conditioned to think that the People's Republic of China is an exception to Australia's normal processes.

An event was held at a university this week, and another is scheduled for next. A launch in Parliament House did happen. I'm not arguing that our institutions are paralysed. But the timorousness is real.

I also found it in discussions with a business analyst, who is happy to issue commentary on any economic subject, but has a self-imposed rule against making any comment on the biggest economic subject for Australia, China.

Even a bloke cutting my hair told me that he'd learned to be careful about discussing the news with his Chinese Australian customers after being upbraided by one young man for expressing his view on the Hong Kong protests. After all, said the hairdresser, one day the Chinese government will be monitoring everyone in Australia.

Some tens of readers emailed with their own stories of being silenced, intimidated, monitored or otherwise discouraged from speaking frankly about this apparently radioactive subject. These included encounters in universities, workplaces, even retail establishments. Others expressed relief that I was broaching a topic they felt too nervous to canvass in their own lives.

Talkback radio shows and sessions with live audiences brought me in touch with fear and anger in roughly equal measure.

Fear and anger at the extent of Chinese investment, at Beijing's efforts to buy and bully its way into Australian politics, at China's crushing of its Uighur minority. And frustration at the perceived lack of Australian government action to restrain Chinese government activities, overt and covert, in Australia.

These themes recurred in the hundreds and hundreds of readers' comments posted to columns I've written in the past week or two.

…Skilfully tapped, this is a potential vein of hot political magma, building pressure for populist exploitation. If such public concern isn't addressed rationally, it may well be deployed irrationally for political gain.

Lowy's Sam Roggeveen recently published an essay titled Our Very Own Brexit. He ruminates on the possibility of one of the main political parties breaking the consensus on immigration and fomenting a xenophobic backlash. It can happen here.

Xenophobia is one possible response. Trade protectionism is another. We've tried both in the past century and a half. Both failed. Either, or both, would be deeply harmful to Australia's interests as a multicultural trading nation.
Roggeveen's paper completely lacked logic. It presupposed that immigration is a univeral positive and set about proving it so. That is circular argument. It also conflated multiculturalism with mass immigration, as did Hartcher, another non-sequitur. Arguably both positions are, in fact, racist.
*What about the freedoms of other Aussies, including migrants, that are threatened by the encroachments of Beijing? They enjoy or came for the liberal democracy that frames freedom of religion, of politics, of work, of family, of fraternisation and of speech.
*If further Chinese immigration threatens that freedom via rising CCP influence then it also threatens multiculturalism. See silenced Hong Kong freedom fighters. Who is next? Australian Ahghanis? Australian Pakistanis? Australian Taiwanese? Australian Koreans? Australian Japanese? Everybody?*
*So long as the CCP seeks an ethno-centric autocracy then multiculturalism needs protection from open immigration.
*As Hartcher himself describes in detail, CCP influence-peddling is real, the war to corrupt Canberra is joined, universities are overrun with nationalist Chinese, business is muzzled by the bribe, individuals are being stalked, as all are "silenced, intimidated, monitored".
*This underlines that the issue is not moral or racial at all. It is political. Would we have had mass Russian immigration during the Cold War?  Would it have been racist or xenophobic to not have it?
*In such cricumstances, it makes abundent sense to cut immigration to slow it all down.
*Indeed it becomes urgent, as a part of a broader package of reforms to push back against the CCP.
MB suggests a halving of the current rate, which would still be consistent with the historical average at 80k per year. That is slow enough that all migrants can be more easily absorbed, and risks that come with any and all groups by managed and mitigated.
At least there is some good news in the Government finally backing other MB reforms, at The Australian:
An elite intelligence taskforce led by ASIO, the Australian Signals Directorate and Defence intelligence will be created to put the country on a virtual war footing to combat national security threats from an unprecedented level of foreign interference and espionage.

The move will see the role of ASIO expand for the first time to share classified intelligence with Australian Federal Police on foreign interference. The pooling of intelligence — through security investigations conducted by ASIO and criminal investigations under the AFP — will help determine whether charges are laid against foreign targets or whether they are quietly thrown out of the country.

The taskforce will also bring in aerial and satellite intelligence-gathering used by the Defence Department's Australian Geo­spatial-Intelligence Organisation, as well as drawing on Austrac's ­financial intelligence capabilities.

The formation of the unit, which will begin with initial new funding of almost $90m, comes amid the Chinese spy scandal involving claims by defector Wang Liqiang that he was a Chinese spy.

The government said the creation of the taskforce was not ­related to the recent claims of Chinese interference and that it had been in development for months. It was, however, signed off by cabinet last week.

Scott Morrison confirmed the establishment of the Counter Foreign Interference Taskforce, saying it would elevate the intelligence agencies' abilities to detect and disrupt foreign interference attempts and bring prosecutions under criminal espionage offences passed last year.

…The taskforce will see the ­National Counter Foreign Interference Co-ordinator in the ­Department of Home Affairs take on an operational role in discovering, tracking, analysing and disrupting foreign interference.
*This was a part of the Turnbull plan for CCP pushback which ScoMo and friends have been dithering over for over a year. It is modelled on the very successful Commonwealth Counter-Terrorism Coordinator.
Whether it will be enough to counter the world's largest tyranny time will tell.
David Llewellyn-Smith is Chief Strategist at the MB Fund and MB Super. David is the founding publisher and editor of MacroBusiness and was the founding publisher and global economy editor of The Diplomat, the Asia Pacific's leading geo-politics and economics portal.
He is also a former gold trader and economic commentator at The Sydney Morning Herald, The Age, the ABC and Business Spectator. He is the co-author of The Great Crash of 2008 with Ross Garnaut and was the editor of the second Garnaut Climate Change Review.
SOURCE: https://www.macrobusiness.com.au/2019/12/cowards-of-canberra-launch-minimal-china-pushback/#comments
CAAN FACEBOOK:
https://www.facebook.com/Community-Action-Alliance-for-NSW-744190798994541/?ref=aymt_homepage_panel
WEBSITE:
https://caanhousinginequalitywithaussieslockedout.wordpress.com/