IF The Morrison Government is committed to ensuring AUSTRALIANS are given first priority for jobs, how come there are 2 MILLION AUSTRALIANS UNEMPLOYED OR UNDEREMPLOYED … when there are 2.2 MILLION VISA WORKERS in Australia?
WITH hundreds of thousands of Visa Workers in the occupations of cleaners and laundry workers, hospitality workers, sales assistants … view the Table below!
PLEASE SHARE TO LET OTHERS KNOW!
Labor: Temporary visa tsunami is crushing wages
By Unconventional Economist in Australian Economy
November 29, 2019 | 20 comments
Labor has called for an urgent review of the temporary visa system after the latest report from the Australian Population Research Institute (APRI) revealed a high concentration of temporary migrant workers across large swathes of the economy (see below table).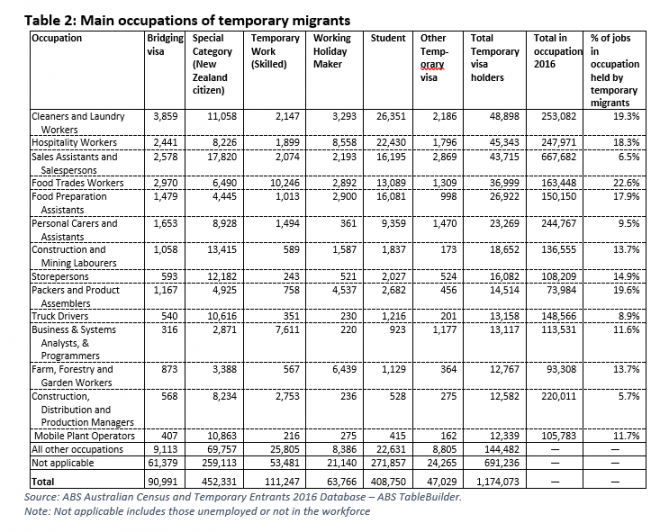 From The Australian:
Labor employment spokesman Brendan O'Connor said the 'increased overreliance' on temporary visas to supply labour was of great concern. Picture: AAP
VIEW: https://caanhousinginequalitywithaussieslockedout.com/2019/12/07/temporary-migrant-visas-issued-for-2-2-million-great-concern/
Labor has called for an urgent examination of the temporary visa regime following new ­analysis that reveals the number of ­migrants on the visas has jumped from 1.8 million to 2.2 million in the past four years…

Labor employment spokesman Brendan O'Connor said the "increased overreliance" on temporary visas to supply labour was of great concern when there was nearly two million Australians unemployed or underemployed.

"The government should ­urgently examine the current temporary visa regime with a view to identifying the extent of the misuse and overuse of such visas. Our first employment priority as a nation must be to provide employment opportunities to local workers," he said.

Employment Minister Michaelia Cash said the government was committed to ensuring Australians had priority for jobs and overseas workers were only recruited to fill genuine shortages…
"Under labour market testing, employers must advertise the position within Australia to ­ensure Australians are given first priority. Employers can only seek overseas workers if they can demonstrate Australian workers are not available," she said.

"We make no apologies for trying to get Australians into high-skilled, high-paying jobs."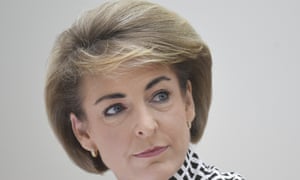 Australian employment minister Michaelia Cash at a Senate hearing. Photograph: Lukas Coch/AAP
*The $53,900 Temporary Skilled Migration Income Threshold (TSMIT) that applies to Temporary Skills Shortage (TSS) visas has been frozen in place since 2013-14, and has fallen $23,000 below the median full-time Australian salary of $76,900.
Not surprisingly, then, the actual pay levels of 'skilled' migrants in Australia is also abysmally low.
According to the Department of Home Affairs' Continuous Survey of Australia's Migrants, the median full-time salary 18 months after being granted a skilled visa was just $72,000 in 2016, below the population median of $72,900. This is shocking given the population median includes unskilled workers, which obviously drags the nation-wide median full-time salary down.
The ABS' Personal Income of Migrants survey also recorded a median employee income of migrants under the skilled stream of just $55,443 in 2013-14.
In a similar vein, separate ABS data shows that Temporary Work (Skilled) visa holders earned a median income of only $59,436 in 2016.
*The easiest solution to restore integrity to the visa system is to make all skilled migrants employer-sponsored and require them to be paid at the 80th percentile of earnings, or indexed to double the median wage.
*This would ensure that the skilled visa system is used sparingly to import only the 'best of the best', not as a general labour market scheme to undercut local workers.
Of course, 'skilled' visas are only part of the issue, with international students and graduate visas arguably an even bigger problem.
Regardless, all forms of temporary visas represent a massive labour supply shock that has lowered the bargaining power of local workers and placed downward pressure on wages.
Sadly, our policy makers have no intention of actually fixing the system.
To them, mass immigration is a tool to juice headline growth and to feed the growth lobby both consumers and cheap foreign workers.
The welfare of ordinary voters is ignored entirely.
Leith van Onselen is Chief Economist at the MB Fund and MB Super. Leith has previously worked at the Australian Treasury, Victorian Treasury and Goldman Sachs.
SOURCE: https://www.macrobusiness.com.au/2019/11/labor-temporary-visa-tsunami-is-crushing-wages/
CAAN FACEBOOK:
https://www.facebook.com/Community-Action-Alliance-for-NSW-744190798994541/?ref=aymt_homepage_panel
WEBSITE:
https://caanhousinginequalitywithaussieslockedout.wordpress.com/