Photo: The Australian: Pauline Hanson Blindside Kills Anti-Thug Law
EVER wonder why wages growth has turned chronically anaemic? Apart from the obvious that the Reports CAAN shares with you reveal …
Remember PH supported abolishing Penalty Rates …
THIS was a win for Workers! Join a Union!
Hanson accidently does right thing on union bill
By Houses and Holes in Australian Economy, Australian Politics
November 29, 2019 | 2 comments
Via The Australian:
The government has pledged to ­revive its union-busting bill after Pauline Hanson handed the ­Coalition an embarrassing Senate defeat that business branded a "win for union thuggery".

Attorney-General Christian Porter called on Senator Hanson to explain why One Nation ­sided with Labor and the Greens to ­oppose the Ensuring Integrity Bill, leaving the Senate vote tied at 34 votes, meaning it was lost.

The eruption of the Westpac scandal undermined the government's bid to get the bill passed, with Senator Hanson saying voters­ had told her the government had "one rule for white-colla­r crime and much harsher rules for blue-collar crime".
INDUSTRIAL RELATIONS MINISTER CHRISTIAN PORTER. (IMAGE: AAP/LUKAS COCH)
Do two wrongs make a right then?
Still, this is a win for workers. The bill went over the top in curtailing not just John Setka but all forms of industrial action.
Offences include:
Striking for reasons that aren't related to an ongoing enterprise bargaining agreement negotiation or proposed changes to an award rate — 300-1000 penalty units
Submitting paperwork or financial reports late to the union watchdog — 500 penalty units
Failing to remove a non-financial member from the list — 300 penalty units
Failing to train an office holder in financial management within six months of them starting — 500 penalty units.
*The decline of unionism is likely one reason why wages growth has turned chronically anaemic:*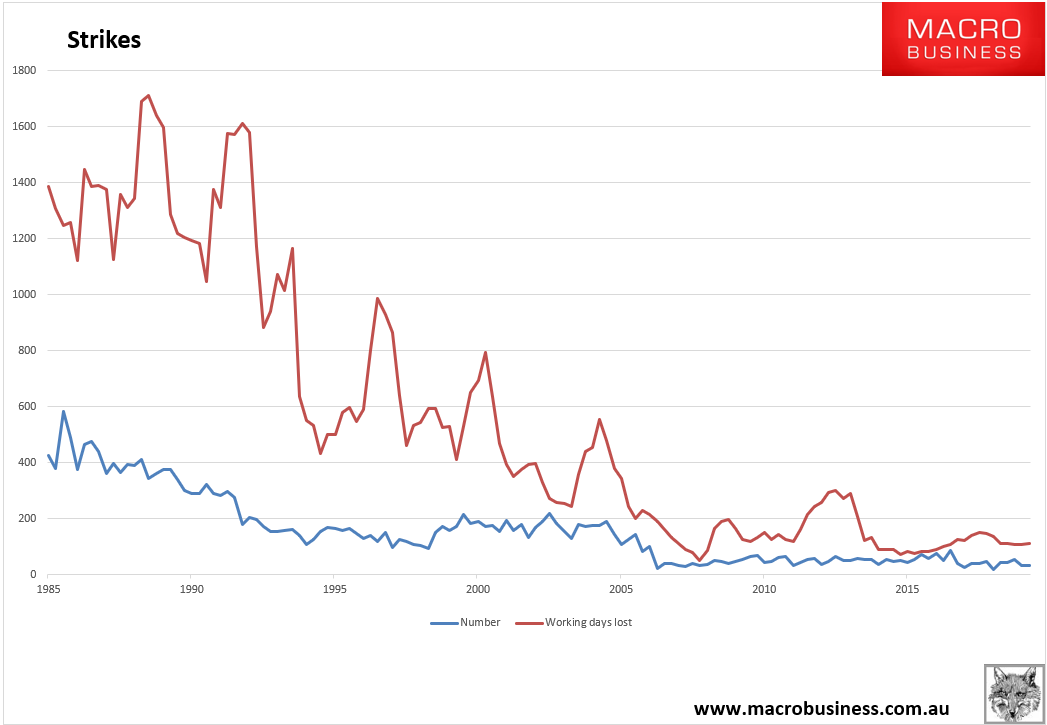 David Llewellyn-Smith is Chief Strategist at the MB Fund and MB Super. David is the founding publisher and editor of MacroBusiness and was the founding publisher and global economy editor of The Diplomat, the Asia Pacific's leading geo-politics and economics portal.
He is also a former gold trader and economic commentator at The Sydney Morning Herald, The Age, the ABC and Business Spectator. He is the co-author of The Great Crash of 2008 with Ross Garnaut and was the editor of the second Garnaut Climate Change Review.
SOURCE: https://www.macrobusiness.com.au/2019/11/hanson-accidently-does-right-thing-on-union-bill/
CAAN FACEBOOK:
https://www.facebook.com/Community-Action-Alliance-for-NSW-744190798994541/?ref=aymt_homepage_panel
WEBSITE:
https://caanhousinginequalitywithaussieslockedout.wordpress.com/