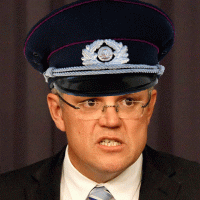 IN conclusion …. 'Something that must be creeping on up voters …
ADD … PRIMING HOUSE PRICES for his property mates forcing people to borrow beyond their means ….
Generalissimo Scummo enjoys the game of mates
By Houses and Holes in Australian Politics
November 28, 2019 | 9 comments
Via Crikey:
This is the sequence of events. Angus Taylor, federal cabinet minister, used a doctored document to publicly accuse Sydney Lord Mayor Clover Moore of being a hypocrite on climate change because her councillors spent, allegedly, $15 million on travel in a year (the real figure was about $6000). The document was a forgery, but Taylor insisted his office had downloaded it from the council's website. That's been shown to be wrong.
As far as Taylor is concerned, that's it. He has denied any impropriety by him or his office, but not explained where the fake document came from. FOI requests for correspondence relating to the train of events have been refused and he hasn't answered questions in parliament about it. The mystery persists.
Yesterday, it came out that the Labor Party had written to the NSW Police and that the police have launched an investigation. The nature of that has not been revealed; presumably they're looking at some form of potential forgery or fraud offence.
When asked about this development in question time, Scott Morrison said it was news to him. He said he would speak directly to the NSW Police and find out. He came back later in the day to announce this:
I have since spoken with the NSW Police Commissioner about the investigation and the nature and substance of their inquiries which he advised me were based only on the allegations referred by the shadow attorney-general. Based on the information provided to me by the commissioner, I consider there is no action required by me.
The action that Labor was demanding was that Morrison stand his minister down while he is under an active police investigation, in compliance with the ministerial guidelines. These are not binding, but it is conventional that a minister stands aside from their office when their conduct is under a serious cloud. Most recently, the Liberal minister Arthur Sinodinos stood aside voluntarily during an ICAC investigation into him (which ultimately exonerated him).
The conventions of ministerial responsibility have become progressively honoured in the breach in recent years, so it's no real surprise that neither Taylor nor Morrison proposes to take this matter seriously or pay the public the respect of providing an actual explanation of what happened.
However, there's something even weirder here: the prime minister's open acknowledgement that his first instinct was to call up the police chief for a personal chat about the current investigation of potential criminal conduct by one of his cabinet ministers.
If that sounds a bit off to you, that's because it is. Whatever the status of the investigation may be, and whatever its prospects of leading anywhere are, it is in the hands of an agency of the executive government of the state of NSW. It is axiomatic that the police are required and expected to function with independence, unaffected by political influence.
David Crowe chimes in at Domain:
Former prime minister Malcolm Turnbull raised the political heat by declaring he would not have made the phone call because the matter had to be "entirely free of political influence" and seen to be so.

Barrister Geoffrey Watson said Mr Morrison should not have made the call because it looked like he had sought a "favour" from the police chief.

"There's nothing illegal about contacting the police but on the other hand, once you put it into perspective, it should never have happened," said Mr Watson, a director of the Centre for Public Integrity and a former counsel assisting at the NSW Independent Commission Against Corruption.

"What the Prime Minister should not have done is used his position in executive government to contact an external bureaucrat because it just looks like he's applying pressure.

"It's just an inappropriate move rather than an illegal move."
The Australian tries to hose it off:
NSW police commissioner Mick Fuller has dismissed Labor ­attacks on Scott Morrison's phone call to him over the investigation into Energy Minister Angus Taylor, but the Prime Minister is now under fire after being forced to clarify an incorrect statement to parliament.

As Mr Fuller promised an "open and transparent" NSW Police investigation into Mr Taylor that could be over as early as next week, Labor seized on the Prime Minister's Tuesday phone call to him to question Mr Morrison's judgment.

Mr Fuller said Mr Morrison had "received no more or less ­information" than was publicly available in a NSW police media release confirming an investigation into Mr Taylor.
It's more press gallery hand wringing than a vote turner. But it does again show that Scummo's instincts are to rule by executive fiat than committee. Very much in the "strong man" politics of the day. The Guardian digs up an indignant judge: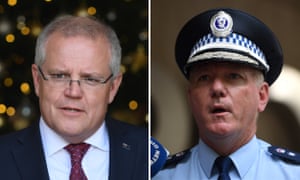 Former anti-corruption commissioner and senior judge David Ipp says Scott Morrison's phone call to the New South Wales police chief appears to be an inappropriate attempt to use his position to make a political decision.
Morrison came under fire on Wednesday for calling NSW police commissioner Mick Fuller to discuss an active investigation into one of his cabinet ministers, Angus Taylor.
NSW police set up strike force Garrad to investigate whether Taylor's office came to rely on a falsified document to attack Sydney lord mayor Clover Moore for her travel-related carbon emissions.
Morrison called Fuller before announcing to parliament that he was standing by Taylor on Tuesday. His predecessor Malcolm Turnbull said he would never have made the call, because the inquiry needs to be seen as independent and free of political influence.
Ipp, who served on the NSW court of appeal and as an Independent Commission Against Corruption commissioner, said the call was clearly not appropriate. He said it appears to have been made to aid Morrison's party-political decision-making, rather than the interest of the state.
"An ordinary citizen would not be able to get that information from the police … so what is it about the prime minister that entitles him to that information?" Ipp told Guardian Australia.
"You can't see that it's information that relates to matters of state interest. It can only relate to matters of party interest. If it relates to matters of party interest then he's using his influence as prime minister to try to obtain the information so that he can make the politically correct decision – that is, whether to keep Taylor or to fire him.
"I don't think that's appropriate. It's not appropriate."
Isn't it just the game of mates, at the ABC:
Crossbench senator Rex Patrick said the friendship between the Prime Minister and Commissioner meant the pair needed to be very careful in their dealings with each other.
Mr Morrison and Commissioner Fuller have both publicly commented on their friendship before.
Senator Patrick said it was "even more inappropriate" that Mr Morrison had called the Commissioner because of their friendship.
"Because they know each other, they have to be very, very careful," he told Sky News.
"It creates all sorts of perceptions, and as we know in politics, it's not only about being clean, it's about being seen to be clean."
I doubt "quiet Australians" give two hoots. They probably even like a bit game of mates stuck in the face of "inner city lunatics".
The main danger for Generalissimo Scummo is that he is seen as aloof and arrogant.
Something that must be creeping on up voters as he refuses to do anything about the dire state of the economy, climate change and the CCP silent invasion.
David Llewellyn-Smith is Chief Strategist at the MB Fund and MB Super. David is the founding publisher and editor of MacroBusiness and was the founding publisher and global economy editor of The Diplomat, the Asia Pacific's leading geo-politics and economics portal.
He is also a former gold trader and economic commentator at The Sydney Morning Herald, The Age, the ABC and Business Spectator. He is the co-author of The Great Crash of 2008 with Ross Garnaut and was the editor of the second Garnaut Climate Change Review.
SOURCE: https://www.macrobusiness.com.au/2019/11/generalissimo-scummo-enjoys-the-game-of-mates/
CAAN FACEBOOK:
https://www.facebook.com/Community-Action-Alliance-for-NSW-744190798994541/?ref=aymt_homepage_panel
WEBSITE:
https://caanhousinginequalitywithaussieslockedout.wordpress.com/