MANY of Australia's regional areas are devoid of water ….
SYDNEY's water supply is rapidly depleting … with more Vibrants flying in by the day …
China, India, across Asia, the United States, Europe …. all have many rivers crossing their continents
WHY come here? … Housing is too expensive … we are enduring a very long drought … with no end in sight!
The Gold Coast has several hospitals, universities and a population of more than 500,000 people, but it's considered regional.
ABC NEWS: DOMINIQUE SCHWARTZ
Aussie towns lash Coalition's regional visa farce
By Unconventional Economist in Australian Economy
November 28, 2019 | 3 comments
Predictably, Australia's towns are unhappy about the Morrison Government's farcical deeming of Perth and the Gold Coast as "regional" despite being bonafide metropolitan areas:
Small regional towns like Swan Hill in Victoria are now competing for migrant workers against cities like Perth and the Gold Coast…

Jason King's business needs workers with skills, but it's a tough job to convince them to move to Swan Hill in regional Victoria.

Until now, he's been able to offer migrant workers a regional visa, but that competitive advantage over many major centres has now gone.

The local council and employers are frustrated about a Federal Government declaration that anywhere outside of Melbourne, Brisbane and Sydney is now a "regional" area for migration.

That means skilled migrants who come to Australia on regional visas can work in places such as Perth and the Gold Coast, bypassing country towns, and still apply for permanent residency after three years.

"I can't see how they're regional at all," said Jason King…

"It will be very hard for us to compete. I think Swan Hill won't stand a chance, to be honest," Mr King said.

"We struggle to source skilled labour here. We are so regionally based"…

Adelaide, Darwin and Hobart have been listed as regional for a while, but Perth, the Gold Coast and some other large urban centres are recent additions.

"It's going to make it a lot more difficult to convince people to come to what is still outer regional, because migrants tend to want to go to things they've heard about and cities that resonate more for them," said Muriel Scholz, the council's economic development officer…

*Mr Versoza [from the Philippines] said guaranteed residency was a very important factor for him "because when you've got permanent residency the government offers to get your family and bring them back here to Australia, and it's a very good place here".
Let's be frank: classifying places like Perth (2.1 million people), Adelaide (1.3 million people), the Gold Coast (600,000 people), and Canberra (420,000 people) regional was always ridiculous. They are unambiguously metropolitan, and employers in smaller towns like Swan Hill have been placed at an extraordinary disadvantage.
The Morrison Government's new 'regional' visas are little more than a policy smokescreen to appease concerns surrounding the population crush in Sydney and Melbourne.
They do not fix the underlying problems with Australia's immigration system: 1) that it is far too big, at roughly triple the historical average: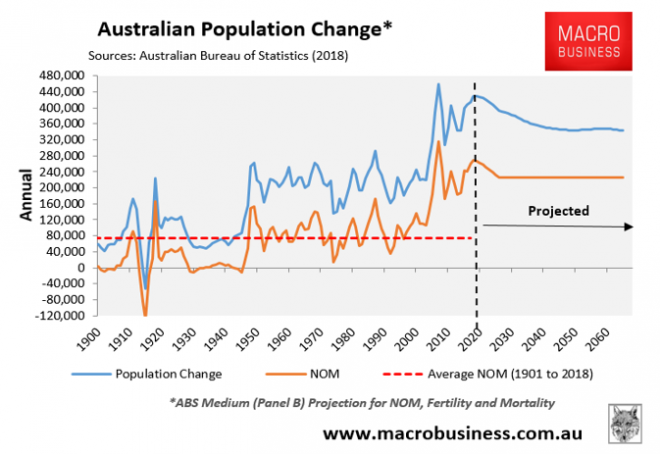 And 2) the small minority of migrants that initially go to the regions typically move to the big cities once they gain permanent residency, as explained by recent ANU research: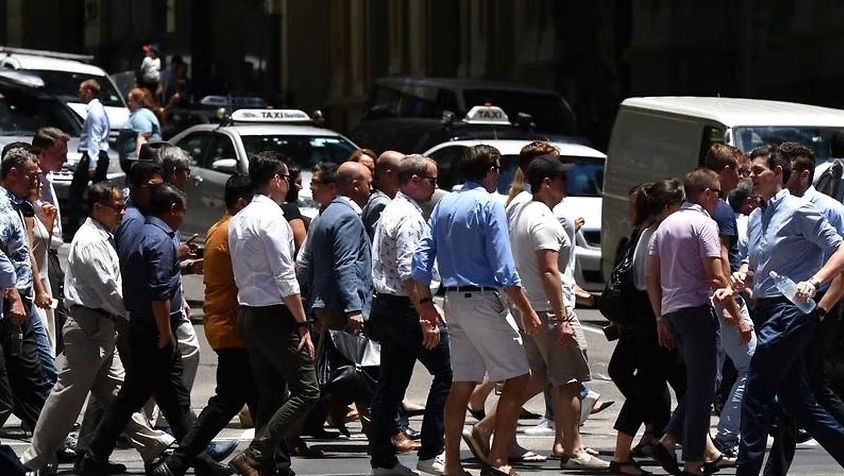 An Australian National University study released Thursday found more than 60 per cent of migrants move to a capital city after about five years of living in a regional or remote location.
ANU material went as far as saying new migrants were "fleeing" regional Australia for better opportunities in the cities.
Australia has a number of visas that are designed to entice migrants to regional areas but the research suggests more needs to be done to keep them there.
ANU demographer Bernard Baffour told SBS News, "you can move migrants to areas, but you can't force them to stay there"…
The study found Chinese-born migrants are more likely to settle in Sydney. Erin Chew of the Asian Australian Alliance said, "a lot of the Chinese people are city dwellers, so they want to live in [places] where there's a huge concentration of their community"…
Elsewhere, Melbourne is the city of choice for most Indian-born migrants.
Short of placing electronic tags on migrants, how can decentralisation be achieved in practice when it has failed repeatedly in the past, with the visa system systematically gamed?
Let's also remember that many of Australia's regional areas are devoid of water. So how can they possibly accommodate many thousands of additional migrants?
The whole regional visa policy is a giant farce.
PHOTO Swan Hill is a small town in regional Victoria.
Leith van Onselen is Chief Economist at the MB Fund and MB Super. Leith has previously worked at the Australian Treasury, Victorian Treasury and Goldman Sachs.
SOURCE: https://www.macrobusiness.com.au/2019/11/aussie-towns-lash-coalitions-regional-visa-farce/
CAAN FACEBOOK:
https://www.facebook.com/Community-Action-Alliance-for-NSW-744190798994541/?ref=aymt_homepage_panel
WEBSITE:
https://caanhousinginequalitywithaussieslockedout.wordpress.com/