By Unconventional Economist in Australian Economy
November 27, 2019 | 35 comments
Yesterday, I flew up to Sydney to launch a new discussion paper with former NSW Premier Bob Carr, entitled "Population growth and Infrastructure in Australia: the catch-up illusion", of which I was the lead author.
This paper was commissioned by Sustainable Population Australia (SPA), which "is an Australian, non-partisan, special advocacy group that seeks to establish an ecologically sustainable human population".
Below is the table of contents for the paper: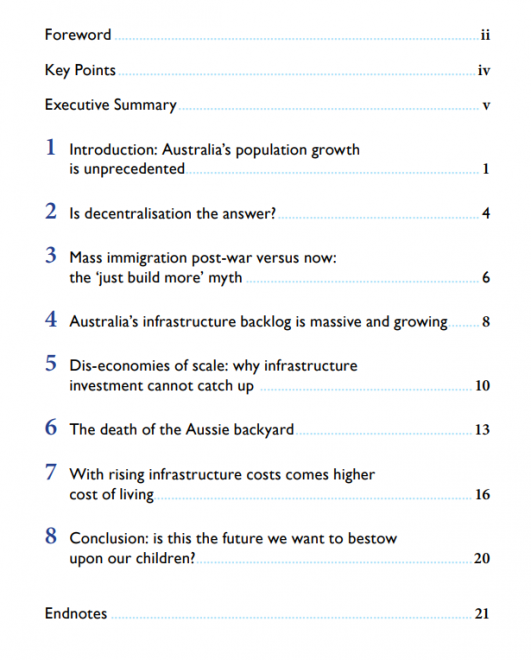 And here are links to the Summary and the Full Report, which can both be downloaded in PDF format.
This is the first in a series of discussion papers that will be released by SPA.
Please pass this paper along to your friends and colleagues, as we need to educate the general public on these vitally important issues.
Sustainable Population Australia
An independent not-for-profit organisation seeking to protect the environment and our quality of life by ending population growth in Australia and globally, while rejecting racism and coercive population control. SPA is an environmental advocacy organisation, not a political party.
The future is something we create.
Population growth and Infrastructure in Australia: the catch-up illusion
Sustainable Population Australia – Discussion Paper
Lead Author: Leith van Onselen
November 2019
Sydney and Melbourne now have worse traffic congestion than New York and Toronto. This congestion is but one symptom of an infrastructure shortfall caused by Australia's rapid population growth, fuelled by very high levels of immigration since the beginning of this century.
If these trends continue towards a 'Big Australia', living standards for existing residents will continue to decline as people are forced into smaller, more expensive and lower-quality housing, endure worsening traffic congestion, pay more to access basic infrastructure and services, and have less access to public services and green space.
Our political leaders are claiming that these problems can be managed by decentralisation, 'better planning' and more investment. This paper disagrees with those propositions.
We find that these proposed solutions will not work under conditions of high population growth. Instead, the increasing cost and complexity of adding new infrastructure in our already sprawling cities can only guarantee declining living standards.
Sustainable Population Australia's Discussion Paper series provides in-depth analysis of key issues relating to population policy and discourse.
SPA_DiscussionPaper_Infrastructure_Nov2019_Summary.pdf
SPA_DiscussionPaper_Infrastructure_Nov2019_FullReport.pdf
Tags:
Address:
SPA Inc. (National Office)
PO Box 85
DEAKIN WEST, ACT 2600
Phone
0434 962 305
Email
SOURCE: http://population.org.au/publications/discussion-papers/infrastructure