HOW was CHINA able to buy its way into Australia?
Visa holders fly in and buy our real estate … it's happening every day with an expanding Diaspora …
–3 or 4 million of 'em already … not the reported 1.2 million put about
–Chatswood is being built by Chinese Communist money
https://caanhousinginequalitywithaussieslockedout.com/2019/09/01/a-geopolitical-strategist-on-the-mk-hong-kong-the-u-s-and-australia/
Could Wang be a double agent? Cough … cough … It's happened before …
The problem would appear to be at the top in NSW and the Nation … with the developer lobby network … the Property Council of Australia (PCA), the Urban Taskforce, the UDIA, the REIA, The Law Council ….. and the 100% foreign sell-off of Our Real Estate (FIRB)
Read more!
https://caanhousinginequalitywithaussieslockedout.com/2019/02/25/8720/
Scott Morrison before entering politics wrote the policy for the PCA!
STOP IMMIGRATION NOW!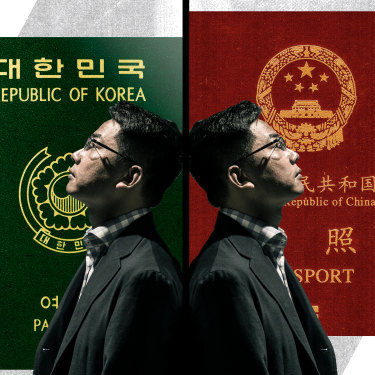 Wang Liqiang now lives in hiding in Australia after abandoning his life as a Chinese spy.CREDIT:ILLUSTRATION: MARK STEHLE, PORTRAIT: STEVEN SIEWERT
China is marching on Australia and we are horribly unprepared
By Houses and Holes in Australian Economy, Australian Politics, China American Cold War
November 25, 2019 | 70 comments
Pretending to care is the bete noir of modern politics. As a singular globalisation ideology has moved inexorably foward, politicians and media have become little more than baubles adorning an unstoppable machine.
They pretend to care about various interests groups impacted but nobody really challenges the status quo.
Now this phony debate has taken a hold of Australia's China relationship. We are still well short of meaningful action. And so the problem will keep getting worse.
Trailing MB by the usual five years or so, at least the MSM has grasped that there is a problem. Leading us off on the weekend was Domain:
A Chinese spy has risked his life to defect to Australia and is now offering a trove of unprecedented inside intelligence on how China conducts its interference operations abroad.

Wang "William" Liqiang is the first Chinese operative to ever blow his cover. He has revealed the identities of China's senior military intelligence officers in Hong Kong, as well as providing details of how they fund and conduct political interference operations in Hong Kong, Taiwan and Australia

Mr Wang has taken his material to Australia's counter-espionage agency, ASIO, and is seeking political asylum – potentially opening another front in Australia's challenging bilateral relationship with China.

…In interviews with The Age, The Sydney Morning Herald and 60 Minutes, he has revealed in granular detail how Beijing covertly controls listed companies to fund intelligence operations, including the surveillance and profiling of dissidents and the co-opting of media organisations.
Defector Wang Liqiang is now in hiding in Sydney.CREDIT:STEVEN SIEWERT
Nothing new there, beyond it coming from the horse's mouth. That is useful because it puts those that pretend to care on the spot, also at Domain: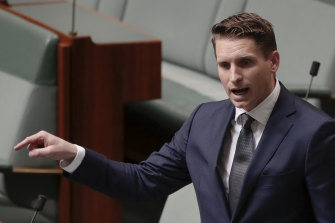 Liberal MP Andrew Hastie backs an asylum bid by former Chinese spy Wang Liqiang.CREDIT:ALEX ELLINGHAUSEN
Prominent Liberal MP Andrew Hastie has praised the courage of a former Chinese spy who has defected to Australia, and called for the government to urgently protect him.
Mr Hastie, who chairs the federal parliament's Joint Committee on Intelligence and Security, said intelligence operative Wang Liqiang was a "friend of democracy" for exposing the Chinese government's systematic and sweeping foreign interference operations.
Liberal MP Andrew Hastie says Wang Liqiang, who has revealed Chinese spy secrets, deserves Australia's protection.
"I'm of the view that anyone who's willing to assist us in defending our sovereignty deserves our protection," Mr Hastie said, urging the government to grant Mr Wang asylum. "I think he deserves our protection and our support."
Home Affairs Minister Peter Dutton and Foreign Minister Marise Payne were both approached for comment but did not respond. Treasurer Josh Frydenberg declined to comment on the "particulars of individual cases" but said the revelations did "concern" the government.
Bravo Hastie, one of the few with conviction. It gets worse, also at Domain:
Bo "Nick" Zhao and Brian Chen, who he alleged was trying to get him into Federal Parliament.CREDIT:STEVEN SIEWERT
Australian authorities are investigating claims that a Chinese espionage ring tried to install an agent for Beijing in a seat in Federal Parliament.
Sources with knowledge of the alleged plot believe the suspected Chinese intelligence group offered a million dollars to pay for the political campaign of Liberal Party member and Melbourne luxury car dealer Bo "Nick" Zhao, 32 to run for an eastern suburbs seat. The plot appears to be part of an operation to place a Chinese agent in parliament.
Mr Zhao disclosed the alleged approach to ASIO about a year ago, according to his associates and multiple Western security sources, and he identified the man he says approached him as another Melbourne businessman, Brian Chen.
Mr Chen (Chinese name Chen Chunsheng) has denied knowing Mr Zhao or being involved in Chinese intelligence activities. However, sources say Australian authorities have determined that Mr Chen had been in contact with Mr Zhao.
Mr Zhao's claims have sparked an investigation into the alleged efforts by Chinese military intelligence to place an espionage asset in Canberra.
…In March this year, Mr Zhao was found dead in a Melbourne motel room. Local police who have prepared a brief for the coroner have been unable to conclude how he died.
ASIO is so incensed that it released a statement:
Statement from the Director-General of Security, Mike Burgess
24 November 2019
Foreign Interference
The reporting on Nine's Sixty Minutes contains allegations that ASIO takes seriously. As the Director-General of Security, I am committed to protecting Australia's democracy and sovereignty. Australians can be reassured that ASIO was previously aware of matters that have been reported today, and has been actively investigating them.
However, in accordance with long-standing practice, I will not comment on this particular operational matter, including any detail of the individuals involved. Given that the matter in question is subject to a coronial inquiry, and as not to prejudice our investigations, it would be inappropriate to comment further.
Hostile foreign intelligence activity continues to pose a real threat to our nation and its security. ASIO will continue to confront and counter foreign interference and espionage in Australia.
*If the revelations do concern the Government then why is Gladys Liu still poisoning its ranks? Why hasn't Home Affairs properly funded and deployed the Foreign Interference Co-ordinator? Why isn't there a federal ICAC? Why is nobody enforcing the Foreign Influence Register? Why is Recessionberg still approving wildly inappropriate CCP takeovers of Aussie firms?*
These are only the basic mechanisms of protecting our sovereignty. They're neither aggressive nor difficult. Yet, so far, not even they can get off the canvas.
*Much harder questions like a national strategy to diversify away from China, boosted defense spending, and what happens to a Chinese diaspora amid a genuine conflict are still considered impertinent."
At least rhetoric is turning. Someone other than MB has finally given Paul Xeating the slap upside the head he so fulsomely deserves, via Peter Hartcher:
Duncan Lewis retired in September after five years as head of ASIO. In his only interview since leaving the job, I asked him what the Chinese government wants from Australia. The Herald and Age published his answer on Friday:

"They are trying to place themselves in a position of advantage. Espionage and foreign interference is insidious. Its effects might not present for decades and by that time it's too late. You wake up one day and find decisions made in our country that are not in the interests of our country. Not only in politics but also in the community or in business. It takes over, basically, pulling the strings from offshore."

In Keating's world, the response would be to try to delegitimise ASIO and the Herald as nutters or nominally pious belchers, or something equally colourful. Fun stuff, but it doesn't confront the reality that China seeks covert control of Australia's sovereignty.*

"Paul's been giving the same sort of speech for five years," says an Australian foreign policy expert who asked not to be named. "The situation has changed in the last five years. China has toughened and hardened and that's why the debate in Australia has changed. Paul's a bit out of date."

Keating affects sophistication. But in truth his conception is super-simplistic – China is big and getting bigger so be nice and don't upset them. The reality is much harder – how do you work with a big economic partner while it's trying covertly to take control of your country? You don't succeed by pretending it's not happening.

The China Development Bank shows Keating as a member of its international advisory board. You have to wonder, when he advises this big state-owned bank, does he give it facts or fantasies? Because, based on his speech this week, he's urging Australia to join his China fantasy, not face facts. He needs to harden up.
Amen to that. Anyone in the CCP-riddled ALP listening? Apparently not, via Domain:
The senior Labor member of federal Parliament's peak security committee has called for a "comprehensive assessment" of a potential Chinese defector to consider his claims for asylum without rushing to judgment on the complex case.

The deputy chair of the joint security and intelligence committee, Anthony Byrne, warned against a "knee-jerk" response to the case amid Chinese claims that Wang Liqiang was not a spy but a convicted fraudster.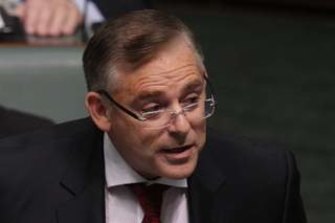 Labor MP Anthony Byrne.CREDIT:ALEX ELLINGHAUSEN
Versus what a patriot sounds like:
…Centre Alliance senator Rex Patrick said the authorities would have to give the "strongest consideration" to the potential defector's circumstances.

"I have no doubt in my mind that he would be the subject of severe consequences were he to return to China," Senator Patrick said.
Yet even Hartcher is still far behind the curve. He argues that we ought to be enforcing laws that do not even exist with insitutional structure yet:
Modern Australian multiculturalism has no difficulty with the international attachments of immigrants. A Hawke government immigration minister, Robert Ray, liked to quip with various ethnic communities that while he fully expected the first-generation immigrants to cheer for the sports teams from their country of origin, their Australian-born kids should be screaming for the Aussie teams. In other words, we understand that you have ties of sentiment and bonds of kinship to other countries, and we're unconcerned. We know it takes time to put down roots in new social soil. This is a part of democratic pluralism and it's an enrichment of a society. But it cannot tolerate acts to advance a foreign political movement with hostile intentions.

…But two big questions remain. Are there covert agents of Chinese government influence working in Australia? And why are the foreign influence laws not being enforced?
Because they were designed to pretend to care of course. And while we pretend, without effective sovereignty, the problem only gets worse.
The upsetting truth is that as durable as Australian multiculturalism has proven, it has never faced an adversary like this. It's much harder than Islamic fundamentalism, an attempted corruption of Muslim diasporas by a small band of genuflecting psychopaths.
Multiculturalism repulsed that pathetic insurgency easily with local Mussies horrifed at the loons in their midst and working hand-in-glove with authorities.
You can't simply hope that local ethnic Chinese will self-police the CCP. It's not their fault, either. This is a giant interwoven historical identity with added bribe, extortion and bullying of the local Chinese community. It is pre-modern, orchestrated and directed by vast insitutions, state violence and supported by the second largest economy on earth. It makes Al Qaeda look like cabbage patch kids.
*I fear that there is no answer to this other than to block it; to cut the number of Chinese migrants flowing in. That is obviously offensive to the multicultural ethos so total migrant numbers must be cut instead, to disguise the Chinese reduction. That will give the local Chinese community time to bulwark itself against strangling CCP tentacles.
There are already two effectively ethnic Chinese controlled electorates in Australia, including the one held by the appalling Gladys Liu. That is not to say that they will always vote with CCP sympathies. But they will obviously be vulnerable to its attacks. Two more ethnic Chinese electorates and wider Australia might lose the ability to ever cut immigration again, not to mention many other policies that will aid a CCP takeover.
As you can see, the debate is still far short of the reality. Alas, it may remain so until crisis triggers blowback, via Natasha Kassam and Richard McGregor at The Australian on Taiwan:
China has been taking a leaf out of the Russian playbook by overtly and covertly influencing local media and community groups, taking control of some newspapers and television stations, and seeding money to candidates through clan and temple associations that proliferate on the island.

…In Taiwan, political leaders worry that Xi wants to cement his legacy with a breakthrough on Taiwan. Once shy about revealing its strengths, Beijing under Xi has adopted a different approach, flaunting its wealth and power and equipping the People's Liberation Army to deter any challengers.

But while the conventional balance in military power is tipping towards China, a full-scale invasion remains unlikely. The People's Liberation Army would have to mount an amphibious invasion, which is risky.

Even if Beijing were to take Taiwan militarily, that would hardly be the end of the issue. "This would only be the start of a much larger open-ended political and security crisis for China and the region in the face of Taiwanese resistance," Harrison says.

"Mass refugees, capital flight and the mobilisation of Taiwanese diasporas would test national politics in many countries, especially Australia. On top of that, sustaining an occupation of Taiwan by the PLA for possibly years would test China's military resources and the strength of its political institu­tions." It is no wonder, then, that Beijing prefers its current strategy of multi-front hybrid warfare against the island to force an opening of talks.

Taiwanese leaders live on the edge, determinedly cultivating support in the US and Western ­democracies, which they see as their best bet to hold off Beijing. As Taiwan's Foreign Minister Joseph Wu says: "We need to prepare ourselves for the worst."
Indeed. As I noted last week, any move by Beijing to take over Taiwan, no matter what the US does initially, will result in a massive and ceaseless guerilla war conducted across the entire Chinese front from Sapporo to Hobart, co-ordinated from the safety of the United States.*
Yet there is an inexorable logic for a CCP move on Taiwan eventually. As its economy slows and the social contract with Chinese middle classes fails, the CCP will seek more external enemies to remain in power at home. Perhaps it will never come to war but rising hostility is assured and that makes kinetic conflict an unsettling probability.
*What is Australian multiculturalism going to do then? Round up ethnic Chinese en masse like Japanese internments in WW2? Three or four million of them?
The sad fact of the matter is that post-modern Australia is a construct based upon the presumption of the end of history; the global triumph of liberal democracy. A liberalising China was supposed to be a part of that.
But history is back and it will take no prisoners as it drives a CCP tank over such delicate bourgeous notions.
It's time we sober up and discuss how to win the silent war we find ourselves in.
David Llewellyn-Smith is Chief Strategist at the MB Fund and MB Super. David is the founding publisher and editor of MacroBusiness and was the founding publisher and global economy editor of The Diplomat, the Asia Pacific's leading geo-politics and economics portal.
He is also a former gold trader and economic commentator at The Sydney Morning Herald, The Age, the ABC and Business Spectator. He is the co-author of The Great Crash of 2008 with Ross Garnaut and was the editor of the second Garnaut Climate Change Review.
SOURCE: https://www.macrobusiness.com.au/2019/11/china-is-marching-on-australia-and-we-are-horribly-unprepared/
CAAN FACEBOOK:
https://www.facebook.com/Community-Action-Alliance-for-NSW-744190798994541/?ref=aymt_homepage_panel
WEBSITE:
https://caanhousinginequalitywithaussieslockedout.wordpress.com/