HOW COME? What brought this on?
IS this due to the extra 1 MILLION that have flown in on real estate tours to pay cash for apartments in the high-rise Precincts … that are energy and water intensive? And gain a Permanent Resident Visa?
SO our governments push ahead with the second Sydney airport to fly them in … to move this diaspora around on the expanding MTR Hong Kong Consortium Metro .. and to build even more …as Sydney's water supply rapidly drains … all thanks to this overdevelopment … and they want to keep building more …
WHAT are you going to do Sydney? We have an extra 1 MILLION more people … NOW!
-that is 200 MILLION Litres of extra water consumption every day!
-by 2068 Sydney's population will double by mass immigration
DESPITE droughts becoming more common and evapotranspiration rates to accelerate
-the proposed solution very expensive and enviro damaging desalination plants
THE LOGICAL PATH FORWARD WOULD BE TO CUT IMMIGRATION …. WHAT ARE WE GOING TO DO ABOUT THIS SYDNEY?
'Rapid decline' forces Sydney to Level 2 water restrictions
November 21, 2019
NSW Premier Gladys Berejiklian has fast-tracked the implementation of Level 2 water restrictions in Sydney, the Blue Mountains and the Illawarra regions as dam levels deplete faster than expected.
The new restrictions take effect from December 10 and apply to water use outside the home, with people required to use buckets when watering their gardens and washing their cars.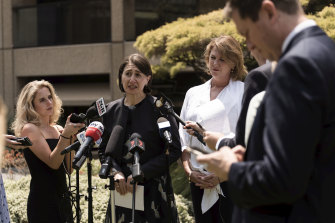 Ms Berejiklian said the "rapid rate of decline of our dam levels" had prompted the government to bring forward the Level 2 restrictions, which are typically enacted when dam levels drop to 40 per cent.
"We are in uncharted territory in terms of the rate at which [water] has been declining. In fact, in the last 12 months we only received 10 per cent of the water in our dams that we ordinarily would," Ms Berejiklian said on Thursday.Advertisement
RELATED ARTICLE
The Greater Sydney dam levels are 46.1 per cent full and are expected to hit 45 per cent next month as they sink by about 1 percentage point a week, even with the desalination plant operating at full tilt.
The reservoirs have not been this low in about 12 years, since the Millennium drought, and are falling at a faster pace.
More than 85 per cent of Greater Sydney's water is supplied by captured rainfall.
Under Level 2 restrictions, people can only water their gardens before 10am or after 4pm with a watering can or bucket, and cars can only be washed with a bucket or taken to a commercial car wash.
Smart and drip irrigation systems may only be used for 15 minutes before 10am or after 4pm, while hosing of hard surfaces is not permitted, unless in an emergency.
People wanting to fill up their pools will need to obtain a permit, while those topping up pools and spas are limited to 15 minutes a day and even then with a trigger nozzle.
Sydneysiders will face fines of $220 for breaching the restrictions, while businesses will face fines of $550.
Water Minister Melinda Pavey said the government would work "hand in glove" with businesses particularly affected by the restrictions, such as nurseries, "to ensure they can keep their businesses afloat".
RELATED ARTICLE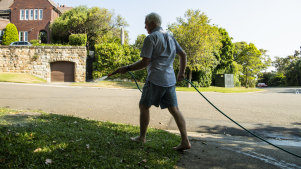 Businesses that rely on outdoor water use as part of their operations can apply to get an exemption.
However, Ms Berejiklian said no final decision had been made on when Sydney's desalination plant would be expanded.
The desalination plant now produces 250 million litres a day, or about 15 per cent of Greater Sydney's water use. The existing plant can be doubled in size, however, Sydney Water will need to make further investments to cope with the doubling of water production.
Meanwhile, up the coast, the government has started taking public comment on a plan for a desalination plant to supply water for the Newcastle region. The project, costing about $100 milion, would provide about 10 per cent of the Lower Hunter region's needs.
So far, Sydney Water has issued 135 official warnings for water misuse.
"The objective of our Community Water Officers is about education to ensure people follow water restrictions," a spokeswoman said. "Where breaches of water restrictions are found, warnings or fines will be issued."
Sydney's move to Level 2 restrictions is ahead of the schedule set by the 2017 Sydney Metropolitan Water Plan. According to that strategy, these curbs were to kick in when dam levels dropped to 45 per cent.
Lisa Visentin is a state political reporter at The Sydney Morning Herald.
Peter Hannam writes on environment issues for The Sydney Morning Herald and The Age.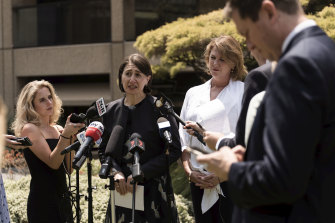 SOURCE: https://www.smh.com.au/environment/sustainability/rapid-decline-forces-sydney-to-level-2-water-restrictions-20191121-p53coo.html
CAAN FACEBOOK:
https://www.facebook.com/Community-Action-Alliance-for-NSW-744190798994541/?ref=aymt_homepage_panel
WEBSITE:
https://caanhousinginequalitywithaussieslockedout.wordpress.com/