HOW come some people and their communities are hitting the headlines daily?
WHETHER it be …
-gangs hitting on supermarkets and stealing sought-after products
-reaching notoriety through foreign developer connections; hiding $Millions property stashes
-Chatswood described by GeoPolitical Stratagist David Lee as the city being built by the CHINESE COMMUNIST PARTY
-foreign developers buying up more than a third of large land tracts for house and land packages; taking over Our Rural Villages … because they can!
-ASIO warns parties that taking China cash could compromise Australia
-a double agent in our Australian Parliament linked to the One Belt One Road push
-double agent declines to explain her part in mysterious $105,000 DONATION!
-double agent Party branch called to relax foreign investment laws before she became federal MP
-double agent did not disclose membership of Chinese Government-linked organisations before Liberal Party preselection
AND MUCH MORE!
Police sting seizes nearly $175,000 cache of baby formula, other products

November 21, 2019
A large spate of thefts has been brought to a halt after a month-long investigation, with police seizing $175,000 in baby formula, cosmetics and groceries, along with $55,000 in cash.
Detectives from Operation Lightfingers and local police searched a series of locations across Sydney's south-west on Wednesday afternoon: two stores on Chapel Road in Bankstown, a warehouse in Milperra and a home in Condell Park.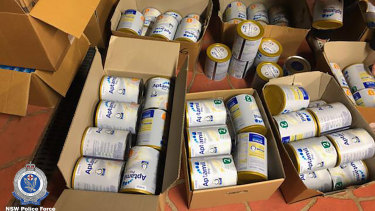 Shortly afterwards, a 28-year-old man, and two women, one aged 26 and the other 53, were arrested at a car park on Canterbury Road, Bankstown. All three were taken to Bankstown police station.
Officers searched a motel room at Liverpool on Thursday, seizing a "gel blaster" firearm, a baton and steroids, police said.
RELATED ARTICLE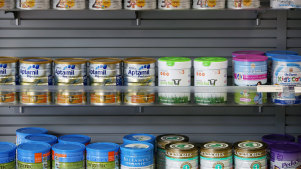 Police are yet to confirm exactly how much of the haul was baby formula, but said that it was a "considerable amount" of the goods, which also included cigarettes, energy drinks and paw paw ointment.
It is alleged that the younger woman and the man stole more than $10,000 worth of goods from supermarkets and independent grocers on 21 occasions last month.
The younger woman and the man were charged with 15 counts of larceny, and six counts of dispose property-theft.
The older woman was also charged with six counts of dispose property-theft, knowingly dealing with the proceeds of a crime, and having stolen goods on premises.
RELATED ARTICLE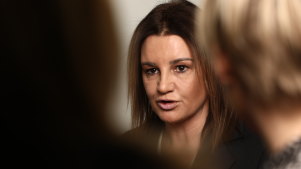 Police will allege that she was receiving the stolen goods to sell for financial benefit.
All three were refused bail and were due to appear at Bankstown Local Court on Thursday.
More charges are expected to be laid.
Police are warning shoppers and businesses to be cautious heading into busiest time of the retail year.
"Christmas is typically a very busy period in retail with an influx of shoppers, and this can often be seen as an opportunistic time for potential shoplifters to target stores while staff members are busy with customers," Detective Chief Inspector Stuart Bell, the Operation Lightfingers squad commander, said.
"Today's results should send a clear message to anyone who thinks they can steal goods without paying for them, that they will be caught, and they will be put before the courts.
"Operation Lightfingers is a proactive and targeted policing strategy which we conduct throughout the year and allows police and retail staff to work together to target possible thieves.
"I can assure the community that we are committed to continuing our operations targeting shoplifting and that this sort of criminal behaviour will not be tolerated."
Baby formula remains an extremely valuable commodity, particularly for its export value. Most supermarkets and retailers have been forced to implement policies restricting bull purchasing of products – making it a popular target for thieves.
Matt Bungard is a journalist at The Sydney Morning Herald.
SOURCE: https://www.smh.com.au/national/nsw/police-sting-seizes-nearly-175-000-cache-of-baby-formula-other-products-20191121-p53cu8.html?utm_medium=Social&utm_source=Facebook&fbclid=IwAR0uO_uh7TScdT5Qj80Y6gh9R9aBJovQp7UOddrVqkg_vsB5DxaVGJQ4Gm4#Echobox=1574315178
CAAN FACEBOOK:
https://www.facebook.com/Community-Action-Alliance-for-NSW-744190798994541/?ref=aymt_homepage_panel
WEBSITE:
https://caanhousinginequalitywithaussieslockedout.wordpress.com/