SHARE this with your families … so they are better informed … then challenge your local MPs for a cutback to 100,000 p.a. immigration for a better future for Australia!
ALSO VIEW:
https://caanhousinginequalitywithaussieslockedout.com/2019/11/20/new-modelling-mass-immigration-makes-aussies-poorer/?fbclid=IwAR2AMn_St8BB7Rg8QV4K0-gD8rf-SDkc7ch3Kphz0vejYxLCP1znDqbbfGs
Gerard Minack: Mass immigration killing wages
By Unconventional Economist in Australian Economy
November 20, 2019 | 11 comments
Economist Gerard Minack has warned that the huge rise in labour supply from mass immigration is holding down Australian wages:
Gerard Minack, an economist and principal at Minack Associates, said when compared with the boomer generation, the economic choices of recent generations are much more limited.

"Well, young Australians are facing a hell of a hill," he told 7.30.

"They are coming out of universities with a much larger debt than their parents did and they are going to have to buy in the most expensive housing market in the world.

"All against a backdrop of a negative income growth.

"It's a trifecta that's pretty tough for them"…

High immigration levels also mean that more people want work.

That, in turn, means there is no need for employers to give people pay rises to keep them on.

"The biggest single problem since the GFC 10 years ago is that we have struggled to get any income or wage growth," Mr Minack said.

"Why is that? A massive increase in labour supply."
Too right. When you add 200,000-plus migrants to the economy every year, most with work rights, then it represents a massive rolling labour supply shock which must be absorbed.
Indeed, a recent paper by Melbourne University Professor, Peter McDonald, found that around three quarters of employment growth in Australia between 2011 and 2016 was attributed to immigration:
The permanent and temporary skilled migration policies established by the Australian Government from 1995 played an important role in meeting that labour demand, especially in the boom years of the first decade of the 21st century…
*From July 2011 to July 2016, employment in Australia increased by 738,800. Immigrants accounted for 613,400 of the total increase…*
Migration has had a very large effect on the age structure of employment with most new immigrant workers (595,300) being under 55 years.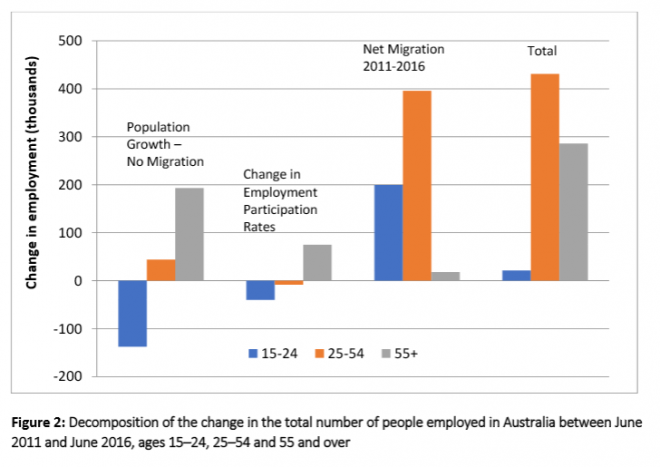 Embedded in this system is the systemic wage theft from temporary migrants, which has become entrenched across the entire Australian economy: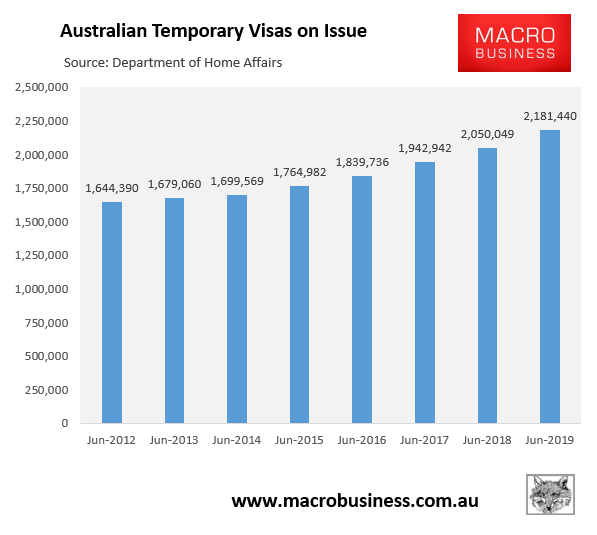 Entire industries have become heavily reliant on migrant workers to perform low-skilled work in the labour market for below award rates, which is unambiguously undercutting local workers and lowering overall wage growth.
The economics is simple: continually increasing labour supply via immigration necessarily reduces workers' bargaining power and ergo wages growth.
So why aren't Australia's union movement and younger Australians up in arms at the mass immigration 'Big Australia' policy, which is not only eroding workers' conditions and pay, but also pushing-up their cost of living via housing as well.
Leith van Onselen is Chief Economist at the MB Fund and MB Super. Leith has previously worked at the Australian Treasury, Victorian Treasury and Goldman Sachs.
ABC Photo: Gerard Minack
SOURCE: https://www.macrobusiness.com.au/2019/11/gerard-minack-mass-immigration-killing-wages/
CAAN FACEBOOK:
https://www.facebook.com/Community-Action-Alliance-for-NSW-744190798994541/?ref=aymt_homepage_panel
WEBSITE:
https://caanhousinginequalitywithaussieslockedout.wordpress.com/