NSW to feds: cough-up infrastructure funds
By Unconventional Economist in Australian budget
November 19, 2019 | 3 comments
The NSW Government has demanded the federal government commit and bring forward funding for shovel-ready infrastructure projects in Sydney:
In the letter dated November 7 sent to Prime Minister Scott Morrison and Federal Treasurer Josh Frydenberg, the NSW leaders have asked the Commonwealth to bring forward crucial funding to assist the state in getting the Sydney Metro West and the Sydney Metro Greater West moving.

The Daily Telegraph revealed last week that the State Government currently faces a $30 billion funding shortfall to build the mammoth infrastructure pipeline it has announced into the future.

"We appreciate the Commonwealth Government's funding for projects such as the Pacific Highway and WestConnex," extracts of the letter provided to The Daily Telegraph state.

"But in the context of the scale of the task, we are asking the Commonwealth Government to commit further funding and bring forward funding for NSW infrastructure projects."
The NSW Government is justified in demanding greater funding.
It is the federal government that has chosen to force-feed Sydney with migrants, which will see Sydney's population almost double over the next half-century: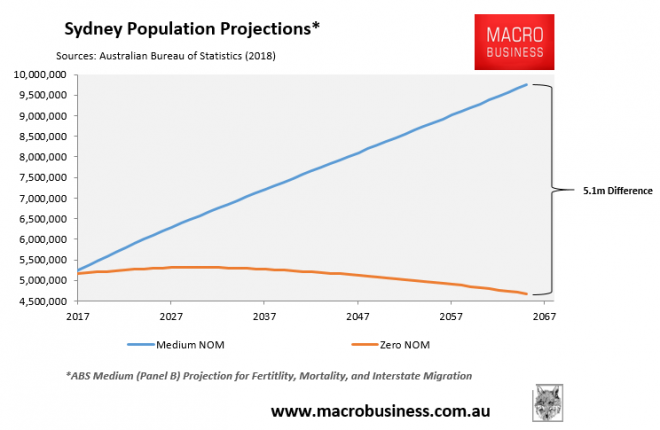 Therefore, the federal government should pick-up the cost, especially given it receives 80% of Australia's tax revenue, and gains the most from mass immigration via increased personal and company taxes.
The states, by contrast, are left carrying the cost of infrastructure and services to support population growth (think roads, public transport, schools and hospitals).
Analysis by the Grattan Institute in 2014 showed that "unprecedented infrastructure spending by states and territories" since the escalation of population growth from 2004 is "largely responsible for a $106 billion decline in their finances since 2006", and that "after a threefold increase in capital spending over the last 10 years, states are paying 3 per cent more of their revenues in interest and depreciation".
Separately, Grattan executive director, John Daley, recently noted that "state governments were struggling to deal with rapid population growth in their major cities and the quality of life of residents – represented by the rapid growth in house prices in recent decades – was suffering".
To date, the states have 'managed' these costs by shoving massive infrastructure spending off balance sheet, including through privatising assets via budget tricks like Public Private Partnerships (PPPs). In the process, this has created substantial hidden costs for residents – effectively private taxes – via things like tolls and user pays charges.
Infrastructure provision has also failed miserably to keep pace with population growth, as explicitly noted by Infrastructure Australia in December, resulting in crushed living standards.
Until the federal government is directly exposed to the costs of mass immigration – by bearing the costs of economic and social infrastructure – then it will continue to run the program at a turbo-charged rate.
Leith van Onselen is Chief Economist at the MB Fund and MB Super. Leith has previously worked at the Australian Treasury, Victorian Treasury and Goldman Sachs.