A PERTH STUDY revealed 79% of people would prefer a separate dwelling …
MEANWHILE cashed-up foreign buyers are buying up 'house and land packages' in Sydney's south-west and north-west …. from their own state-based developer companies …
PERHAPS this too is adding to ' … the suburban dream runs deep in the Australian cultural psyche. Australia is not alone in this. As a result of widespread preference for suburban living, globally we are not in the age of urbanisation but rather the age of suburbanisation.'
MAKE your objections known to your local MPs! Too much competition from those laundering 'black money' in Aussie Real Estate!
-Scomo Government exempted the Real Estate Gatekeepers from Anti-Money Laundering Laws (AML L) in October 2018!
VIEW THE COMMENTS …
+
Aussies still dream of a house with backyard
By Unconventional Economist in Australian Property
November 18, 2019 | 11 comments
Earlier this month, a cabal of Big Australia shills claimed that Aussies no longer want to live in a detached house with a backyard, and are instead choosing high density living and renting:
Danni Hunter, Victorian chief executive of the Urban Development Institute of Australia… said density would "grow stronger … and that's really good for the diversity of our cities, our suburbs and our population. People want to live in apartments. People want to downsize to townhouses," she said.
CAAN Photo: Godzillas of Meadowbank
"Density in particular is making some really great changes to the way we live and is helping people come together in a community sense."

[Bernard Salt] said many young people had "different values" and few wanted large homes with a mortgage in any case.

"The homogeneity of Australian society has shifted from mum, dad, four kids to the cosmopolitan diverse community we have today," he said. "They want greater flexibility, greater fluidity, and the idea of an early life commitment to a mortgage … just doesn't sit with the vast majority of the millennial generation."
Bernard. Salt.
*Today, this myth has been comprehensively destroyed by academics from the University of Western Australia:
Around the world, the vast majority of people are flocking to cities not to dwell in their centres but to live in the new suburbs expanding their outer limits. Reflecting this, from 2000 to 2015, the expansion of urbanised land worldwide outpaced urban population growth.

The result is unprecedented urban sprawl…

We love our leafy suburbs

The "Australian dream" of owning your own home is often automatically associated with a detached house on a block of land. It's seen as a mark of having "made it".

For instance, a study in Perth found that, if they had the money, 79% of people would prefer a separate dwelling and 13% a semi-detached option.

*Only 7% preferred flats, units or apartments.

Evidently, the suburban dream runs deep in the Australian cultural psyche. Australia is not alone in this. As a result of widespread preference for suburban living, globally we are not in the age of urbanisation but rather the age of suburbanisation.
A recent survey from New Zealand came to an identical result: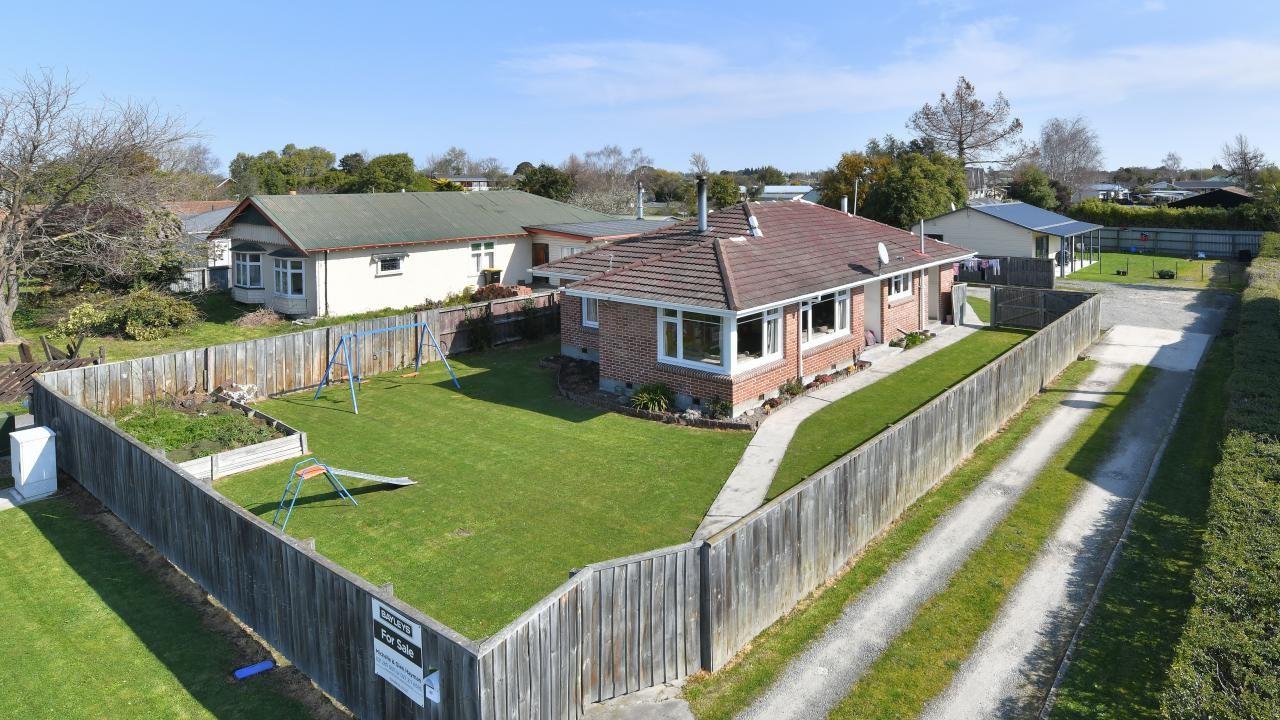 The Nexus Planning & Research survey of 1,008 people aged 18 and over shows 49% consider a backyard essential when buying a home, and another 42% think one would be nice to have.
"It's interesting to see that people consider having a backyard much more important than living close to work, public transport, parks or schools," says Westpac's Robert Hill.
"Owning a home with a nice backyard has traditionally been central to the Kiwi dream, and the recent rise in house prices and increase in apartments doesn't seem to have dented that."
So, if given the choice, the overwhelming majority of people in Australia (and New Zealand) would prefer to live in a detached house with a backyard than a townhouse or apartment.
*The problem is, high density living is no longer a choice, but rather has been forced upon Australians via the federal government's mass immigration policy.
The situation is particularly dire in Sydney, which is Australia's immigration capital. According to projections from the Urban Taskforce, apartments will make up half of Sydney's dwellings mid-century, whereas only one quarter of Sydney dwellings will be detached houses: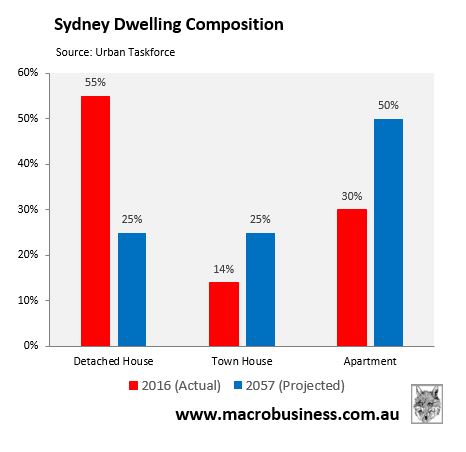 That's the death of The Australian Dream right there. And this is celebrated by the Big Australia boosters, who continue to gaslight the population into believing it's in our best interests.
Leith van Onselen is Chief Economist at the MB Fund and MB Super. Leith is an economist and has previously worked at the Australian Treasury, Victorian Treasury and Goldman Sachs.
SOURCE: https://www.macrobusiness.com.au/2019/11/aussies-still-dream-of-a-house-with-backyard/
CAAN FACEBOOK:
https://www.facebook.com/Community-Action-Alliance-for-NSW-744190798994541/?ref=aymt_homepage_panel
WEBSITE:
https://caanhousinginequalitywithaussieslockedout.wordpress.com/