Ever wondered if you would have fought the rise of Nazism?
By Houses and Holes in China American Cold War
November 18, 2019 | 35 comments
On Friday, L-plated Treasurer Josh Recessionberg approved the takeover of Bellamy's by a Chinese Communist Party owned enterprise:

Australia: Mengniu 蒙牛 , agent of Chinese party-state in NZ, created CCP United Front Chinese business group, the China NZ Business Council 中国-新西兰商务理事会 under control of Yashili owner Mengniu and CCPIT. Now approved to buy Australia's Bellamy'shttps://twitter.com/search?q=mengniu%20%40geoff_p_wade%20new%20zealand&src=typd …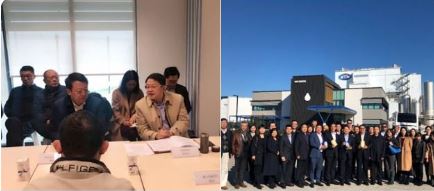 79:42 AM – Nov 15, 2019Twitter Ads info and privacySee Geoff Wade's other Tweets
This is clearly innapropriate on a number of fronts. Such state owned enties should be banned from acquisitions. Second, milk provider share prices have been thumped by Chinese funny business in import rules. So the CCP is literally buying BAL at an insider-trading discount.
The reason Recessionberg pushed it through is that BAL isn't strategic and the Government is aiming to kow tow its way back into CCP favour.
But late Friday's China did this, via News:
Liberal MPs Andrew Hastie and James Paterson have been barred from visiting China, seemingly for their public criticism of the country's authoritarian regime.

Mr Hastie and Mr Paterson were set to visit Beijing in December, along with their Labor colleague Matt Keogh, as part of a study tour organised by the China policy think tank China Matters.

But on Friday it was revealed the trip would not go ahead.

"We regret the decision of the government of the People's Republic of China, conveyed to China Matters via the PRC embassy in Canberra, that at this time Mr Hastie and Senator Paterson are not welcome," the think tank said in a statement.

"We had looked forward to learning from the Chinese people about their culture, history and perspective during this visit," Mr Hastie and Mr Paterson said in reaction to the news.

"We are disappointed that this opportunity for dialogue now won't occur. We are particularly disappointed that the apparent reason why we are not welcome in China at this time is our frankness about the Chinese Communist Party.

"Despite this, we will always speak out in defence of Australia's values, sovereignty and national interest.

"We look forward to a time when the Chinese government realises it has nothing to fear from honest discussion and the free exchange of ideas."
Then late Saturday we got this from the CCP embassy:
China is open to constructive dialogue and exchanges with people all around the world on the basis of mutual respect, equality and seeking common ground while reserving differences. The Chinese people do not welcome those who make unwarranted attacks, wantonly exert pressure on China, challenge China's sovereignty, disrespect China's dignity and undermine mutual trust between China and Australia. The colonial days of Western powers are long gone. China will never yield to colonization of ideas and values. As long as the people concerned genuinely repent and redress their mistakes, view China with objectivity and reason, respect China's system and mode of development chosen by the Chinese people, the door of dialogue and exchanges will always remain open.
So, we're not allowed to discuss the CCP in our own country if that is challenging Chinese sovereignty? Meanwhile, the CCP conducts a media show trial of our few brave parliamentarians that have labeled the CCP the contemporary version of Nazism.
Which it is. The NYT exposed a fresh set of leaked CCP documents ordering the mass rounding up and incarceration of muslim Chinese:
The directive was among 403 pages of internal documents that have been shared with The New York Times in one of the most significant leaks of government papers from inside China's ruling Communist Party in decades. They provide an unprecedented inside view of the continuing clampdown in Xinjiang, in which the authorities have corralled as many as a million ethnic Uighurs, Kazakhs and others into internment camps and prisons over the past three years.
And this horror is what happens to them as well, via Forbes:
Despite repeated denials, China stands accused of a systematic cover-up to hide the continuing practice of forced organ harvesting and murder. The practice, described as "state-run mass murder" and valued at $1 billion each year, has supposedly been outlawed in the country. But a new report, published on November 14 in the BMC Medical Ethics journal, refutes this, accusing China of a "systematic falsification and manipulation of official organ transplant datasets," as the killings continue.

After nearly two years, our paper on the apparent falsification of China's official organ donor registry data has been published! We used statistics to unravel state data manipulation. I believe the findings are both fascinating and important. (Thread…) https://t.co/S4W8APjivr pic.twitter.com/MFk0dKP6i8

— matthew robertson (@mprobertson) November 15, 2019
Israeili citizens are banned from medical travel to China because of these reonances with Nazism. Something that Josh Recessionberg might like to mull in his private moments.
But this is not about him especially. It is about all of us, as Australians, and there are two points to make.
The first is that grovelling to China only sends the signal that you are weak. That doesn't mean you can't chew gum and walk at the same time, and have cordial relations where it is right to do so. But if you think you can crawl your way into Bejing affections then you are making a grave mistake.
Second, there is only one reason why anyone not already surpressed by the CCP would want to live under its hegemony. They are either bought. So, it is best to limit that as much as is practicable.
If you've ever wondered if you would have fought the rise of Nazism, now you know.
David Llewellyn-Smith is Chief Strategist at the MB Fund and MB Super. David is the founding publisher and editor of MacroBusiness and was the fouding publisher and global economy editor of The Diplomat, the Asia Pacific's leading geo-politics and economics portal.
He is also a former gold trader and economic commentator at The Sydney Morning Herald, The Age, the ABC and Business Spectator. He is the co-author of The Great Crash of 2008 with Ross Garnaut and was the editor of the second Garnaut Climate Change Review.
Did you know the MB International Shares Fund has returned an average of 17.1% per annum and the Tactical Growth Fund an average of 10.4%? Register below to learn more:
SOURCE: https://www.macrobusiness.com.au/2019/11/ever-wondered-if-you-would-have-fought-nazism-now-you-know/
CAAN FACEBOOK:
https://www.facebook.com/Community-Action-Alliance-for-NSW-744190798994541/?ref=aymt_homepage_panel
WEBSITE:
https://caanhousinginequalitywithaussieslockedout.wordpress.com/