CAVEAT EMPTOR … Buyer Beware!
Remember Sydney Property Developer Ralan collapsed in July 2019 …
Insolvent developers forced into fire sales
By Unconventional Economist in Australian Property
November 14, 2019 | 4 comments
Earlier this week, we learned that construction insolvencies are booming, according to ASIC:
Insolvencies in the $150bn residential and non-residential construction industry remain at a high level… insolvencies in the three months to September jumped 78 per cent in Victoria, 41 per cent in Queensland and 7 per cent in NSW.

This was a significant contributor to the 5 per cent increase in year-on-year national defaults to 2309 across all industries, with 22 per cent coming from construction.

Comparative figures for the past 12 months were 8232 insolvencies, of which 20 per cent was in construction.
Today we learn that property developers – both domestic and foreign – are being forced to sell:
"We're definitely seeing an increase in mortgagee in possession come into the market," [Capio Property Group chief executive Mark Bainey] said.
"Many high interest rate private loans taken out for sites that were purchased at the height of the boom are now starting to mature and lenders aren't extending the loan terms… It's a growing trend with the proliferation of non-bank lenders"…
"I think there will be more distressed assets coming into the market, particularly the vacant land," [Ray White Commercial Western Sydney selling agent Peter Vines] said…
Mr Bainey said the distressed sales were mostly coming from small- to medium-sized local and Chinese developers.
This comes as developers are showering incentives on buyers amid rising vacancy levels as projects started during the height of the property bubble are completed, and as demand evaporates amid growing concerns of dodgy building standards, flammable cladding, as well as falling overseas buyer demand.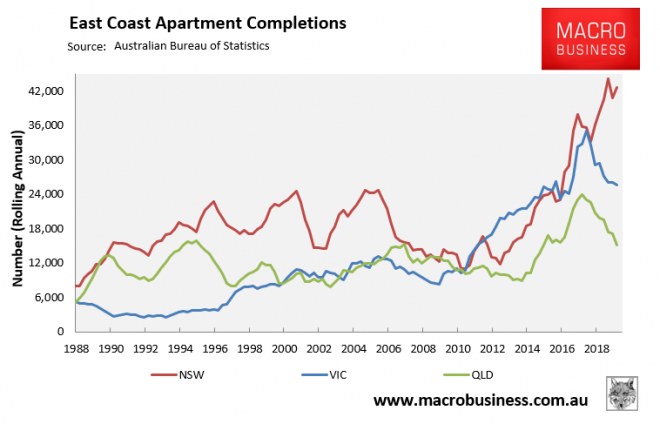 It's a high-risk market that's best avoided.
Leith van Onselen is Chief Economist at the MB Fund and MB Super. Leith is an economist and has previously worked at the Australian Treasury, Victorian Treasury and Goldman Sachs.
SOURCE: https://www.macrobusiness.com.au/2019/11/insolvent-developers-forced-into-fire-sales/#comments
CAAN FACEBOOK:
https://www.facebook.com/Community-Action-Alliance-for-NSW-744190798994541/?ref=aymt_homepage_panel
WEBSITE:
https://caanhousinginequalitywithaussieslockedout.wordpress.com/