VIEW to find out how 'they' are helping People to come together!
Big Australia lobbyists: Aussies don't want to live in houses
By Unconventional Economist in Australian Property
November 13, 2019 | 11 comments
'Big Australia' mass immigration shills claim that Australians no longer want to live in a detached house with a backyard, and are instead choosing high density living and renting:
Danni Hunter, Victorian chief executive of the Urban Development Institute of Australia… said density would

"grow stronger … and that's really good for the diversity of our cities, our suburbs and our population.

People want to live in apartments. People want to downsize to townhouses," she said.

"Density in particular is making some really great changes to the way we live and is helping people come together in a community sense."
Sydney Metro; glitch … helping people come together
[Bernard Salt] said many young people had "different values" and few wanted large homes with a mortgage in any case.

"The homogeneity of Australian society has shifted from mum, dad, four kids to the cosmopolitan diverse community we have today," he said. "They want greater flexibility, greater fluidity, and the idea of an early life commitment to a mortgage … just doesn't sit with the vast majority of the millennial generation."
CAAN Photo: Chinese State Based Real Estate Greenland 'Lachlan's Line' and Chinese Country Garden 'Ryde Garden' in the background North Ryde
*These claims are contradicted by a recent Westpac survey, albeit from New Zealand, which shows that most Millennials still pine for a house with a backyard:
The Nexus Planning & Research survey of 1,008 people aged 18 and over shows 49% consider a backyard essential when buying a home, and another 42% think one would be nice to have.

*"It's interesting to see that people consider having a backyard much more important than living close to work, public transport, parks or schools," says Westpac's Robert Hill.

"Owning a home with a nice backyard has traditionally been central to the Kiwi dream, and the recent rise in house prices and increase in apartments doesn't seem to have dented that."
CAAN Photo: The Godzillas of Meadowbank
I can count on one hand the number of Millennials that I have met that would prefer to live in an apartment or townhouse over a house with a backyard, if given the choice.
*The reason why they are increasingly living in apartments is not by choice, but rather necessity. They have been forced into apartment living because that is all they can afford. Apartments also tend to be rented, rather than owned: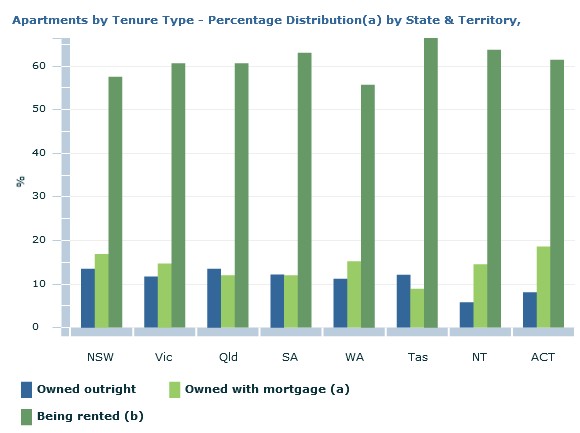 *While apartment living might be fine when living as a single or a couple, it is a sub-optimal choice when it becomes time to have a family. And this is a problem because Millennials are being locked out of family friendly homes, according to BIS Oxford Economics:
Investor demand has seen apartment construction boom — particularly in Sydney, Melbourne and Brisbane — but Mr Zigomanis said the studio, one and small two-bedroom apartments that are attractive to Generation Y as they rent in their 20s are unlikely to hold the same appeal as they age…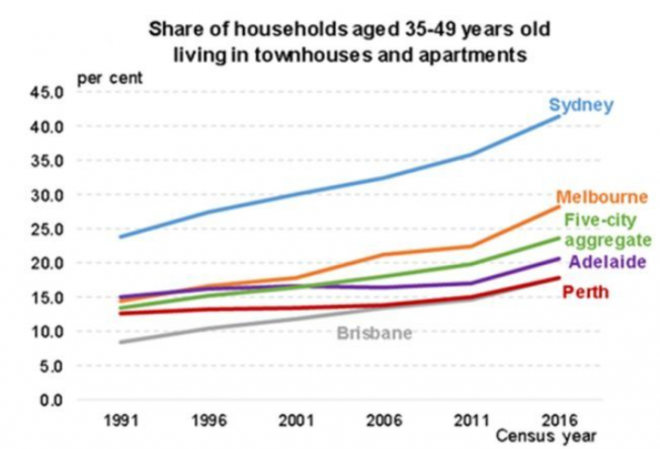 The large-scale, high-rise developments that sell apartments off the plan to investors do not hold the same appeal to owner-occupiers…
The growing over-65s segment of the population is not tipped to favour smaller apartments either.
BIS notes downsizing has been growing at a "glacial" pace and, even if it picks up, demand is not expected to be fulfilled by small, high-rise dwellings.
"Previous research that we've undertaken suggests that many baby boomers would still like to stay in the area that they're living in, where they've already made friends and social connections," Mr Zigomanis said.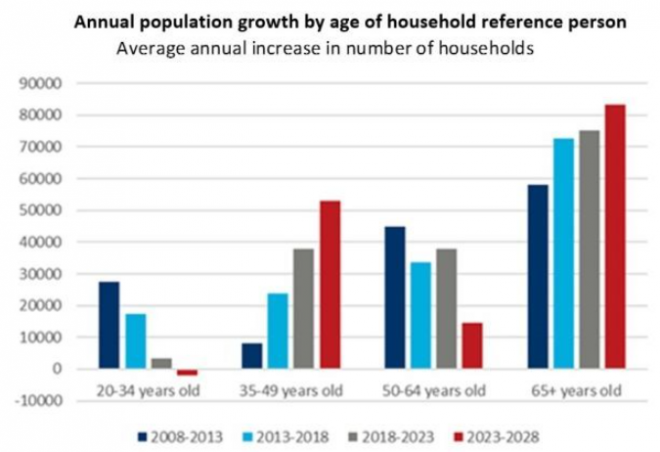 The situation looks particularly dire in Sydney, which is Australia's immigration capital. According to projections from the Urban Taskforce, apartments will make up half of Sydney's dwellings mid-century, whereas only one quarter of Sydney dwellings will be family-friendly detached homes: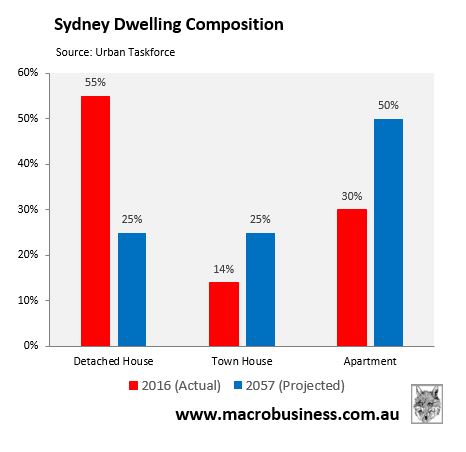 That's the death of The Australian Dream right there. And this is celebrated by the Big Australia boosters, who continue to gaslight the population into believing it's in their interests.
CAAN Photo: Chinese Greenland 'Lachlan's Line' North Ryde looms over the village of North Ryde who had no say!
SOURCE:
https://www.macrobusiness.com.au/2019/11/big-australia-lobbyists-aussies-dont-want-to-live-in-houses/
CAAN FACEBOOK:
https://www.facebook.com/Community-Action-Alliance-for-NSW-744190798994541/?ref=aymt_homepage_panel
WEBSITE:
https://caanhousinginequalitywithaussieslockedout.wordpress.com/