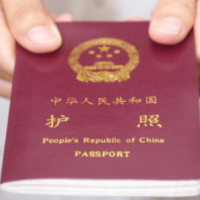 READ the comments …
This one sums it up …
' Just swing mainland Chinese purchase of Strayan homes into the 'retail' category and the bad data would vanish.'
Chinese visitor arrivals hit fresh all-time high
By Unconventional Economist in Australian Economy
November 12, 2019 | 13 comments
The Australian Bureau of Statistics yesterday published its overseas short-term arrivals figures for September, with Chinese visitors hitting fresh all-time highs.
The number of short-term visitor arrivals rose by 0.7% in the year to September, whereas short-term resident departures only rose by 2.3%.
*The ratio of annual arrivals to departures also rose to 81.4%: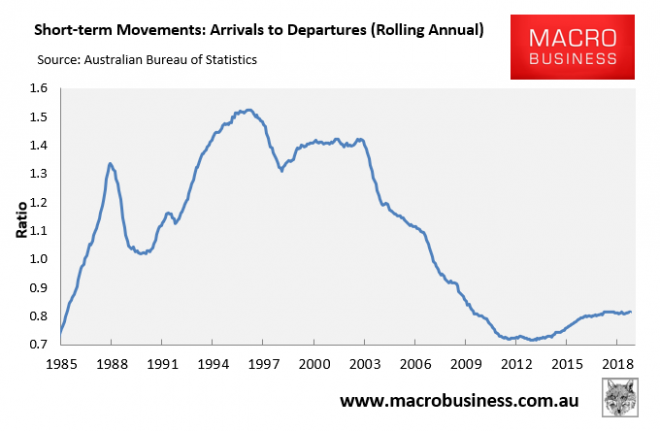 Net short-term arrivals also remained heavily in deficit: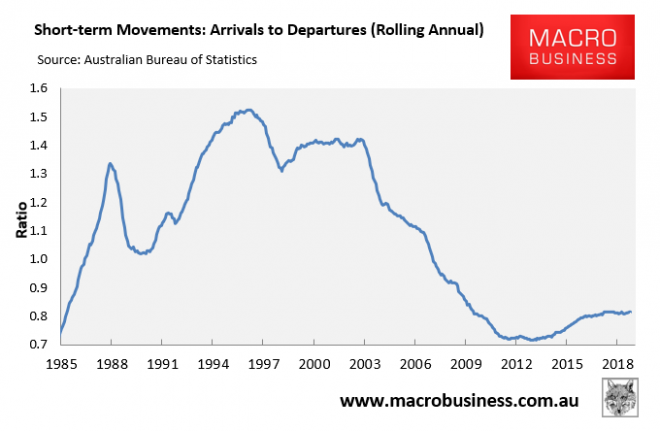 In the year to September 2019, 9.4 million inbound visitors arrived in Australia over the year – a 72% increase on a decade ago (5.5 million).
The number of Australians traveling overseas was 11.6 million – an 85% increase on 10 years ago (6.2 million):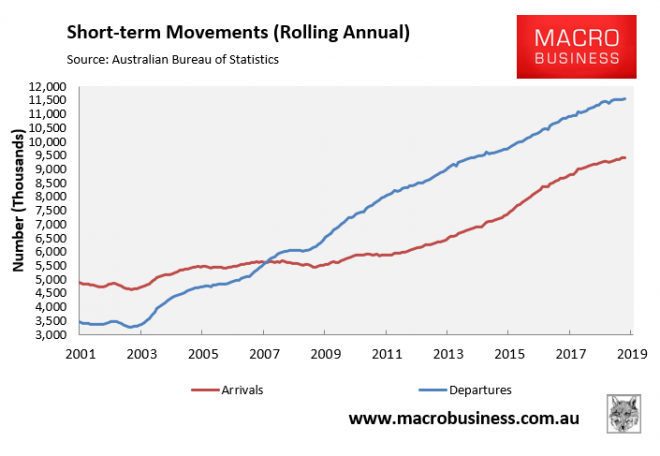 The next chart shows that short-term arrivals were dominated by holiday makers and those visiting friends and families: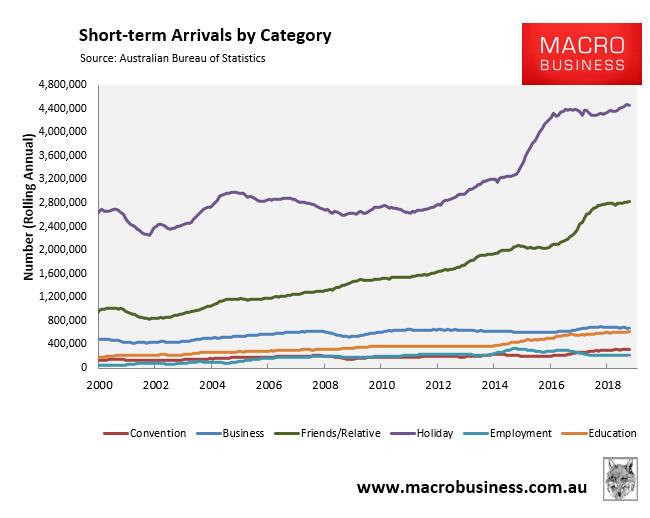 As shown below, most foreign visitors to Australia came from NE Asia, which accounted for 29% of arrivals: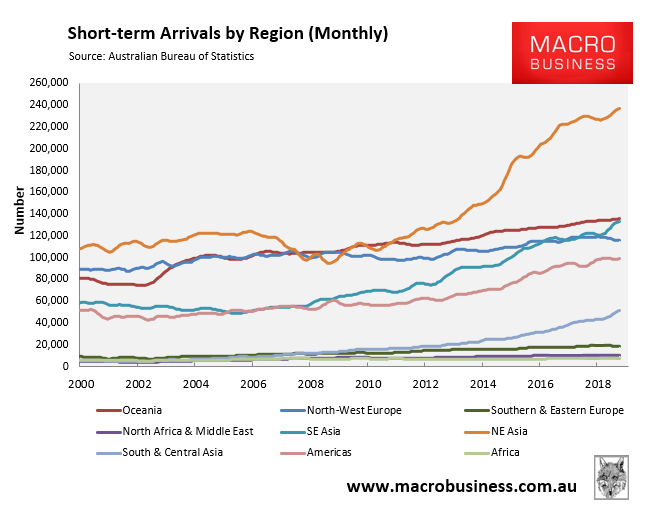 In particular, arrivals from China surged, hitting a record high 126,500 in September: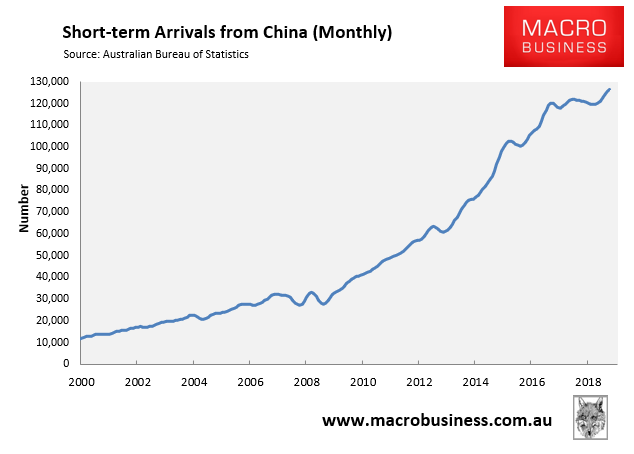 Chinese arrivals also hit an all-time high 1.46 million in the year to September, accounting for 15.4% of total arrivals to Australia: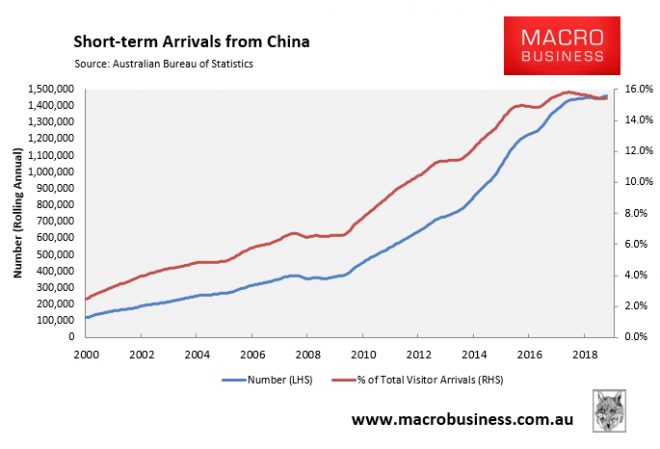 Therefore, while the flow of Chinese international students is beginning to wane: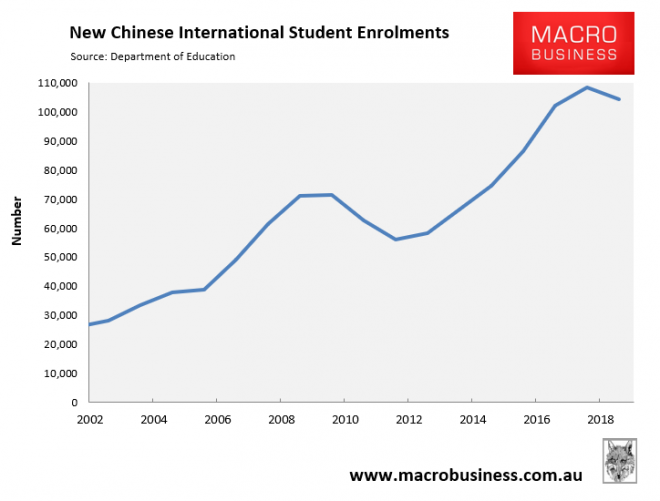 Overall arrivals from China continue to boom, driven by tourism and visits to family members living in Australia.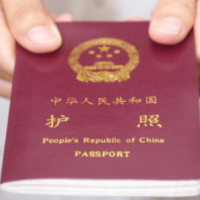 SOURCE: https://www.macrobusiness.com.au/2019/11/chinese-visitor-arrivals-hit-fresh-all-time-high/#comments
CAAN FACEBOOK:
https://www.facebook.com/Community-Action-Alliance-for-NSW-744190798994541/?ref=aymt_homepage_panel
WEBSITE:
https://caanhousinginequalitywithaussieslockedout.wordpress.com/