VIEW Related Article in response from Macro Business …
Albanese clueless on Labor's lack of election campaign committee, 'backwards' polling
Labor leader Anthony Albanese has revealed he "raised concerns" regarding the party's strategy prior to the federal election and didn't know the party had failed to establish a campaign committee.
Mr Albanese said he was so concerned Labor wasn't tracking as well as the polls suggested that he visited the Victorian and WA electorates of Corangamite and Swan in the final week of the campaign.
"I wasn't aware that there wasn't a campaign committee, but I wasn't a member of the leadership group making those decisions," he told ABC Insiders on Sunday
READ NEXT
It comes as the party released a damning review of the ALP campaign last week that blamed the loss on a cluttered policy agenda, a weak strategy and an unpopular leader.
"You could tell on the ground, when you listened to what people were saying, they were raising concerns," Mr Albanese said. "When you look at our tracking polling, and this I wasn't aware of, the tracking polling showed that on seven occasions, we were going backwards."
"A majority of them were telling us that we weren't going to win."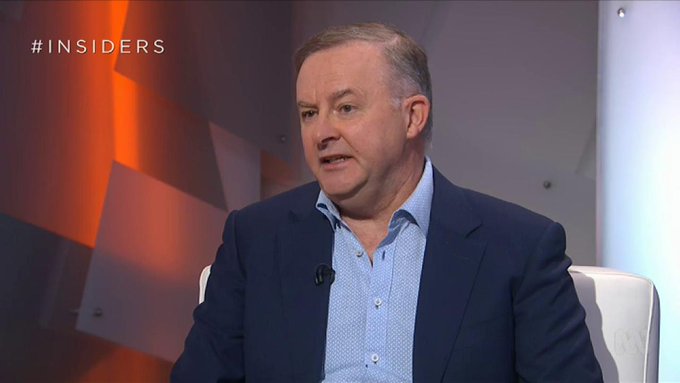 "I was indicating, very clearly, my concern with some of the language… we need to be inclusive, rather than divisive, in our language."

Opposition Leader @AlboMP reflects on the 2019 federal election in the wake of this week's review into Labor's loss. #Insiders #auspol269:34 AM – Nov 10, 2019Twitter Ads info and privacy37 people are talking about this
The report recommends that at the next election Labor establishes a formal campaign committee that "should liaise with ALP state and territory secretaries in the formulation of the campaign strategy" and "encourage a culture of open dialogue."
Mr Albanese said speeches he gave in June and July of last year "made it clear" he was concerned language such as the "top end of town" was alienating some of its supporter base.
"I think that Labor has to be an inclusive party," Mr Albanese said. "We have to represent working Australians, but we also have to acknowledge that it is businesses that employs those working Australians as well and we need to be inclusive, rather than divisive, in our language."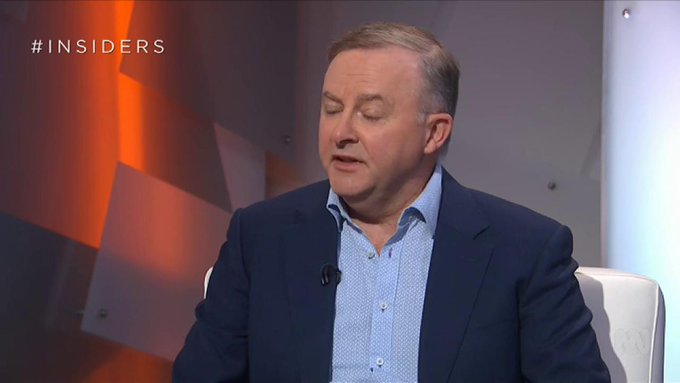 "I wasn't aware that there wasn't a campaign committee, but I wasn't a member of the leadership group that was making those decisions."@AlboMP on the @AustralianLabor review of the 2019 federal election. #Insiders #auspol89:27 AM – Nov 10, 2019Twitter Ads info and privacy20 people are talking about this
Recommendation four from the report suggests Labor "adopt the language of inclusion" and abandon divisive rhetoric, including references to "the big end of town."
When asked if he wished Labor had changed leaders earlier given Bill Shorten's unpopularity with voters, Mr Albanese said the party had learned its lessons from the leadership turmoil under Rudd and Gillard.
"You can't change history, and I think that we put the rules in place as well to make sure that people didn't have to worry about internals," Mr Albanese said. "We learnt the lessons of the Rudd and Gillard years."
READ MORE: Paul Kelly: A tale of two Labors | Voters resented Shorten: Albo | Key findings from Labor's review | Labor leader must quicken pace of resurrection
"Bill Shorten had six years as leader with a unified party, all working to elect a Shorten Labor government and Bill worked very hard during that period," Mr Albanese said. "No-one could have worked harder."
Mr Albanese also refused to scrap Labor's controversial franking credits policy despite effectively putting the scheme on the chopping board during his address to the National Press Club last week.
When pressed whether he would scrap the franking credits policy, he said "we'll make our announcement under our terms with proper processes as well."
"Clearly, franking credits was an issue during the election campaign, and it's one which blindsided some people."
Mr Albanese promised that some of the party's new suite of policies would be rolled out in the short term.
"Policies will be rolled out throughout the term but not all will be at the beginning," he said. "Many will be at the end because we need to know what the economic and political context is."
ALP national president Wayne Swan said it was time for the party to get "back to work".
"The 2019 election is over, the lessons are learned, now we put them into action, the 2022 election campaign has begun," Mr Swan tweeted.
The former treasurer said Labor would "never stop working to dispel the myth of trickle-down economics".
"Our mission past, present and future is to create a fairer and more prosperous society," he said.
Mr Swan also had a shot at Clive Palmer and the Coalition, saying the billionaire's "$60 million preference recycling rort with the Liberals had a massive effect on the election".
REPORTEROlivia Caisley is a federal politics reporter based in the Canberra press gallery.
SOURCE: https://www.theaustralian.com.au/nation/politics/albo-clueless-on-labors-lack-of-election-campaign-committee/news-story/39ffc2507cade3add6ff01a68e9006b3?fbclid=IwAR1d4iko40tz6bLCkwEOtoF_DiL6kztnFTakiKVt5Qsg7KoX_bsMlpA80wU
CAAN FACEBOOK:
https://www.facebook.com/Community-Action-Alliance-for-NSW-744190798994541/?ref=aymt_homepage_panel
WEBSITE:
https://caanhousinginequalitywithaussieslockedout.wordpress.com/