RELATED ARTICLES ABOUT HARRY TRIGUBOFF AND HIS DEVELOPMENT COMPANY MERITON ON CAAN WEBSITE …
2006: Harry Triguboff: Let's trade TREES for Homes!
2011: The Power Index: The Man who many say Ruined SYDNEY, Harry Triguboff at #7
SEARCH CAAN WEBSITE TO FIND MORE!
Mr Waterfront Mansion wants you to live like a battery chook
By Unconventional Economist in Australian Property, Featured Article
August 22, 2018 | 33 comments
Domain has published a drivelling article celebrating 'Highrise' Harry Triguboff's rise to becoming Australia's second richest person living in one of Sydney's biggest waterfront mansions:
Triguboff's efforts to pay off his first home is an oft-quoted success story for first-home battlers: the developer owned a taxi fleet and supplemented his income with a milk run in Chatswood…
His company, Meriton…, has built one in 10 Sydney apartments, and some of the tallest residential towers in Sydney, Brisbane and the Gold Coast – a total of 75,000 apartments across the eastern states…
Sydney's obsession with real estate has proved a windfall for Triguboff. He became a billionaire in 1997 and was ranked second in this year's Australian Financial Review Rich List, worth $12.77 billion.
The 85-year-old and his wife, Rhonda, have been Vaucluse locals since 1983 when their waterfront home was bought by Meriton for $4.1 million, and next door added in 1998 for $6 million.
The amalgamated 5200-square-metre block is one of the largest, privately held waterfronts in Vaucluse, eclipsing Justin Hemmes' Hermitage and fellow billionaire Leon Kamenev'a $80 million amalgamated block.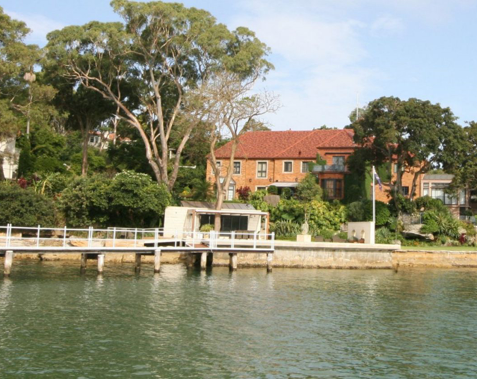 Let's not beat around the bush here. Harry Triguboff is a key player in Australia's 'growth lobby' – the cabal of rent-seekers that benefits from 'growth', most visibly via mass immigration.
For decades, Triguboff has actively lobbied Australia's politicians to implement policies that are beneficial to his interests, including running a strong migration program. The below interview from 2006 highlights this point in all its hideous glory:
IT'S simple, says Harry Triguboff. Sydney has too much green and not enough grey, and if you want to look at trees – well, go climb a mountain…

"You go north and we have all these reserves and you go south and you have all the reserves, and they are the best part of the coast. That is crazy. We should be building on this area," he said.

"If they want to see trees, they can go to Katoomba, there are plenty of trees there"…

He also called for a big increase in immigration, saying the population of Sydney should be 20 million by 2050, with the population of Australia 150 million.

And he has dismissed proposals for values and language tests for immigrants, saying: "What's more important for me – a guy who can fix my tap or a guy who can speak English?"…

[Triguboff] also gave a rare insight during the interview into the level of influence he had with the former premier, Bob Carr.

He said he spoke far more to Mr Carr than he does to his successor, Morris Iemma, and convinced him to change laws concerning owners' corporations to stop rogue elements in body corporates engaging lawyers and consultants without a proper vote.

He said that about three years ago he convinced Mr Carr there should be more development in Sydney, saying Mr Carr would have more than $1 billion in stamp duty if councils approved developments on all of Meriton's land.

"He was telling openly he saw me more than he saw cabinet ministers. That doesn't mean he did what I told him but he knew [my] story very well," Mr Triguboff said.

"This is the way it works, you have a minister of planning and then sometimes you're not happy with what he does and you go to Carr … and you say 'listen, this is the position'.
Journalist Crispin Hull also highlighted Triguboff's political influence in an article published last year:
[Triguboff] was quoted in the very reliable Australian Financial Review late last year as dismissing concerns that there might be an over-supply of apartments.

Triguboff was asked, "But might rents fall in Sydney and Brisbane when all the new apartments are completed in the next two years?"

He responded, "Then I will bring in more migrants."

Whoops, I must have got in wrong when I said above that the Federal Government sets the migrant quotas. Apparently, property developers set migrant targets in Australia. Or at least federal politicians are so beholden to them and their donations that, in effect, they determine migration quotas.
Make no mistake, a large proportion of Harry Triguboff's wealth has arisen because he has 'privatised' the gains from mass immigration and other pro-growth policies, whereas the costs have been 'socialised' on everyone else.
In his "forgotten peoples" speech, Prime Minister Robert Menzies pronounced: "One of the best instincts in us is that which induces us to have one little piece of earth with a house and a garden which is ours".
Harry Triguboff claims credit for changing the Australian dream:
In 1963, Harry Triguboff decided to challenge the Great Australian Dream of owning a house on a quarter-acre block.

"I looked around and I saw cottages everywhere… I thought it was time they lived in apartments."
So everyone was to live in apartments. Everyone except for Harry Triguboff.
Sadly, Harry Triguboff's dream is fast becoming a reality. Not only are apartments now the dominant form of new housing in our migrant hotspots of Sydney and Melbourne: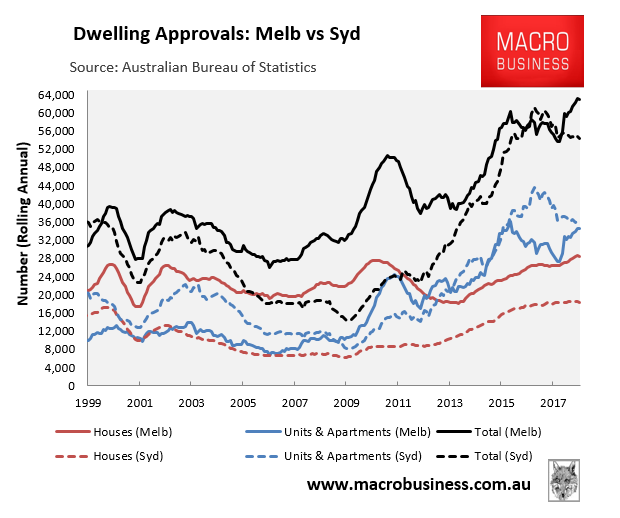 But in Sydney at least, the Urban Taskforce projects that only one quarter of all homes will be detached houses by mid-century: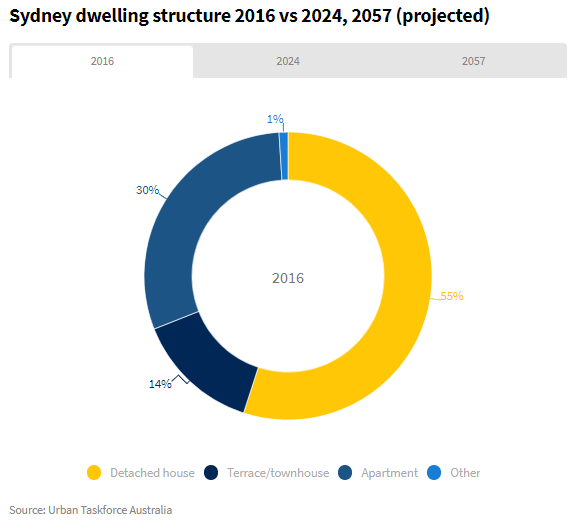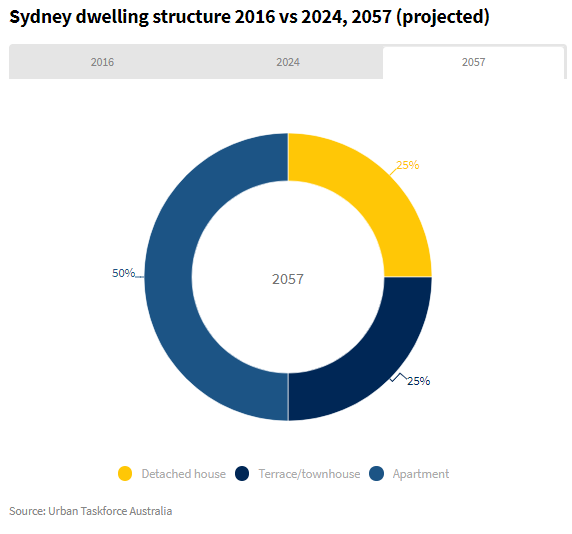 Sydney is facing a future whereby only the wealthy elite like Harry Triguboff will be able to afford to live in a decent detached house with a backyard, while the ordinary folk are crammed like battery chooks into apartments.
It's high time our policy makers ignored rent seekers like Harry Triguboff and set policy in the interests of the ordinary residents, who are being kicked to the curb by the 'Big Australia' mass immigration policy.
unconventionaleconomist@hotmail.com
SOURCE: https://www.macrobusiness.com.au/2018/08/mr-waterfront-mansion-wants-live-like-battery-chook/
CAAN FACEBOOK:
https://www.facebook.com/Community-Action-Alliance-for-NSW-744190798994541/?ref=aymt_homepage_panel
WEBSITE:
https://caanhousinginequalitywithaussieslockedout.wordpress.com/