BUYER BEWARE … Meanwhile deve-lopers are paying big commissions to Real Estate Agents to flog off apartments …
SHOULDN'T deve-lopers be wearing the loss?
Off-the-plan apartment buyers bleed losses
By Unconventional Economist in Australian Property
November 7, 2019 | 6 comments
Off-the-plan buyers of Australia's biggest apartment complex –  Australia 108 – are haemorrhaging losses of up to 25%, after valuations plunged from their 2015 contract date.
This has left many buyers better-off forgoing their deposits and walking away. From The AFR:
The local buyer, who asked not to be named, bought the apartment for $972,000 in 2015… With settlement due in December, the apartment has been valued (twice) at $725,000, a fall of 25 per cent…
Having paid a 10 per cent deposit of $97,200, he could be financially better off walking away than trying to fund the valuation gap…
Tony Kelly, Melbourne managing director at valuation firm Herron Todd White, said discussions with his local team revealed that a ''lot of valuations at Australia 108 have gone backwards''…
The resale listings for settled apartments in the lower portion of the tower show that values have gone backwards for many owners.
This is certainly a common occurrence, given that more than one-in-five apartments were sold at a loss across Australia's capital cities over the June quarter, according to CoreLogic: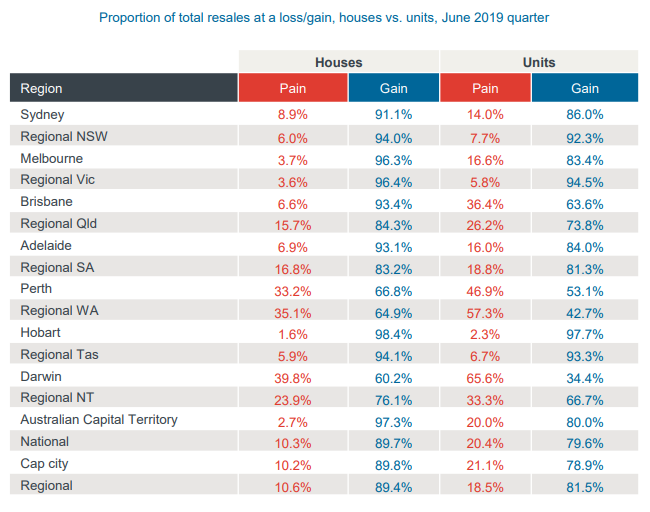 Sure, the housing market has since turned, with prices booming across Sydney and Melbourne: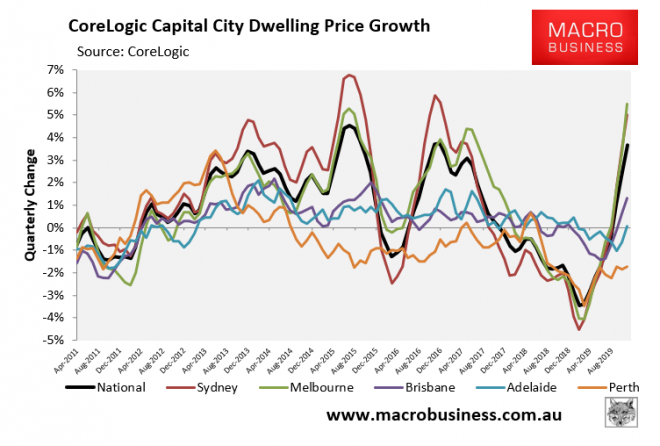 However, growing concerns over flammable cladding and construction defects is likely to weigh heavily on the apartment sector going forward.
This will leave high-rise apartments as a risky proposition.
Photo: Australia 108: Domain
SOURCE: https://www.macrobusiness.com.au/2019/11/off-the-plan-apartment-buyers-bleed-losses/
CAAN FACEBOOK:
https://www.facebook.com/Community-Action-Alliance-for-NSW-744190798994541/?ref=aymt_homepage_panel
WEBSITE:
https://caanhousinginequalitywithaussieslockedout.wordpress.com/