WITH high immigration … 'each extra urban citizen requires about $250,000 of investment. The total sum is well beyond the capacity of state and local governments… '
APART from 'The Crush' … our towns are bad for business … people cannot get around to do business in a timely manner … stress levels are very high …
LET alone all the other factors spelt out below !!!
IMAGINE how it will be with 10 or 11 MILLION in Sydney and Melbourne … wt ****!
Australia's mega cities are a liveability and sustainability disaster
By Unconventional Economist in Australian Economy
November 6, 2019 | 5 comments
Professor Ian Lowe – emeritus professor of science, technology and society at Griffith University, former President of the Australian Conservation Foundation (ACF), and author of the excellent book Bigger or Better?: Australia's Population Debate – has co-authored an article with RMIT emeritus professor Mike Berry warning of the deleterious impacts of Australia's mass immigration 'Big Australia' policy on Australia's living standards:
VIEW CAAN's share of this Report:
https://caanhousinginequalitywithaussieslockedout.com/2019/11/05/no-australian-city-has-a-long-term-vision-for-living-sustainably-we-cant-go-on-like-this/
International and internal migration trends have driven rapid growth in the big cities, especially Melbourne and Sydney. This has created major problems with providing adequate housing, infrastructure and services.

The fundamental issue is the reluctance of urban communities and their leaders to discuss what might be sustainable populations…

No Australian city has a long-term vision showing how a future stabilised population might be supported with the essential resources of food, water and energy. No Australian city has faced up to the inevitable social tensions of increasing inequality between a well-served inner-urban elite and an increasingly under-resourced urban fringe.

Leaders in cities that have not grown as rapidly, such as Adelaide, lament their failure to grow like Sydney and Melbourne, despite all the associated problems. All implicitly believe unlimited growth is possible.

In reality, the expanding ecological footprints of the large cities have created unsustainable demands on land to support urban dwellers.

And the wastes the cities produce are straining the capacity of the environment to handle these…

Congestion and pollution threaten to overwhelm the many social and economic benefits of urban life.

The growth and concentration of populations are also driving chronic excess demand for appropriate housing. The result is serious affordability problems, which are adding to inequality across society and generations…

Poorer households are priced out of locations with better access to good jobs, schools, transport, health care and other services…

The main factor driving urban population growth is an unprecedented rate of inward migration.

The national government sets large migration targets as an easy way of creating economic growth. This leaves state governments with the impossible task of meeting the resulting demand for infrastructure.

*Jane O'Sullivan has shown each extra urban citizen requires about $250,000 of investment. The total sum is well beyond the capacity of state and local governments…

Future generations will inevitably be critical of the complete failure of current leaders to plan for sustainable development.
Finally, we have two senior members of academia willing to speak up against the environmental and social vandalism of the 'Big Australia' mass immigration policy.
The cold hard truth is that extreme population growth is behind many of Australia's ills, including lack of access to infrastructure, services and housing, as well as environmental degradation.
The federal government is force-feeding migrants at rates well beyond the capacity of our institutions and geology, leading to tumbling living standards for ordinary folk and rising inequality.
The obvious first best solution is to dial immigration way back to historical levels: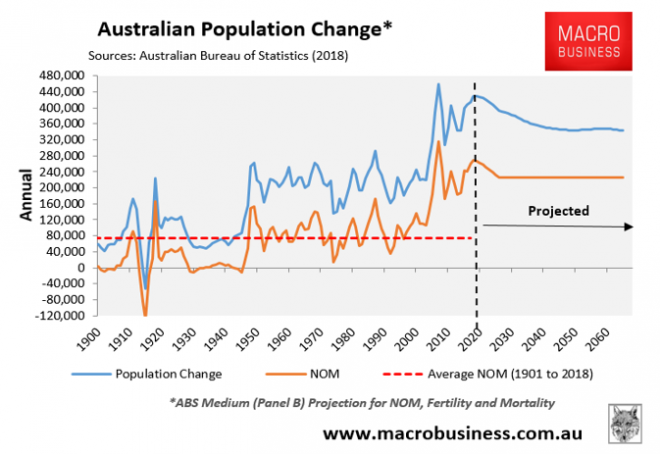 This would prevent Australia's population from rising to a projected 43 million people over the next half century: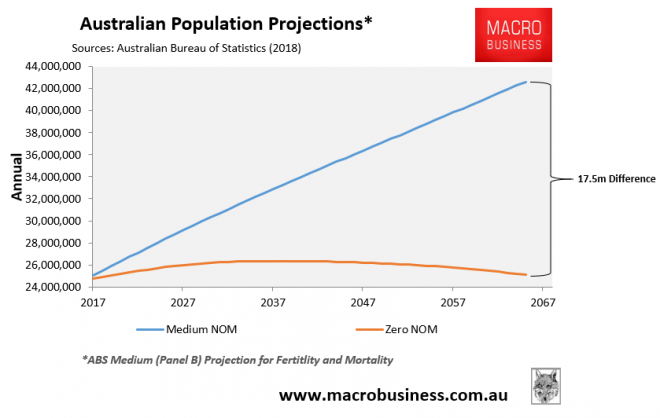 As well as prevent Sydney and Melbourne from becoming mega-cities of around 10 million people each: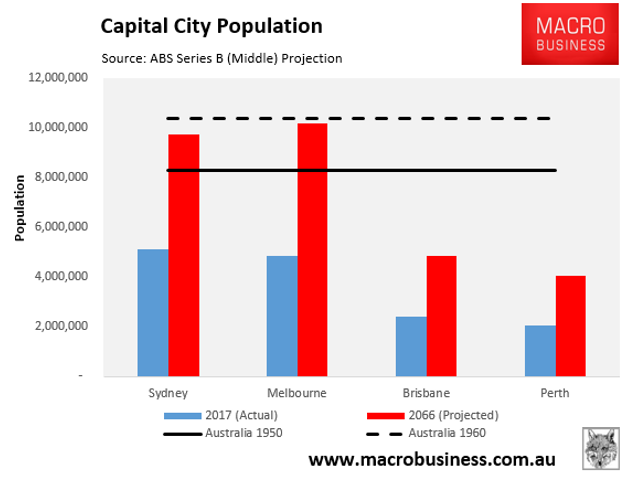 *Australia will not be able to maintain decent living standards and social harmony unless population growth is kept at sustainable levels.
SOURCE: https://www.macrobusiness.com.au/2019/11/australias-mega-cities-are-a-liveability-and-sustainability-disaster/
CAAN FACEBOOK:
https://www.facebook.com/Community-Action-Alliance-for-NSW-744190798994541/?ref=aymt_homepage_panel
WEBSITE:
https://caanhousinginequalitywithaussieslockedout.wordpress.com/