IN AUSTRALIA the first National Report on the state of our environment was delivered back in 1996 … with 18.3 MILLION People
-it stated that Australians were not living sustainably … back in 1996
-that all of the country's environmental problems are more or less proportional to the number of residents
-plus distribution, lifestyles, technologies and demands on natural resources over the last 200 years and more
FAST FORWARD to 2019 … to more than 25 MILLION
WHY is it that some politicians … their supporters … and others remain silent on the current high immigration program so obviously driven by the 'economic growth' of The Top End of Town … to ensure their coffers overflow … ?
ESPECIALLY when one of their main Party pillars is about sustainability … with so many of High Net Worth parking their money in our Real Estate to gain Permanent Residency … and who come from a land of many rivers … and in so doing are locking out those whose Pacific Islands are sinking ...
11,000 scientists: Over-population behind climate crisis
By Unconventional Economist in Carbon Economy
November 7, 2019 | 34 comments
Last year, a team of scientists published their recommendations for slowing current rates of biodiversity loss in a paper in Nature Ecology and Evolution, which will include limiting human population growth:
*Although key threats to biodiversity include habitat clearing for cattle, mining, and urban sprawl, these are all consequences of population pressure and high rates of resource consumption, according to Deakin University researcher Euan Ritchie.

*"It's often a taboo topic to talk about human population size and family planning and how much we consume as individuals," Dr Ritchie said.

*"But if we don't address these issues in the context of biodiversity conservation and sustainability then we're largely kidding ourselves"…
Now, more than 11,000 experts from around the world are calling for the human population to be at least "stabilized" or preferably "reduced" to avoid a climate emergency. From Bloomberg:
More than 11,000 experts from around the world are calling for a critical addition to the main strategy of dumping fossil fuels for renewable energy: there needs to be far fewer humans on the planet…

The scientists make specific calls for policymakers to quickly implement systemic change to energy, food, and economic policies. But they go one step further, into the politically fraught territory of population control. It "must be stabilized—and, ideally, gradually reduced—within a framework that ensures social integrity," they write.
Scientists across Australia have been making similar claims for years.
*The first national report on the State of the Environment was delivered in 1996 and stated that Australians are not living sustainably, and that all of the country's environmental problems are more or less proportional to the number of residents, as well as the material standard in which we live:
The problems are the cumulative consequences of population growth and distribution, lifestyles, technologies and demands on natural resources over the last 200 years and more.
*The latest State of the Environment report, also prepared by independent scientific experts, was published in 2016 and similarly found that population growth is a key driver of Australia's environmental problems:
The key contemporary drivers of Australian environmental change considered in state of the environment (SoE) 2016 are population (demographic change) and economic activity…

Continued growth in Australia's population and economy, including to meet demand for exports, is likely to increase pressures on the Australian environment…

The concentration of Australia's population near the coast, mostly in urban areas, creates substantial pressure on coastal ecosystems and environments in the east, south-east and south-west of the country.
Whereas in 2010, the Australian Conservation Foundation (ACF) called for Australia's population to be stabilised and nominated human population growth as a "key threatening process" to Australia's biodiversity.
Since the first State of the Environment report was delivered in 1996, Australia's population has ballooned from 18.3 million to more than 25 million. Moreover, the ABS' medium projection is for Australia's population to balloon to nearly 43 million by 2066, all coming from net overseas migration (NOM):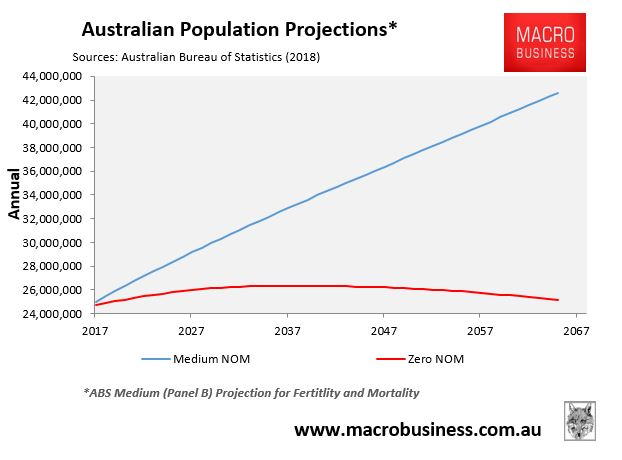 Such massive growth in people (consumers) will inevitably have devastating impacts for Australia's environment, even if consumption per head is reduced.
The above does highlight the complete and utter negligence of The Australian Greens. Despite their purported concerns for the environment, The Greens have remained deathly silent on Australia's world-beating immigration program and have refused to argue the case publicly for a smaller and more sustainable population for Australia.
There are few better policy solutions to help protect Australia's environment than abandoning plans for a 'Big Australia'.
SOURCE: https://www.macrobusiness.com.au/2019/11/11000-scientists-over-population-behind-climate-crisis/
CAAN FACEBOOK:
https://www.facebook.com/Community-Action-Alliance-for-NSW-744190798994541/?ref=aymt_homepage_panel
WEBSITE:
https://caanhousinginequalitywithaussieslockedout.wordpress.com/