Sevag Chalabian, outside his Sydney home, declined to comment on the $11 million payment. Sam Mooy
THE GUSH is maintained by the exclusion of the Real Estate Gatekeepers from the Anti-Money Laundering Laws … that exemption happened in October 2018 …
HOW can the Morronson Government offer to open the housing market to First Home Buyers with a 5% deposit when they are competing against these foreign Money Laundering bidders flush with black money?
ALL Australian Home Owners and/or buyers are having to compete with these money launderers …. as our Real Estate becomes our Biggest EXPORT!
HOW good's money laundering?
Laundered Chinese money gushes into Australian property
By Unconventional Economist in Australian Property
November 6, 2019 | 15 comments
Earlier this year, billionaire Huang Xiangmo's permanent residency was cancelled for reasons including character grounds.
Today, The AFR has published a detailed investigative report on how Huang Xiangmo laundered money through Australian real estate to buy political influence:
Huang Xiangmo, the Chinese billionaire at the centre of a NSW corruption inquiry and tax office investigation, used a Sydney property deal to funnel $11 million to a notorious political fixer…

The money was transferred just a month after it became public that ASIO had warned the major political parties about accepting donations from Mr Huang and followed a year of intense scrutiny around his efforts to ensure Canberra took a more favourable line towards Beijing…

"On the surface it has many of the hallmarks of money laundering," [Mr Fehon, the forensic investigator from McGrathNicol] said…
This follow's Monday's AFR report on a large money laundering racket by Chinese:
A Sydney real estate agent has admitted the ultimate buyer of four trophy homes was not a 32-year-old Chinese-born Australian, Zhang Bo, as shown on the title deeds…

Mr Zhang owns six properties in Sydney's Mosman worth $37 million, but lives in none of them… Only one of the six houses held in his name appeared to be permanently occupied…

The agent who sold four of these harbourside houses, Richard Simeon, confirmed all were bought by different people, even though three of them are held through one company and all are linked to Mr Zhang…

*Five of the six properties were settled without the need for a mortgage…

When asked on Sunday to provide context around his earlier comments, Mr Simeon said he had sold a huge number of properties to Chinese families in recent years. "I don't know which people they are," he said before hanging up once again.
Remember, the 2015 Mutual Evaluation report from the Financial Action Taskforce (FATF) stated that Australian property was a prime destination for Chinese laundered funds, and urged Australia to bring real estate gatekeepers within the anti-money laundering (AML) regulatory net:
Australia remains at significant risk of an inflow of illicit funds from persons in foreign countries who find Australia a suitable place to hold and invest funds, including real estate…

*China; Hong Kong, China; Macao, China; Singapore and the United Arab Emirates were seen as major source, destination, and/or transit jurisdictions for proceeds of crime laundered into and out of Australia.

Large amounts are suspected to be laundered out of China into the Australian real estate market. China and other countries within the Asia Pacific region were also seen as likely sources of corruption proceeds that are laundered in Australia…

AML/CTF policies need to better address ML risks associated with… laundering in the real estate sector, particularly through bringing all DNFBPs within the AML/CTF regime.
Indeed, Australia has the weakest real estate AML rules in the world, therefore, has left the door wide open for illegal money to gush through Australian homes: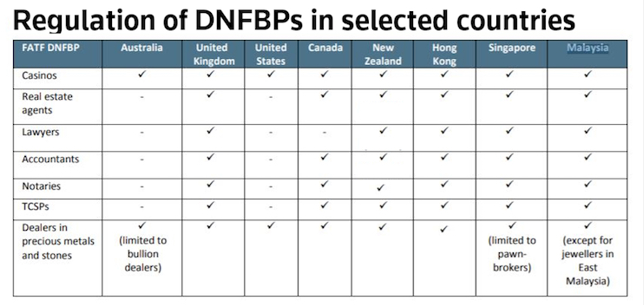 *This corrupt system is not only inflating the cost of housing, but also poisoning our political institutions as well.

SOURCE: https://www.afr.com/politics/how-11m-vanished-in-huang-xiangmo-property-deal-20191105-p537h0
CAAN FACEBOOK:
https://www.facebook.com/Community-Action-Alliance-for-NSW-744190798994541/?ref=aymt_homepage_panel
WEBSITE:
https://caanhousinginequalitywithaussieslockedout.wordpress.com/