Where'd she get the money?
"Double agent" Gladys Liu bought electorate with own cash
By Houses and Holes in Australian Politics, Featured Article
November 5, 2019 | 59 comments
Her own cash says The Australian:
*Embattled Liberal MP Gladys Liu personally poured at least $100,000 into her campaign at the last minute to win the marginal Melbourne seat of Chisholm after being told she didn't qualify for a significant cash injection from the party.

*Ms Liu donated a "six-figure'' sum to her own campaign after internal Liberal polling had shown the party faced an uphill battle to hold Chisholm in the wake of Julia Banks quitting the seat.

Ms Liu's donation will escalate the debate around the Hong Kong-born MP's connections and fundraising ability.
Sure does. Where'd she get the money?
So, not only does Gladys refuse to personally endorse Australian foreign policy tenets around China, as well as mumbling alarming things about Hong Kong in the Party Room; courts and channels money directly opposed to Australian foreign and strategic policy goals into the Government; occupied senior positions in CCP propaganda outfits, misled Chisholm voters with dubious election day signage; used and abused the credibility of parliament house to aid campaigns for CCP control, she also  donated large sums of her "own" cash to buy the Chisolm electorate, then lied about much of it directly into the face of the Australian people.
Peter Dutton once described Sam Dastayari as a "double agent" for far less. Appropriately, he resigned plus answered all questions. How is it that Ms Liu qualifies as a fit and proper person to be in the Australian Parliament when "double agent" Sam Dastayari does not?
She is not. But she holds the Morrison Government's majority in the palm of her hand so here we are, getting a picture of what favours she is facilitating for her CCP-associated donors in return.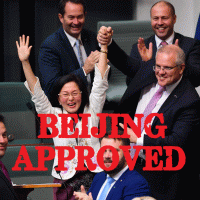 SOURCE: https://www.macrobusiness.com.au/2019/11/double-agent-gladys-liu-bought-electorate-with-own-cash/
CAAN FACEBOOK:
https://www.facebook.com/Community-Action-Alliance-for-NSW-744190798994541/?ref=aymt_homepage_panel
WEBSITE:
https://caanhousinginequalitywithaussieslockedout.wordpress.com/