We agree with this Commentator …
'The government could impose personal liability and criminal penalty on the directors of development and building companies, then the flammable cladding problem will 'magically' solve itself .
They won't do that though … '
Defective apartments to cost taxpayers $6 billion
By Unconventional Economist in Australian Property
November 5, 2019 | 7 comments
A new report from Equity Economics warns that the cost to taxpayers from apartment faults and flammable cladding could surpass $6 billion:
The report, set to be released on Tuesday, estimated the overall national cost of apartment defects, including flammable cladding, to be upwards of $6 billion and called for a harmonisation of state laws. The report put the onus on Canberra to bring the states into line and use the billions of dollars in federal infrastructure funding as leverage to ensure better compliance…

"Unfortunately, though, [the federal government] has applied this leverage to advance an ideological agenda," the report said.

But Federal Industry Minister Karen Andrews said the federal government didn't have the constitutional power to act. She said the states were already working together to develop a consistent approach to implementing the recommendations of the Shergold-Weir Building Confidence report…

The CFMEU report took aim at a decades-long strategy by the states to handball big infrastructure projects to the private sector to reduce risk, which it said had slowly diminished government's institutional knowledge and expertise.

It described the National Construction Code as an effective framework which was being applied inconsistently at a state level rendering it "defunct"…
The blame for the flammable cladding crisis runs deep and wide, including dodgy certifiers and fraudulent certificates, phoenixing building companies and lax regulators.
Australia's mass immigration 'Big Australia' policy has also facilitated the crisis. With cities like Sydney's and Melbourne's populations growing at third-world rates, lots of dwellings need to be built very quickly. This inevitably means that build quality is compromised.
*The proliferation of shoddy high-rise will continue as Sydney's and Melbourne's populations balloon to a projected 10 million each in around 50 years: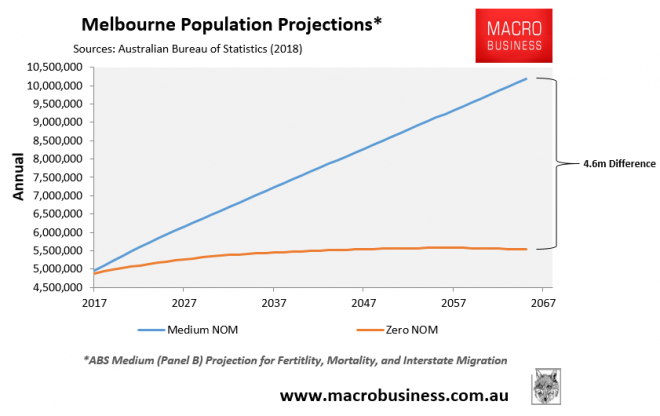 Such manic immigration-fuelled population growth will necessarily require the rapid construction of high-rise shoe boxes, resulting in compromised quality.
The only way to truly fix the problems in the construction industry is to conduct a 'warts-and-all' royal commission and cut immigration. No more band-aid solutions.
SOURCE: https://www.macrobusiness.com.au/2019/11/defective-apartments-to-cost-taxpayers-6-billion/
CAAN FACEBOOK:
https://www.facebook.com/Community-Action-Alliance-for-NSW-744190798994541/?ref=aymt_homepage_panel
WEBSITE:
https://caanhousinginequalitywithaussieslockedout.wordpress.com/