WHO do you reckon made the ATO toothless?
HAVE you heard that the Morrison Government exempted (excluded, cleared, spared) the Real Estate Gatekeepers from the Second Tranche of the Anti-Money Laundering Laws in October 2018?
SHARE this with all your family, friends, social media contacts …
More information about this threat to the Australian Society and our Economy can be found by SEARCH of CAAN's Website:
https://caanhousinginequalitywithaussieslockedout.wordpress.com/
Toothless ATO exposed as illegal foreign property buyers run riot
By Unconventional Economist in Australian Property
November 4, 2019 | 11 comments
Back in December, a parliamentary committee into Managing Compliance with Foreign Investment Obligations for Residential Real Estate lambasted the Australian Tax Office (ATO) for failing miserably to enforce the rules precluding foreign nationals from purchasing established homes:
Despite at least 877 breaches of the country's foreign ownership laws being uncovered in Victoria, the Australian Taxation Office has failed to land a single criminal prosecution since tough new laws came into effect more than three years ago…

Labor MP Julian Hill, the deputy chairman of the Public Accounts and Audits Committee, said it was "astonishing that there had been no prosecutions"…
A fortnight earlier, the parliamentary committee also revealed that not one intermediary facilitating illegal foreign sales (e.g. real estate agents, developers or conveyancers) had been prosecuted by the ATO.
Worse, in the case of the 316 forced disposals, the illegal foreign investors were allowed to keep the capital gains on the properties.
So, there was zero downside from breaching the laws.
Today, a Sydney real estate agent has been exposed for selling several trophy homes for cash to anonymous Chinese buyers:
A Sydney real estate agent has admitted the ultimate buyer of four trophy homes was not a 32-year-old Chinese-born Australian, Zhang Bo, as shown on the title deeds…
Mr Zhang owns six properties in Sydney's Mosman worth $37 million, but lives in none of them… Only one of the six houses held in his name appeared to be permanently occupied…
The agent who sold four of these harbourside houses, Richard Simeon, confirmed all were bought by different people, even though three of them are held through one company and all are linked to Mr Zhang…
Five of the six properties were settled without the need for a mortgage…
When asked on Sunday to provide context around his earlier comments, Mr Simeon said he had sold a huge number of properties to Chinese families in recent years. "I don't know which people they are," he said before hanging up once again.
There are two key problems here.
First, Australia has refused to implement global anti-money laundering (AML) rules pertaining to real estate gate keepers (e.g. real estate agents, accountants, conveyancers, etc).
This has left Australia with the weakest property AML rules in the world, and has opened the way for illegal money to gush through Australian real estate: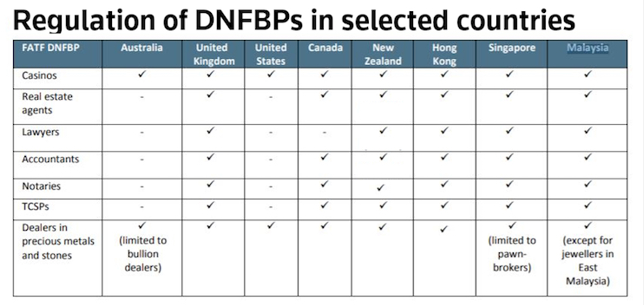 Second, despite having the ability to financially penalise illegal investment in established housing by foreign nationals, as well as third parties that knowingly assist foreigners to illegally purchase Australian homes, the ATO has failed to prosecute.
It is astonishing that the ATO can vigorously pursue small businesses and individuals for minor avoidance or errors in tax returns, but turn a blind eye to illegal foreign buyers scooping-up Australian homes, along with their enabling real estate agents.
When combined with its soft touch on AML rules, it is clear the Australian Government has little interest in actually policing illegal foreign buyers of real estate, and is complicit with the dirty money flooding into Australia's homes and robbing young Australians of a housing future.
SOURCE: https://www.macrobusiness.com.au/2019/11/toothless-ato-exposed-as-illegal-foreign-property-buyers-run-riot/
CAAN FACEBOOK:
https://www.facebook.com/Community-Action-Alliance-for-NSW-744190798994541/?ref=aymt_homepage_panel
WEBSITE:
https://caanhousinginequalitywithaussieslockedout.wordpress.com/