IT's interesting to watch as Prime Minister Scott Morrison experiments with the trappings of "strong man" politics in Australia as the phenomenon expands abroad …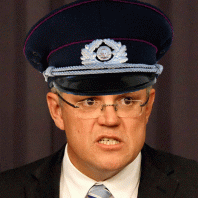 Fuhrer Morrison demands silent Australians
By Houses and Holes in Australian Politics
November 4, 2019 | 9 comments
It's interesting to watch as Prime Minister Scott Morrison experiments with the trappings of "strong man" politics in Australia as the phenomenon expands abroad.
The weekend press reprised last week's mining and climate clashes and the PM's responses. At Domain:
Prime Minister Scott Morrison has sparked a furore over free speech by vowing to draft new laws to ban protesters from boycotting companies, prompting claims his "feverish" talk would curb the rights of all Australians.

…NSW Council for Civil Liberties president Nicholas Cowdery said Mr Morrison's plan was "totally contrary" to the right to freedom of expression and that existing laws could deal with unruly conduct or assault.

…Liberty Victoria president Jessie Taylor warned of an "extraordinary incursion into free speech" in Mr Morrison's stated intention when the right to protest and boycott was at the heart of most liberal democracies.

…The Human Rights Law Centre said the Prime Minister's announcement was another sign of an "undemocratic trend" to undermine the right to protest, often "at the behest" of big companies.

Orica chief executive Alberto Calderon said he was "shocked at the degree of violence and hatred" from protesters at events this week, calling for civility and saying climate change needed to be addressed.

Business Council of Australia chief Jennifer Westacott also backed the proposal by saying that creating jobs and protecting the environment were not mutually exclusive.

Labor legal affairs spokesman Mark Dreyfus said…"Labor strongly supports the right of people in a democracy to take part in peaceful demonstrations and other forms of protest, and we will treat any proposal to limit the rights of Australians to engage in those activities very sceptically," he said.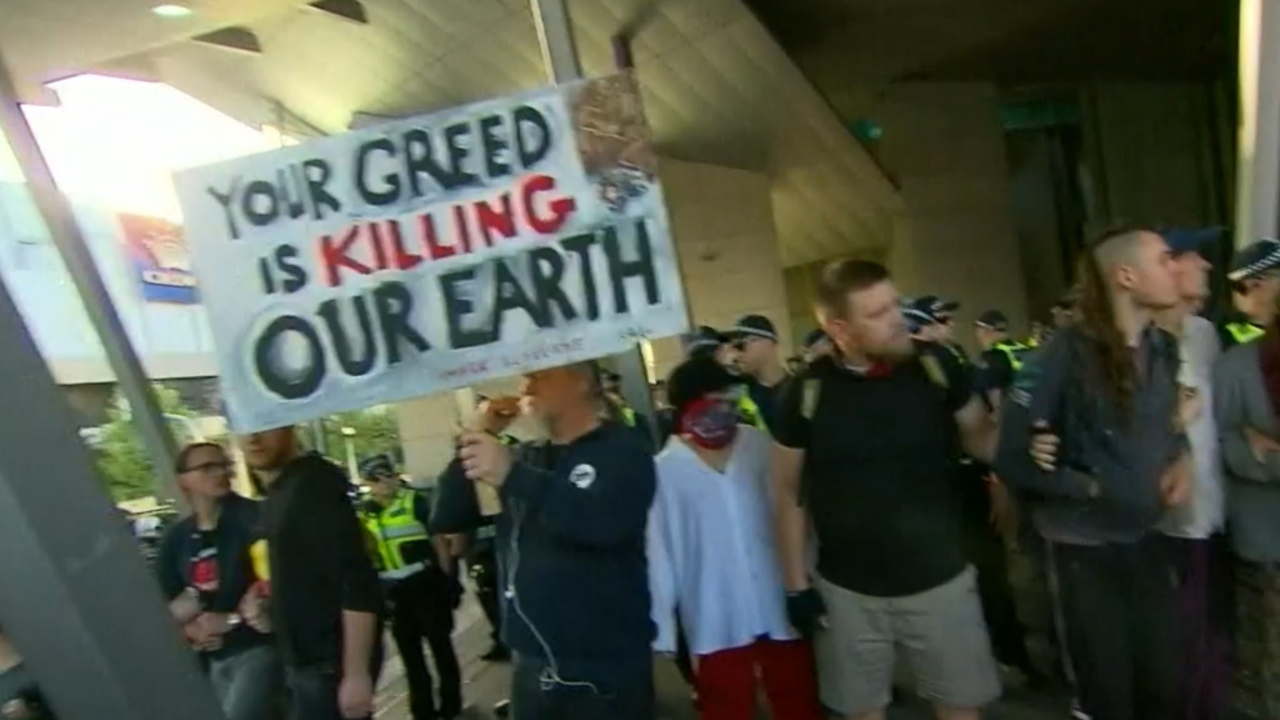 Fascism is advancing worldwide for a number of reasons:
frustration at corruption and the structural wealth divide;
the power of interests over policy when critical change is needed for carbon abatement;
globalisation splintering populations from national governments;
the rise of China, Russia and other fascisitc states offering economic freedoms.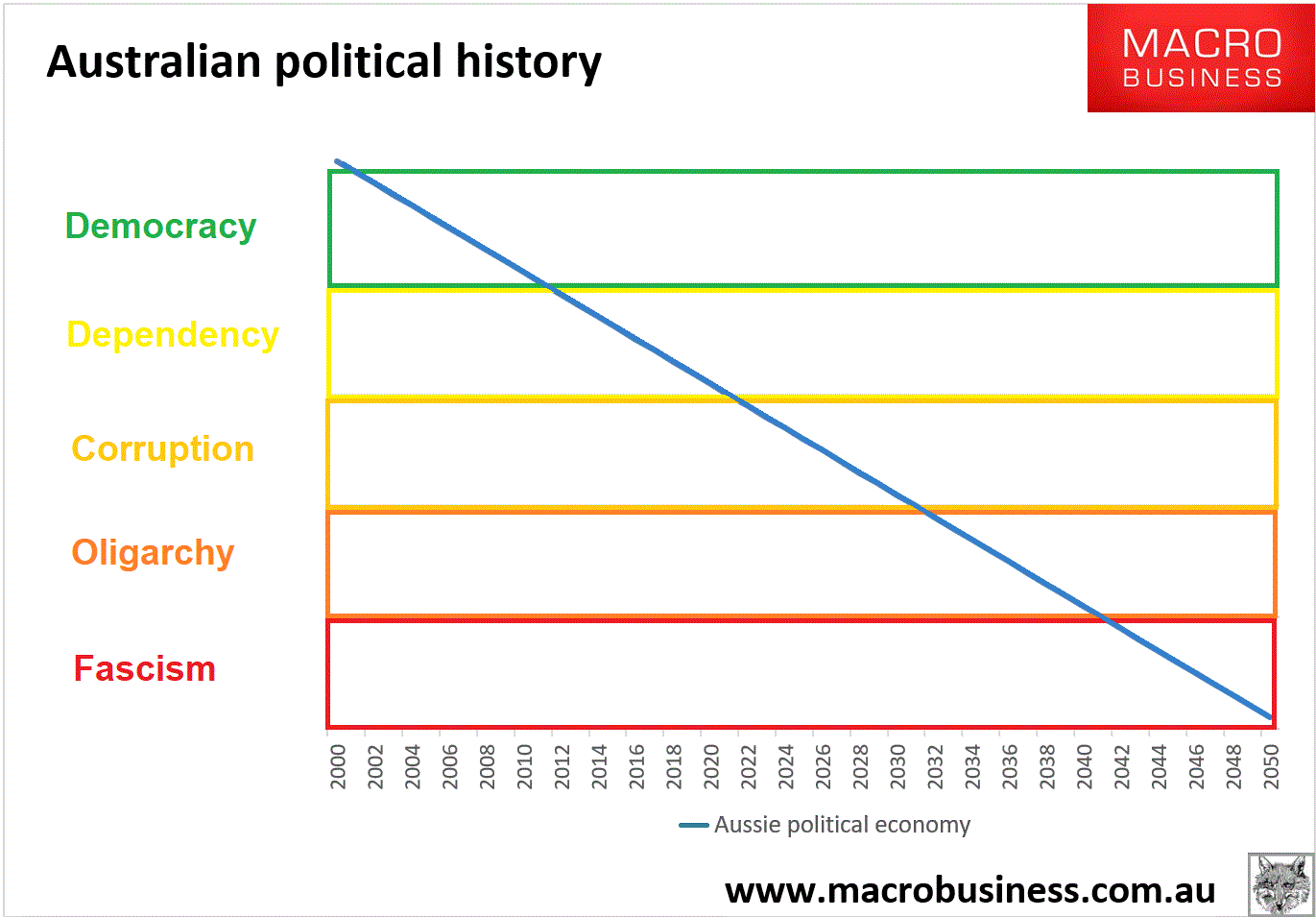 Australia will follow these trends as much as anywhere else does, with the usual lag.
But there is something particular about Fuhrer Morrison and his intent to smash climate resistence in support of mining. Whether or not this fits with Fuhrer Morrison's political instincts or not, it is very much practical.
It is no conincidence that the speech was delivered to the QLD Resources Council because it is QLDers that Morrison is referring to when he describes his favoured "quiet Australians".
It was QLD that handed him power.
More to the point, it was the QLD nationalist movement embodied in One Nation and Clive Palmer, both of which make enormous hay by slamming "loud" progressives and liberals down south.
*Palmer is the living embodiment of this, now preparing to roll out massive coal investments having won power.
*Whether marginalised QLD electorates are actually fascistic is not the point. Their anger can be captured by a clever "strong man" leader.
Just as US working class anger was captured by a blood sucking capitalist in Donald Trump.
The key in both cases is that those traditionally representing such communities have betrayed their working class roots and followers, making them vulnerable to unscrupulous operators.
In short, Fuhrer Morrison is suring up his QLD base to ensure the ALP cannot make gains in his linchpin state.
MB has warned Labor repeatedly that this is where it must go to win power but Fuhrer Morrison is there way ahead of them and is showing just how far he is prepared to go to protect his "subhumans".
*His vulnerability remains immigration.* Cuts there is how Labor should counter.
*If not, forget about power.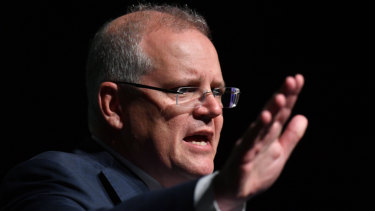 SOURCE: https://www.macrobusiness.com.au/2019/11/fuhrer-morrison-demands-silent-australians/#comments
CAAN FACEBOOK:
https://www.facebook.com/Community-Action-Alliance-for-NSW-744190798994541/?ref=aymt_homepage_panel
WEBSITE:
https://caanhousinginequalitywithaussieslockedout.wordpress.com/