King Scott to ban climate protests
By Houses and Holes in Australian Politics
November 1, 2019 | 112 comments
It's all about free speech with the Coalition so long as it doesn't upset their mates:
Scott Morrison has flagged new laws to crack down on activist protesters who target mining businesses, declaring "absolutist environmentalism is testing the limits of the right to protest".

The Prime Minister will use a speech to the Queensland Resources Council in Brisbane on Friday to attack the "new breed of radical activism" which he will say is putting mining and other key industries at risk.

"The right to protest does not mean there is an unlimited licence to disrupt people's lives and disrespect your fellow Australians," Mr Morrison will say.
Yeh, it does. If they over do it they'll lose their campaign of influence.
That's free speech and democracy for you.
Heard of it, King Scott?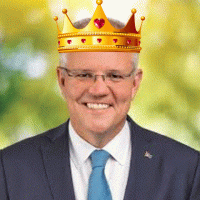 SOURCE: https://www.macrobusiness.com.au/2019/11/king-scott-to-ban-climate-protests/