Imagine what the AFP would find with proper money laundering laws?
By Unconventional Economist in Australian Property
November 1, 2019 | 7 comments
The Australian Federal Police (AFP) has uncovered a cache of Australian property laundered by Chinese funds after receiving a request from the Chinese Government:
A mansion in Melbourne's east, newly constructed units and more than 3,000 acres of Tasmanian farmland are among $17.3 million in property seized by authorities as part of an investigation into alleged money laundering by Chinese nationals.

The Australian Federal Police (AFP) this morning said it had seized six properties in Melbourne's east — including a new mansion in Mont Albert, three units and a townhouse in Box Hill North and a commercial property in Blackburn — and more than 3,000 acres of farmland at Musselroe Bay on Tasmania's north-east coast on Tuesday.

AFP Detective Superintendent Kate Ferry said the operation followed a 2017 request from the Chinese Ministry of Public Security for help to identify two Chinese nationals suspected of laundering proceeds of crime in Australia.

"Chinese authorities believe the money was raised in China through real estate and bank loan fraud," Detective Superintendent Ferry said.

"What the AFP alleges is that the two Chinese nationals moved about $23 million of alleged proceeds of crime from China since late 2012.

The AFP further alleged the proceeds of crime were used to purchase or develop the properties in Melbourne and Tasmania.
Now imagine what the AFP and the Australian Transaction Reports and Analysis Centre (AUSTRAC) would find if Australia had proper anti-money laundering (AML) laws?
Remember, 13 years ago the Australian Government agreed to implement global "Tranche 2" AML rules for real estate gatekeepers – encompassing real estate agents, accountants and lawyers – in a bid to prevent illegal funds from flowing into property.
However, these reforms have been continually postponed amid fierce lobbying by shadowy "vested interests" negatively impacted by the reforms. This has led to Australia having the weakest AML rules in the world pertaining to property: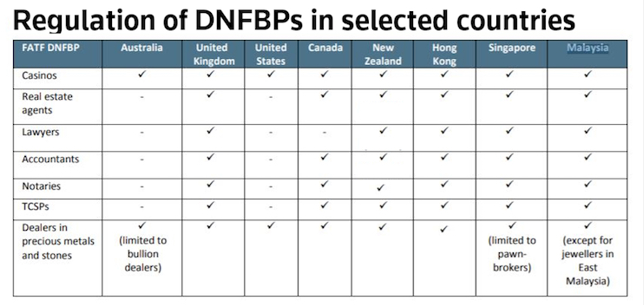 Australia's intransigence comes despite regular reports suggesting that money laundering through Australian property is rife.
For example in 2015, the global regulator of money laundering – the Paris-based Financial Action Taskforce (FATF) – released its mutual evaluation report, which found Australian homes are a haven for laundered funds, particularly from China. In June 2017, FATF also placed Australia on a watch list for failing to comply with money laundering and terrorism financing reforms.
Transparency International similarly ranked Australia as having the weakest anti-money laundering (AML) laws in the Anglosphere, failing all 10 priority areas.
Whereas the OECD Working Group on Bribery in International Business Transactions claimed the entire ecosystem for the buying and selling property using cross-border fund flows is beyond the reach of Australian regulators.
It's a sad state of affairs when the Chinese Government does a better job policing Australian money laundering than our own government.
SOURCE: https://www.macrobusiness.com.au/2019/11/imagine-what-the-afp-would-find-with-proper-money-laundering-laws/