IT was heartening to read the comments … with the majority expressing condemnation for NSW INC and the OVERDEVELOPMENT Agenda … They are not buying it, Gladys!
WITH a token 'five per cent of the dwellings at both sites will be affordable homes available for low to middle income earners, the plans reveal.' Too bad, isn't it, for a whole Cohort of Aussies locked out …. ??
With comments like these the majority are over it:
-Disappointing to see the total absence of the word "vibrant" in this article
-The COALition grand plan: build Metro rail so they can:

* eliminate train drivers
* privatise the system
* allow fat profits for their developer mates
* house more low cost workers to continue to drive down wages and conditions.

Don't ever trust the neocons when they spend taxpayer money for apparent public benefit – it's a trap!
-Now the trains will be full right at the start of the journey. Excellent recipe for a more overcrowded unpleasant to live in city.
-Great! Just what Sydney needs. Yet more rickety apartment towers that will no doubt be ready to come down shortly after they are built.
Up to 5600 homes to surround Kellyville and Bella Vista metro stations

October 30, 2019
As many as 5600 homes will be constructed in buildings up to 21 storeys high around two new rail stations in Sydney's north-west, under the government's latest plans for the fast-growing area.
The Kellyville and Bella Vista station precinct proposals by the government's development arm Landcom, released on Tuesday, show thousands of new dwellings will be spread across terraces and taller apartment blocks in the area, which will also include a town centre and new school.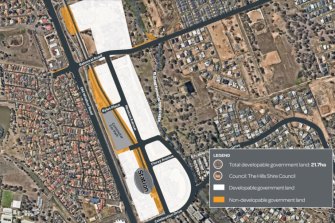 The government is pushing ahead with its plans for more intensive development in suburbs typically marked by low-rise housing along the $7.3 billion metro train line after it opened in May.
In Bella Vista, the proposal includes a town centre surrounded by between 2905 and 3822 new dwellings in terrace houses and apartment towers reaching 68 metres high, or about 21 storeys.
RELATED ARTICLE
There are also plans for a primary school for up to 1000 children, shops, new parks and community facilities.
The Kellyville precinct will include between 1410 and 1804 homes in buildings up to 50 metres high, or 15 storeys.
*Five per cent of the dwellings at both sites will be affordable homes available for low to middle income earners, the plans reveal.
The two areas are expected to eventually house 13,486 people and provide 7780 potential new jobs.
Under the plans, the first 200 residential units will be built in each area in 2023.
The Bella Vista precinct – not expected to be completed until 2045 – includes a high-density commercial and mixed use precinct around the metro station.
The tallest buildings will be erected along Old Windsor Road and the northern side of Celebration Drive, and "can serve as an anchor to existing buildings in Norwest Business Park", the plans say.
"Building heights would then transition to lower scale built form in the central and northern parts of the Bella Vista precinct."
Landcom's 10-year plan for the corridor includes 11,000 dwellings around six of the rail stations – Tallawong, Kellyville, Bella Vista, Norwest, Castle Hill Showground and Cherrybrook – on the 36-kilometre Metro Northwest line from Chatswood to Rouse Hill within a decade.
RELATED
Planning and Public Spaces Minister Rob Stokes said the government rezoned the Kellyville and Bella Vista sites in December 2017 to deliver new homes and jobs next to public transport.
"Kellyville and Bella Vista are on the doorstep of world-class public transport that will transform the region.
"We need a range of different types of housing to meet the needs of a growing and changing population so a mixture of housing supported by open space and the infrastructure is important," he said.
The deputy mayor of the Hills Shire Council, Reena Jethi, said high-density developments created "a lot of stress on the roads" and those new areas needed to be "balanced and in sync" with the shire.
The draft plans are on public exhibition until November 26.
Megan Gorrey is the Urban Affairs reporter at the Sydney Morning Herald.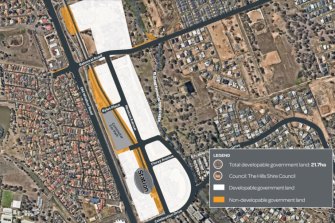 SOURCE: https://www.smh.com.au/national/nsw/up-to-5600-homes-to-surround-kellyville-and-bella-vista-metro-stations-20191029-p535cv.html
CAAN FACEBOOK:
https://www.facebook.com/Community-Action-Alliance-for-NSW-744190798994541/?ref=aymt_homepage_panel
WEBSITE:
https://caanhousinginequalitywithaussieslockedout.wordpress.com/