UPDATE ON WALKER CORPORATION … Following stiff resistance from local WILTON residents, court action and negotiations with the local council the focus now appears to be on commercial rental property development in Sydney and Melbourne …
SADLY despite the resistance from the Wollondilly community the new Walker Corporation estate comprising 696 lots in a housing corridor near Sydney's second planned airport at Badgerys Creek will be proceeding … along with those of Chinese developers, Country Garden, and Dahua …
the consequent loss of Koala habitat, flora, fauna and farmlands
RELATED ARTICLE: https://caanhousinginequalitywithaussieslockedout.com/2019/06/20/lang-walker-propertys-4-6b-man-tips-masterplanned-communities-as-the-next-boom/?fbclid=IwAR0GGTmNgfxANRieD7ELXJRCprLud86LqggBE6iVpIdihVFq9gzL9236G5M/
Billionaire developer Lang Walker boosts fortune on rental income

October 30, 2019
Billionaire developer Lang Walker has boosted his considerable fortune after soaring rental income at his property projects earned Walker Corporation more than half a billion dollars in pre-tax profit last financial year.
Walker Corporation turned over $777 million in revenue from billion-dollar projects in Sydney and Melbourne last financial year, a $49-million boost on the previous period, financial statements lodged with Australia's corporate watchdog show.
The company reported an after-tax profit of $363.4 million.
Mr Walker is renowned for taking big calls on the direction of the property market and backing his judgment, a strategy that has helped cement his business and wealth.
His company is in the early stages of developing the $3.2 billion Parramatta Square project in Sydney and has finalised the $3 billion Collins Square development in Melbourne.
The directors believe [divulging information] would be likely to result in unreasonable prejudice to the company.

Walker Corp directors' report
Walker Corporation recently announced it had won stage one approval for a large housing project in South East Wilton, in Sydney's south-west, where it encountered stiff resistance from local residents, court action and negotiations with the local council.
The new estate will include 696 lots in a housing corridor near Sydney's second planned airport at Badgerys Creek.
Tenants are set to move into the first of four towers in Parramatta Square this December when GT Insurance and Universal Fitness join anchor tenant the NSW government in a 65,000-square-metre 40-storey tower.
Parramatta Square will future-proof the group's earnings for years to come.
Another big contributor to the bottom line was Collins Square in Melbourne's Docklands precinct, where five office towers have been completed and fully leased.
The ambitious project has a raft of blue-chip corporate tenants across 240,000 square metres of office sitting above 10,000 square metres of retail and hospitality space managed by Walker companies.
Around 40,000 people work or visit the precinct each day.
The group's development portfolio has swollen to $3.8 billion, up from $2.9 billion the year before, which itself was a sizeable increase on the year earlier.
A report from the company's directors, which include Mr Walker and his wife Sue, said the group will – after the financial year's end – increase its debt facility by $1 billion.
RELATED ARTICLE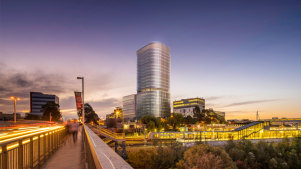 Current debt liabilities stand at $2.7 billion, accounts show.
Company directors were circumspect on Walker Corporation's future development opportunities.
"Further information on likely developments … have not been included in this annual report because the directors believe it would be likely to result in unreasonable prejudice to the company," the directors' reported.
Rental income from property investments increased 13.8 per cent to $119.6 million, while the company's other major earner – property sales – contributed $76.3 million, a decline of $20.3 million from the 2018 financial year.
Property Editor at The Age and BusinessDay journalist for Fairfax's theage.com.au, smh.com.au, watoday.com.au and brisbanetimes.com.au.
SOURCE: https://www.smh.com.au/business/companies/billionaire-developer-lang-walker-boosts-fortune-on-rental-income-20191029-p5358h.html
CAAN FACEBOOK:
https://www.facebook.com/Community-Action-Alliance-for-NSW-744190798994541/?ref=aymt_homepage_panel
WEBSITE:
https://caanhousinginequalitywithaussieslockedout.wordpress.com/