Working-class woes: ALP strategists blamed
Queensland Labor veteran Robert Schwarten has launched an ­assault on ALP election strategists and senior MPs, accusing them of losing touch with voters and leaving "working-class" candidates ­exposed in seats the party should have won.
Mr Schwarten, a former Queensland minister and leader of the house, said the Labor election review would be another "sanitised, workshopped" document ­ignoring the realities facing ­regional communities and failed tactics that damaged "working-class ­candidates".
The Queensland party stalwart, who represented Rockhampton for two decades and supported the ALP campaign in the key federal marginal seat of Capricornia, said he knew Labor was in trouble when lifetime supporters were asking him why they were "robbing older people and closing coalmines".
READ NEXT
Mr Schwarten's intervention came after Nick Dyrenfurth, executive director of the John Curtin Research Centre, called for a working-class quota system to weed out staffers, union officials and apparatchiks from ALP parliamentary teams.
In his new book Getting the Blues: the Future of Australian Labor, to be launched by opposition Treasury spokesman Jim Chalmers in Melbourne on Thursday, Dr Dyrenfurth also attacked "progressives" in the party ­obsessed with identity politics.

John Curtin Research Centre@curtin_rc
Please join us in Sydney as @AWUnion National Secretary @DanWaltonAWU launches @dyrenfurth's new book, Getting the Blues: the Future of Australian Labor.
When: Mon 4 November, 6pm
Where: Gleebooks, 49 Glebe Point Road, Glebe
Info: https://www.facebook.com/events/544651222746286/ …
RSVP: info@curtinrc.org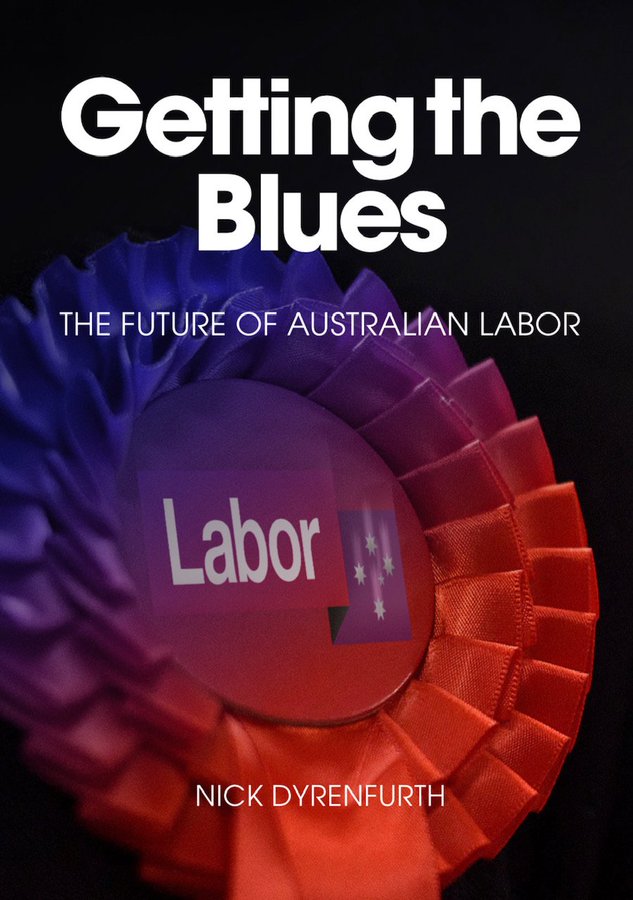 103:54 PM – Oct 18, 2019Twitter Ads info and privacySee John Curtin Research Centre's other Tweets
Anthony Albanese, who will deliver the first in a series of "value statement" speeches in Perth on Tuesday, rejected claims Labor was moving away from its working-class roots, saying it was a "progressive party of change".
"The fact is we are a broad-based party; I want to see more people of whatever background join the Labor Party … but the Labor Party is a party of change, we are a progressive party," the Opposition Leader said.
Work history of the Labor frontbench
| ANTHONY ALBANESE | Bank officer, ministerial adviser, party official, senior policy adviser. |
| --- | --- |
| RICHARD MARLES | Solicitor, union legal officer, federal assistant secretary TWU, assistant secretary ACTU. |
| PENNY WONG | Industrial officer, ministerial adviser, barrister. |
| KRISTINA KENEALLY | Teacher, Society of St Vincent De Paul co-ordinator; NSW MP, minister and premier. |
| TONY BURKE | Sales and shop assistant, union organiser; electorate officer. |
| BILL SHORTEN | AWU national secretary, director of Victorian Funds Management Corporation, director of Australian Super. |
| TANYA PLIBERSEK | Worked in domestic violence unit of NSW Ministry for the Status of Women; electorate officer. |
| JIM CHALMERS | Deputy chief of staff, chief of staff to treasurer Wayne Swan, executive director, Chifley Research Centre. |
| MARK BUTLER | Union official. |
| CHRIS BOWEN | Industrial officer, chief of staff to NSW minister Carl Scully, councillor, mayor. |
| CATHERINE KING | Federal Department of Health, KPMG. |
| JOEL FITZGIBBON | Small business operator, electorate officer. |
| DON FARRELL | Industrial officer, assistant secretary, secretary, Shop Distributive and Allied Employees' Association; founder, Farrell Wines. |
| MARK DREYFUS | Solicitor ministerial adviser, barrister. |
| MICHELLE ROWLAND | Director, Western Sydney Area Health Service; non-executive director, Western Sydney Parklands Trust; chair, Screen NSW. |
| KATY GALLAGHER | Community worker, union organiser. |
| LINDA BURNEY | Deputy director general, director general, NSW Department of Aboriginal Affairs. |
| JULIE COLLINS | Manager, Department of Tourism, (Tas), Senate adviser, state secretary, ALP (Tas). |
| BRENDAN O'CONNOR | Union official, assistant national secretary, Australian Services Union. |
| JASON CLARE | Ministerial policy adviser, senior policy adviser to NSW premier; manager, Transurban. |
| AMANDA RISHWORTH | Union representative, psychologist, occupational health and safety trainer. |
| TERRI BUTLER | Communications officer, articled clerk, lawyer. |
| MADELEINE KING | Adviser, CHOGM; ministerial adviser; director, UWA Centenary Celebrations; chief operating officer, Perth USAsia Centre. |
An audit of Mr Albanese's 22 frontbench members shows most were political staffers, union and party officials before entering parliament. Nine frontbenchers were former political staffers, and 10 have union backgrounds.
Mr Albanese, himself a former NSW ALP official and Labor staffer, said his party "doesn't just ­occupy space" and sought government in "order to change the country for the better".
He said there was no rush on unveiling the party's policy agenda and Labor would "do things on our own time".
"You don't win an election in 2022 in October 2019," he said.
Mr Schwarten said there was too much intervention in grassroots regional campaigns by Labor headquarters and warned there was a problem when a coalminer, Capricornia candidate Russell Robertson, "can't get coalminers to vote for him".
He said the "Big Brother" tactics of campaign committee members in key electorates, including the central Queensland seats of Capricornia and Dawson, had delivered "total dysfunction".
Mr Schwarten, who doesn't agree with working-class quotas, said they were pushing for an on-the-ground campaign visiting workplaces but faced resistance from party strategists who adopted a "phone" strategy, harassing local voters at "meal times".
"It was a rerun of a campaign handbook that has failed three times over … these campaigns were smothered by the party mach­ine," he said.
"We had excellent candidates hampered by a centralised campaign that was irrelevant to these regions and which meant they weren't allowed to speak and be themselves."
Mr Schwarten said Labor's inability to sell its policies on coal and franking credits triggered a situation where the Liberal Nat­ional Party filled the void.
"I think Chris Bowen telling people to vote against us … was full of arrogance, hubris, it was a smart-ass comment that earns you the result that we got."
He said the election review was a "factional balancing act" led by former politicians who had "no idea" about Rockhampton or coalmines.
"People are not stupid, people do evolve, we are nation of thinkers, but if you talk about phasing out coal without having a proper intellectual discussion about it, it is not only stupid but also arrogant in suggesting you know best.
"The electorate told us they know best.''
Former Labor senator Doug Cameron, a prominent left-wing figure, launched an attack against Dr Dyrenfurth following an extract of his book appearing in The Weekend Australian, labelling him a "pseudo-intellectual of the right".
"The right-wing, conservative embrace of neo-liberalism by some in the party is a major impediment to engaging with ­working-class Australians," Mr Cameron wrote on Facebook.
"Dreaming up reasons to move more to the right will not restore Labor's credentials with dis­affected and disadvantaged ­working-class Australians. The policies we took to the last election should be defended and promoted. Capitulation to neo-liberalism will not save the ALP."
(((Nick Dyrenfurth)))@dyrenfurth
My response to @DougCameron51's surprising criticism of the @australian news story on my new book. #auspol https://twitter.com/dougcameron51/status/1187895378596679680 …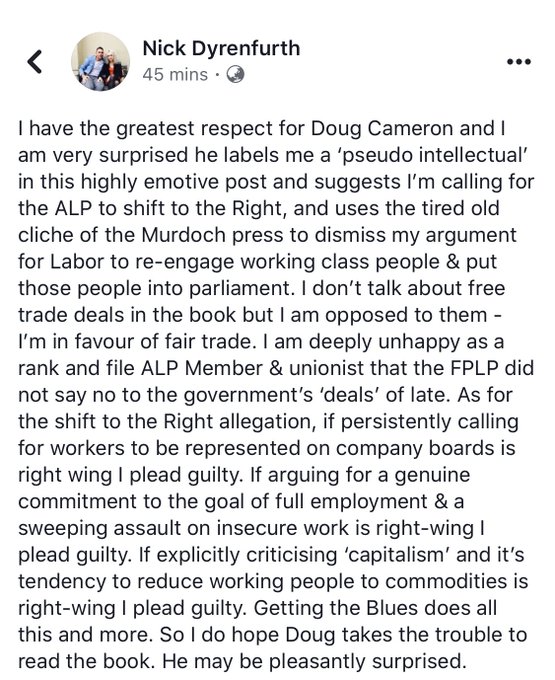 Doug Cameron@DougCameron51I posted, on my Facebook page, a short critique of those in the Labor party who would have us reject progressive policies and become a pale imitation of the Coalition. We need to challenge the belief that we should appease the Murdoch press and capitulate to neoliberalism.171:48 PM – Oct 26, 2019Twitter Ads info and privacySee (((Nick Dyrenfurth)))'s other Tweets
Dr Dyrenfurth said "if persistently calling for workers to be represented on company boards is right-wing, I plead guilty".
Dr Chalmers, a right-faction MP, welcomed "all contributions in the aftermath of what was a pretty devastating election defeat". While not agreeing "in every way" with working-class quotas, he said Dr Dyrenfurth's book was part of a process for supporters to put forward ideas.
SOURCE: https://www.theaustralian.com.au/nation/politics/labor-hero-blasts-poll-strategists/news-story/2975ea8001bcd87bfc97cedbf468d8cf
CAAN FACEBOOK:
https://www.facebook.com/Community-Action-Alliance-for-NSW-744190798994541/?ref=aymt_homepage_panel
WEBSITE:
https://caanhousinginequalitywithaussieslockedout.wordpress.com/