LIKE 'COMMUNITY ACTION ALLIANCE FOR NSW' TO FIND OUT MORE!
CAAN FACEBOOK:https://www.facebook.com/Community-Action-Alliance-for-NSW-744190798994541/?ref=aymt_homepage_panel
IS it about the sheer numbers?
AS reported in 'The Australian' the DIASPORA of 60 MILLION people of Chinese descent living overseas! 'China charging to new Future by Descent'
Is there such a large disproportionate number of people sourced from China, and some with 'British' Citizenship in comparison to other migrant sources having a bearing on the process?
HAVE their sheer numbers, high net worth and political donations allowed them to push for more favourable treatment over and above that of Australian incumbents?
42 per cent of Chinese applications between 2017 and 2019 were approved overall … despite complaints of delays and concerns from Security Agencies about Chinese membership of the Chinese Communist Party (the CCP)!
Chinese people can gain a 'Permanent Resident Visa' … the only criteria it seems … is to produce 'the cash to buy Australian Real Estate'
What checks are made on these people? Any? There may well be good reason why 9600 Chinese have been waiting two years for citizenship despite already being 'Permanent Residents' for several years …
AS for the issue of 'family reunions' how can that be a problem when there are so many Visas available allowing reunion? An international student here in Australia can organise a 'Family Visa' for relatives. There are Parent and Grandparent Visas … a Guardianship Visa … family reunions are not restricted to citizenship!
MEANWHILE the plight of Australians locked out of the jobs market by the competition from Visa Workers, and Home Ownership only continues to worsen ….
ARE Australians being side-lined … handicapped by demands from Chinese lobbying … ? And political party agendas?
SEARCH CAAN WEBSITE to learn more about Chinese influence, foreign interference, the Diaspora, the GeoPolitical Strategist report on Chatswood, the ANU Hack, ASPI, Gladys Liu, political donations, Huang Xiangmo and more!
VIEW:
https://caanhousinginequalitywithaussieslockedout.com/2019/09/01/a-geopolitical-strategist-on-the-mk-hong-kong-the-u-s-and-australia/
Concerning Work Visas … 'Hamish Macdonald Interviews Shadow Minister for Employment & Workplace Relations Brendan O'Connor .. '
VIEW:
https://caanhousinginequalitywithaussieslockedout.com/2019/03/23/9555/
One in three Chinese immigrants fail to acquire Australian citizenship amid 'unwarranted delays'

October 26, 2019
One in three migrants from mainland China has failed to acquire Australian citizenship since 2012 amid' the growing political debate over Chinese influence'.
The figure, the highest of any nation in the top 10 sources of new Australian citizens, follows a collapse in the number of Chinese residents approved last financial year, when only 11 per cent of these applicants were granted citizenship as Home Affairs struggled to keep up with demand.
The department pulled that figure back up this year, with 42 per cent of Chinese applications between 2017 and 2019 approved overall.
But figures, given in response to questions on notice in Parliament show that, since 2012, just 64 per cent of applicants from China were approved, compared with 69 per cent from the Philippines, 77 per cent from Britain and India, and 90 per cent from South Africa.
The figures exclude migrants from Hong Kong and Taiwan.
Up to 390 Chinese migrants have had their citizenship put on hold for three years, while 9600 have been waiting for two years despite already being permanent residents for several years. At the same time, 2350 Afghani migrants have been waiting since 2015 to have their citizenship applications processed.
A Home Affairs spokesperson said the department did not treat citizenship applications from people from certain backgrounds more favourably than others.
The spokesperson said processing times could vary due to individual circumstances, including the time it takes to receive additional character and national security information from external agencies and the time it takes for the applicant to attend a citizenship ceremony or receive a citizenship certificate.
The Morrison government has blamed the delays on an increase in the complexity of applications. An Auditor-General's report dismissed this in February, finding that "overall, the relative complexity of the applications lodged has decreased" and the backlog was due to tighter security screenings.
The Home Affairs spokesperson said the department had implemented a number of strategies to improve processing times and reduce the on-hand caseload of applications, without "compromising on national security" or "program integrity".
The figures come amid a decline in Chinese applications overall. The absolute number of applications for Australian citizenship by residents of Chinese heritage has halved since 2017, when there were 14,707 applicants, compared with 7999 last year.
Political tension between the Chinese and Australian governments has grown since 2017, when former prime minister Malcolm Turnbull angered the Chinese government by introducing foreign interference laws. Mr Turnbull last year banned Chinese telco giant Huawei from building Australia's 5G network due to national security concerns.
Scott Morrison, who is yet to visit Beijing since becoming prime minister in August last year, has become more aggressive in his differences with China on global trade policy since visiting US President Donald Trump in September. Foreign Affairs Minister Marise Payne has also sharpened her criticism of the deteriorating situation in Hong Kong.
The chair of the Federation of Ethnic Communities Councils of Australia, Mary Patetsos, said the federation hoped people from all backgrounds and nationalities would receive equal treatment in relation to the processing of their citizenship applications.
"I think this is what an overwhelming majority of Australians would expect as citizens of a country that strives to be fair, equitable and democratic," she said.
RELATED ARTICLE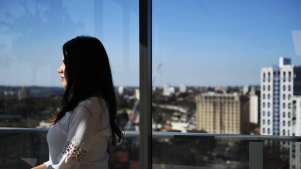 "We must also remember that unwarranted delays in the processing of citizenship applications cause significant hardship for families."
Labor MP Julian Hill, who asked for the figures from Home Affairs and has launched a parliamentary inquiry into the citizenship audit, said the delays had caused widespread anxiety among migrants in his Melbourne electorate of Bruce.
He said some applicants were unable to travel where they needed to without an Australian passport, or apply for jobs in the public service or defence force.
"Then of course there is the big issue of family reunions. People are in my office weekly because they are desperate," he said.
"Until they are citizens, their family reunion applications will get no priority. That means they have not been able to see their wife, husband or kids for years. The sheer inhumanity of that is astounding."
Eryk Bagshaw is an economics correspondent for The Sydney Morning Herald and The Age, based at Parliament House in Canberra
SOURCE: https://www.smh.com.au/politics/federal/one-in-three-chinese-immigrants-fail-to-acquire-australian-citizenship-amid-unwarranted-delays-20191016-p5314l.html#comments
CAAN FACEBOOK:
https://www.facebook.com/Community-Action-Alliance-for-NSW-744190798994541/?ref=aymt_homepage_panel
WEBSITE:
https://caanhousinginequalitywithaussieslockedout.wordpress.com/