ARE the $1M salary packages for Vice Chancellors there to ensure that they are not influenced by old-hat ideas such as:
-academic integrity, free speech and a contest of ideas.
ARE the large salary packages there to ensure that they 'do the bidding of the neoliberal masters in Canberra who are cutting off public funding in an ideological race to the netherworld of neoliberal stupidity with a surplus?'
MEANWHILE the VC's it appears hand out degrees to International Students willing to fill the institutions coffers … in turn here on a mission to gain a 'Permanent Resident Visa'!
THUS the harassment and legal suit against this Academic for speaking the Truth!
International student whistleblower gets global support
By Unconventional Economist in Australian Economy
October 25, 2019 | 50 comments
Earlier this month we reported how one of the whistle-blowers in the Four Corner's "Cash Cow" report into Australia's international student trade – Dr Gerd Schroeder-Turk – was being sued by Murdoch University for causing a drop in international student enrolments.
This provoked a strong backlash from the National Tertiary Education Union (NTEU), which launched an online petition named #IStandWithGerd.
Thankfully, Dr Schroeder-Turk has also received strong support from academics across the globe: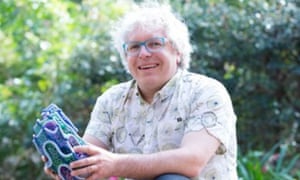 PHOTO: Dr Gerd Schroder-Turk is a senior lecturer in mathematics and statistics. (Twitter: @MurdochUniNews)
*The university's actions have prompted withering criticism from a group of 23 academics in Australia, Germany, Denmark, Sweden, Canada, Switzerland and the United States.
In a joint statement to the Guardian, the academics said the legal action was clearly designed to keep Schröder-Turk and other whistleblowers silent.
*"We are appalled by the continued harassment of Schroeder-Turk," the group said. "The legal suit against him is designed to intimidate him, and future whistleblowers into silence.
"This is extraordinary behaviour from senior ranks of an institution dedicated to higher learning"…
*The group of academics previously wrote to Murdoch University's vice-chancellor, Eeva Leinonen, in May, expressing concern about the response to the allegations, particularly suggestions that the Four Corners program had racial overtones.
*"We are appalled by your labelling of such criticism as 'racist', which deters from the substance of the debate and comes across as a personal attack," they wrote.
"Schroeder-Turk and his colleagues are trying to protect the international students from exploitation while ensuring the long term reputation of Murdoch University is maintained.
*We can only conclude that your response is designed to silence concerns for international students' welfare, as well as those of domestic students and academic staff".
*Their letter received no response…
"We consider the attacks on Schroeder-Turk and his colleagues a dangerous precedent. It must be challenged, in order to maintain the ideal of a university as a forum for open debate and fearless exposure of dubious practices within academic institutions in Australia."
Fifty-seven of Australia's top academics have also written a letter calling for the law suit to be dropped:
An open letter published today from 57 professors to Murdoch University vice-chancellor Professor Eeva Leinonen stated they believe the court action sets a "dangerous precedent for all Australian universities".

The signatories are all recipients of the prestigious Australian Research Council's Laureate Fellowship, and come from 15 universities across the sector in disciplines including arts, humanities, science, technology, engineering and mathematics.

Quotes from the letter:

"It is a long-established principle of academic freedom that academics must be able to criticise university governance. This right is especially important where aspects of university governance might compromise the integrity of teaching and research."

"The claim for damages is highly intimidatory to all Australian academics and therefore risks the capacity of Murdoch University and all Australian universities to pursue excellence in research and teaching."

"We urge you to withdraw the claim, to settle any dispute without punitive measures, and to affirm the commitment of Murdoch University to academic freedom as an essential university value"…

One of the letter's signatories, distinguished Professor Michael Bird from James Cook University, told the ABC that academics have been disturbed by the case against Dr Schroder-Turk.

"It appears to be more intimidatory than anything else. I'm a humble scientist. I don't ordinarily feel I should be doing this sort of thing, this was an exceptional case and and we felt that it required an exceptional response," he said.

Professor Bird said the group of academics don't know Dr Schroder-Turk personally but felt compelled to act after reading about the case.

"I do not understand how a university could think this was an appropriate action to take," he said.
Even The Australian has rallied behind Dr Schroeder-Turk:
In 1997 the UN Educational, Scientific and Cultural Organisation published its Recom­mendation Concerning the Status of Higher-Education Teaching Personnel.

It included the follow­ing statement: "All higher education teaching personnel should enjoy freedom of thought, conscience, religion, expression, assembly and association as well as the right to liberty and security of the person and liberty of movement.

"They should not be hindered or impeded in exercising their civil rights as citizens, including the right to contribute to social change through freely expressing their opinion of state policies and of policies affecting higher education. They should not suffer any penalties simply because of the exercise of such rights."

But more and more frequently Australian universities seemingly are thumbing their noses at the notion university workers are, by right, free to consider and develop controversial ideas in the search for truth…

Murdoch University has, of course, overreached. The wave of support for Schroeder-Turk will undoubtedly have an adverse effect on its reputation.

The university would be better served by reviewing the practices Schroeder-Turk complained of and immediately withdrawing its legal action against him.
New Murdoch Chancellor, Gary Smith, only took up his role on 8 August 2019. Hopefully, he will do the right thing and persuade Murdoch University's top brass to drop the legal action against Dr Schroeder-Turk.
Because if Murdoch pursues the case and wins, it will discourage other academics from blowing the whistle on Australia's international student scandal.
SOURCE: https://www.macrobusiness.com.au/2019/10/international-student-whistleblower-gets-global-support/
CAAN FACEBOOK:
https://www.facebook.com/Community-Action-Alliance-for-NSW-744190798994541/?ref=aymt_homepage_panel
WEBSITE:
https://caanhousinginequalitywithaussieslockedout.wordpress.com/