Shifty as …
From the comments …
'…. The direct messages are the only ones that are respected by China. They are masters of the double speak bullcrap and use political correctness via racist accusations against the west with expert deftness, so a very direct message that we caught you planting a foreign agent into our parliament and kicked them out.
They'll squeal as will a huge number of moronic lefties who don't understand how the game is being played, but it is essential that Australia stand up against this.'
"Double agent" Gladys Liu partied with CCP head in parliament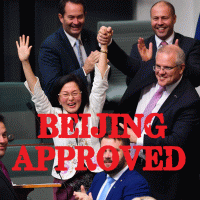 By Houses and Holes in Australian Politics
October 25, 2019 | 28 comments
And why not. She has the CCP stamp of approval. Via Herald Sun:
Liberal MP Gladys Liu brought the head of a group linked to China's overseas propaganda arm to a celebratory event held in the government party room of Parliament House in Canberra.

Zhou Guohua was among a large group of supporters who joined Ms Liu at the party to celebrate the Hong Kong-born MP's maiden speech on July 23.

Mr Zhou is the president of the Shanghainese Association of Australia, an organisation named in parliament as part of the United Front, an arm of the Chinese Communist Party which spreads propaganda and seeks to develop influence overseas.

The revelations have sparked crossbench senator Rex Patrick to call for more controls to be put in place over where representatives of foreign-linked political organisations can go in Parliament House.

…"Serious questions have been raised about Ms Liu's connections with China's 'United Front' organisations and she has failed to provide the parliament with an adequate account and explanation of her foreign political associations."
So, not only does Gladys refuse to personally endorse Australian foreign policy tenets around China, as well as mumbling alarming things about Hong Kong in the Party Room, and courts and channels money directly opposed to Australian foreign and strategic policy goals into the Government, plus occupied senior positions in CCP propaganda outfits, not to mention abused Chisholm voters with dubious election day signage, then lied about all of it, she also uses and abuses the credibility of parliament house to aid campaigns for CCP control.
Peter Dutton once described Sam Dastayari as a "double agent" for far less. Appropriately, he resigned plus answered all questions.
How is it that Ms Liu qualifies as a fit and proper person to be in the Australian Parliament when "double agent" Sam Dastayari does not?
She is not. But she holds the Morrison Government's majority in the palm of her hand so here we are, getting a picture of what favours she is facilitating for her CCP-associated donors in return.
SOURCE: https://www.macrobusiness.com.au/2019/10/double-agent-gladys-liu-partied-with-ccp-head-in-parliament/
CAAN FACEBOOK:
https://www.facebook.com/Community-Action-Alliance-for-NSW-744190798994541/?ref=aymt_homepage_panel
WEBSITE:
https://caanhousinginequalitywithaussieslockedout.wordpress.com/