The following related articles and a number of others point to why Visa Privatisation should be canned!
Search 'Visa Privatisation' to find more!
Related Articles:
Trashed Visa System Fuels Human Trafficking, Exploitation and Slavery
https://caanhousinginequalitywithaussieslockedout.com/2019/10/09/17050/?fbclid=IwAR0E-K8F2r9fePFA46vjsD05p_8GbrwYxk49COo2F-3WlpSbBqnl4L6ggCU
PM's mate's mate and the $Billion PRIVATISATION of Oz's backdoor passport system
https://caanhousinginequalitywithaussieslockedout.com/2019/09/04/pms-mates-mate-and-the-billion-privatisation-of-ozs-backdoor-passport-system/
Backlash swells over Morrison Government's visa privatisation
By Unconventional Economist in Australian Economy
October 12, 2019 | 11 comments
Labor has stepped up its attack against the Morrison Government's plan to privatise Australia's visa system, with Labor senator Helen Polley claiming it would raise costs, make border enforcement more difficult, and lead to greater exploitation:
"Privatising our visa system will lead to increased costs of visas, greater risks of worker exploitation, data security breaches and will make protecting national security more difficult," she said.
"Do we really want our visa system being outsourced? Do we really want our migration policy being determined by private companies
Separately, Labor has demanded the Australian Competition and Consumer Commission (ACCC) intervene to stop visa processing being handed to a single monopoly provider:
The Home Affairs Department plans to award a 10-year contract as soon as this month…
Opposition Assistant Treasurer Stephen Jones and opposition Minister for Immigration Andrew Giles have asked the Australian Competition and Consumer Commission (ACCC) to use its powers to conduct research on matters affecting consumer interests.
ACCC boss Rod Sims has made misuse of market power and concerted practices violations a priority for the watchdog in 2019.
Among Labor's concerns are that visa application charges will become a for-profit exercise, and the successful bidder access to businesses and premium products.
Labor's concerns about monopoly power are justified.
After the United Kingdom privatised its visa system in 2014, the new private monopoly provider significantly raised visa applications costs. There have also been accusations of exploitation and turning the United Kingdom visa system into 'pay to win' (see here).
Indeed, the first assistant secretary of the Department of Home Affairs, Andrew Kefford, recently boasted that visa privatisation is the "most significant reform to the Australian immigration system in more than 30 years", and claimed it would make the "visa business" profitable by including "premium services for high-value applicants", while providing "commercial value-added services".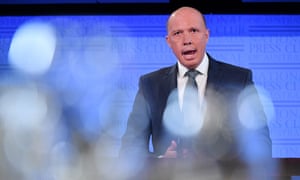 In other words, the Morrison Government would effectively make Australia's visa system 'pay to win' and a profit-based, as has occurred in the United Kingdom.
We have already seen this disaster play out in higher education, which has undergone a "defacto privatisation" of its own.
Higher education has effectively been turned into a quantity-based profit-making business, whereby entry and teaching standards have been crushed in order to push through as many full-fee paying international students as possible.
University degrees have been dumbed-down so much that a student has to be really stupid not to pass, in the process eroding their value. Moreover, university vice chancellors now behave more like profit-maximising CEOs than guardians of teaching excellence.
In short, privatising Australia's visa system carries huge risks.
The private monopoly provider will raise visa costs to inflate their revenues, the system will be turned into 'pay-to-win', and the integrity of Australia's borders will become even more brittle.
Adding a profit motive and turning the visa system into a quantity-based business will eliminate what little integrity there is left and will result in Australia losing complete control of migration numbers.
At a minimum, visa privatisation must first be submitted for independent review by the ACCC, the Australian National Audit Office, and/or the Productivity Commission before coming into force. To do otherwise would fail the fundamental principle of parliamentary due process.
SOURCE: https://www.macrobusiness.com.au/2019/10/backlash-swells-over-morrison-governments-visa-privatisation/
CAAN FACEBOOK:
https://www.facebook.com/Community-Action-Alliance-for-NSW-744190798994541/?ref=aymt_homepage_panel
WEBSITE:
https://caanhousinginequalitywithaussieslockedout.wordpress.com/