' … most Australians don't actually care about a surplus in the current economic environment, with 72% believing the Government should stimulate economic growth if we are at risk of a recession.'
Treasurer Josh Frydenberg wants to increase housing prices to boost GDP by 0.5%… or was that 1%? (Screenshots via YouTube)
Coalition mortgages Australia's economic future
By Guest in Australian Economy
October 7, 2019 | 5 comments
Via Independent Australia:
IN A RECENT SURVEY conducted by the Australian Financial Review, every single economist who participated had the same message for the Morrison Government: the Reserve Bank should not have to rescue the economy on its own.

However, despite the mounting evidence of domestic economic slowdown and the growing risk of a potential global recession, the Morrison Government continues to reject calls for a stimulus. Instead, the Government insists that its tax cuts and "superior economic management" will kickstart the economy and that everything will be fine.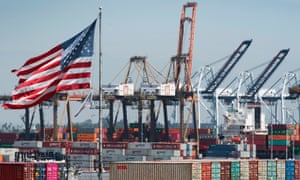 Shipping containers being unloaded at the Port of Los Angeles. The UN cited trade wars as a warning sign of recession along with currency fluctuations and a possible no-deal Brexit. Photograph: Mark Ralston/AFP/Getty Images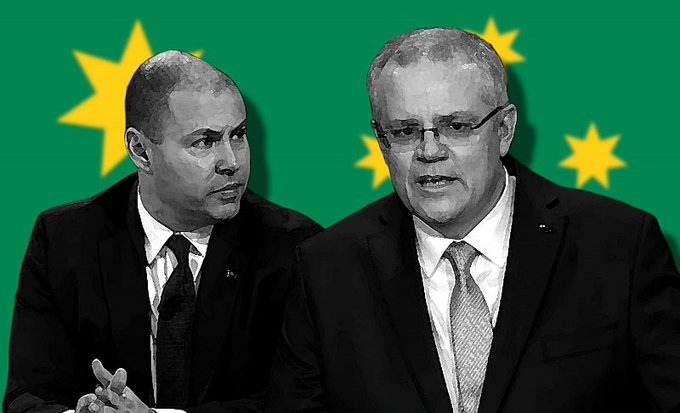 While the RBA's rate cuts and the extra $265 in the pockets of the average taxpayer (despite being promised $1,080) may offer support to the broader economy at some point, so far there is no evidence that this is occurring.
With the Government so focused on delivering its much-promised and talked about surplus, Treasurer Josh Frydenberg has begun looking at alternative avenues to stimulate economic growth at no cost to the Federal Budget.
The thought bubble goal put forward by Frydenberg was encouraging housing prices to grow by 10% in the next 12 months, in order to promote economic growth through a "Wealth Effect".
On Thursday last week, the AFR reported that Frydenberg cited Treasury research that showed:
'…a 10% increase in house prices could boost GDP by 0.5%.'
However, shortly after, Business Insider quoted Frydenberg as saying:
"Treasury estimates a 10% increase in house prices could lift GDP by 1%."
So that's the plan. More congestion, suppressed wage growth and unaffordable housing… But at least GDP is 1% higher. Who do these guys work for again? https://www.businessinsider.com.au/treasurer-josh-frydenberg-house-prices-property-market-rba-2019-9 …
In less than 24 hours, the promised increase to economic growth from higher housing prices had doubled from 0.5% to 1.0%.
Aside from Frydenberg's apparently poor grasp of Treasury research, there is an extremely serious issue with the Coalition's plans for mortgage holders to come to the economy's rescue. In the long term, the higher level of household debt that would result from pumping up housing prices would actually substantially damage the nation's economic growth potential.
But don't take my word for it.

Desperate bullying of our Regulators and Banks to ignore sensible lending laws. The Treasurer interfering with regulators, laws and court processes represents a historic, & unprecedented low point. JF, u are not above the law. If don't like the law, Parliament needs to change it.1211:17 AM – Sep 27, 2019Twitter Ads info and privacySee Joe Harvey's other Tweets

According to a report by the Bank for International Settlements and the St Louis branch of the United States Federal Reserve:
'A one percentage point increase in the household debt-to-GDP ratio tends to lower growth in the long run by 0.1 percentage point.'
Effectively if the Treasurer's 10% increase to housing prices came to pass and it cost ten percentage points in additional household debt to GDP, the long-term growth potential of the economy would be reduced by approximately 1%.
*At a time when the economy is in a per capita recession and headline annual GDP growth is at just 1.4%, Australia can hardly afford to have a large percentage of its growth potential damaged in the Morrison Government's quest for a budget surplus.
*In an ironic twist of fate, most Australians don't actually care about a surplus in the current economic environment, with 72% believing the Government should stimulate economic growth if we are at risk of a recession.
Rather than simply abandoning the goal of a surplus with little-to-no political cost to the Government, the Coalition is instead encouraging Australians to get out there and bid up housing prices.
With the implicit encouragement of Josh Frydenberg that 10% higher housing prices are a goal for the Treasurer to promote economic growth, the allure of such high returns at a time when interest rates are at emergency record lows is too much for some to resist.
As our nation heads into an uncertain future and the Coalition continues to insist that everything is fine, one really does have to wonder, how much is going to be sacrificed in order for the Morrison Government to achieve its precious surplus?
Because if the Treasurer gets his wish of higher GDP growth on the back of rising household debt, the Morrison Government would have implicitly encouraged the Australian people to effectively mortgage the economic future of the entire nation, damaging the future growth potential of the economy for years or, perhaps, even decades to come.
All for a measly 1.0% boost in GDP, in an attempt to achieve a surplus that will soon be forgotten.
Tarric Brooker is a freelance journalist and political commentator. You can follow him on Twitter @AvidCommentator. Article cross-posted from Independent Australia.
Gadgetmeister – #RaiseTheRate friendly@Gadgets_S_J
@JoshFrydenberg didn't learn anything from the #GFC nor the #BankingRoyalCommision.

Easy finance creates a housing bubble that will burst catastrophically.#AusPol

Banks lobbied on responsible lending laws before Frydenberg softened stancehttps://www.theguardian.com/australia-news/2019/oct/02/banks-lobbied-against-responsible-lending-laws-before-frydenberg-softened-stance?CMP=Share_AndroidApp_Tweet …Banks lobbied on responsible lending laws before Frydenberg softened stanceExclusive: Regulators left with whiplash by government's sudden emphasis on the 'personal responsibility' of borrowerstheguardian.com
Josh Frydenberg is optimistic on house prices (Photo by Tracey Nearmy, Getty Images)
SOURCE: https://www.macrobusiness.com.au/2019/10/coalition-mortgages-australias-economic-future/
CAAN FACEBOOK:
https://www.facebook.com/Community-Action-Alliance-for-NSW-744190798994541/?ref=aymt_homepage_panel
WEBSITE:
https://caanhousinginequalitywithaussieslockedout.wordpress.com/