Photo: Courier Mail: It's obvious that there are serious problems with the overseas student program, writes Mike O'Connor.
WHY wouldn't they?
The trouble is … the consequences for the Incumbents … we Australians … as evidenced by the chronic infrastructure bottlenecks, rampant wage theft, the HOUSING AFFORDABILITY CRISIS, and overall falling living standards manifested across Australia.
Does it look like a Grubmnt construct?
Migrants line up to "game" Australia's visa system
By Unconventional Economist in Australian Economy
October 4, 2019 | 30 comments
Over the past week, we have witnessed more evidence that Australia's visa system is being systematically rorted.
Last weekend, The Australian reported that the Administrative Appeals Tribunal (AAT) has become overrun, due in part to bogus applications for asylum from migrants that have arrived in Australia by plane:
The backlog of active cases has grown from 17,480 to 62,476 and is getting worse each month. Even if each case involved only one person, the total number of people would equal the population of Wagga Wagga in NSW or Shepparton in Victoria…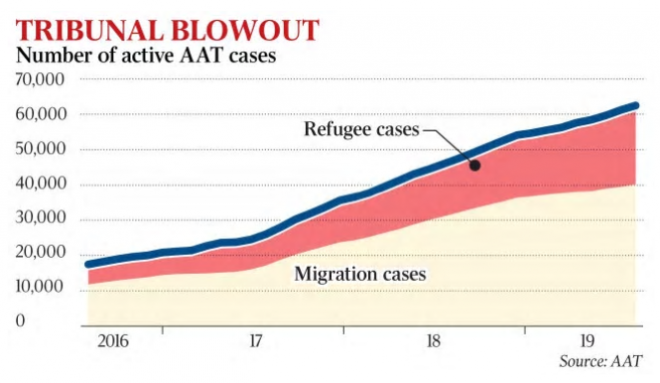 An AAT spokeswoman said the increase in new applications was due to higher demand for reviews of government decisions.
Migration and refugee cases cost between $2137 and $3036 per review.
"The AAT's Migration and Refugee Division has not been able to keep pace with the growth in demand for reviews due to the high number of applications received in previous years without a similar increase in the number of member resources," the AAT spokeswoman said.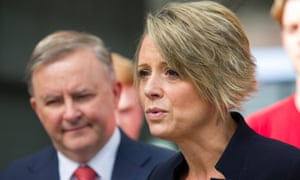 Photo: The Guardian
Labor's immigration spokesperson, Kristina Keneally, recently lashed the massive blowout of asylum seekers gaining entry into Australia by plane, which she claimed was being fuelled by "criminal syndicates" and "people smugglers":
[Keneally said] the Coalition's fixation on the boats has allowed weakness to develop at airports – invoking, for example, the 81,596 people who have arrived by plane and claimed asylum since 1 July 2014.

"Peter Dutton has failed to notice that criminal syndicates that people smugglers have shifted their business model from boats to planes"…

Another question being pursued is whether Australia's migration system is being used by criminal syndicates and labour hire companies to traffic exploited workers into Australia.

Various migration experts raised similar concerns: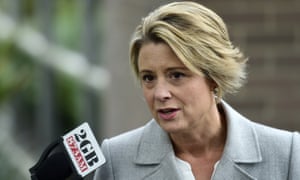 "Organised crime are indeed facilitating unlawful migration on a fee-for-service basis, using methodologies from fake identity documents, to gaming Australia's visa system," [John Coyne, the Australian Strategic Policy Institute's head of border security] said…
Former deputy secretary of the department of immigration and border protection Abul Rizvi said the "eye watering" blowout in bridging visa numbers indicated a "sick system".
"The people we're talking about are generally vulnerable people. They will have little financial resources, and they are being exploited – they're being exploited by criminals, and they're being exploited by unscrupulous labour hire companies".
As has former High Court justice, Ian Callinan:
Photo: Ian Callinan former High Court Justice
[Ian Callinan] said "almost everyone" with migration law experience had told him there were applic­ants and representatives who "game the system, well knowing there is an automatic entitlement to a bridging visa"…
The hard data illustrating the "gaming" is the blowout in temporary bridging visas, which are typically given to migrants awaiting decisions on applications for permanent residency, and are considered a broad indicator of the robustness and efficiency of the visa system.
As shown in the next chart, the number of bridging visas on issue have roughly doubled under the Coalition's term in government, to more than 200,000 as at June 2019: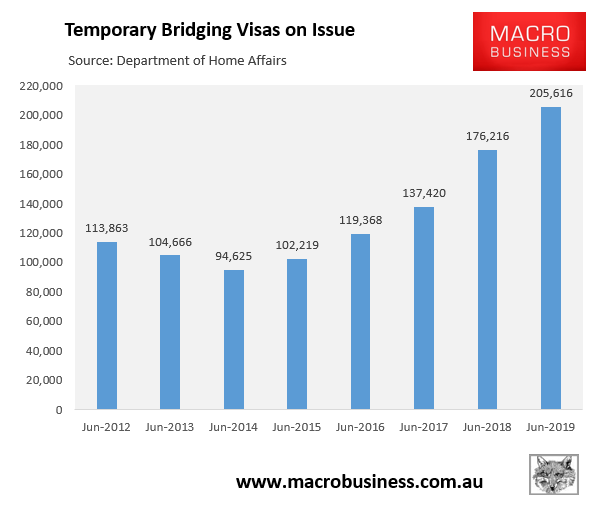 As we already know, state-based and regional migration programs have also been systemically gamed, with migrants temporarily settling in regional areas and smaller capital cities purely to get the required number of points for permanent residency before moving to Sydney and Melbourne.
In fact, recent ANU research of settlement patterns revealed that 60% of migrants that moved to Australia's regions subsequently move to capital cities within five years:
An Australian National University study released Thursday found more than 60 per cent of migrants move to a capital city after about five years of living in a regional or remote location.

ANU material went as far as saying new migrants were "fleeing" regional Australia for better opportunities in the cities…

ANU demographer Bernard Baffour told SBS News, "you can move migrants to areas, but you can't force them to stay there"…

The study found Chinese-born migrants are more likely to settle in Sydney… Melbourne is the city of choice for most Indian-born migrants.
Not surprisingly, migrants are now lining-up to use the Morrison Government's new regional visas as an easy pathway towards permanent residency, presumably before moving to Sydney and Melbourne:
Photo: SBS
*"One of the key reasons that migrants want to come to Australia is the promise of permanent residency" [Immigration Minister David Coleman, said]…

*Registered migration agent Rohit Mohan says… "There is a lot of interest in these new visas… We do not have the details of the new regional visas yet but many hope that criteria to apply for those visas will be a bit relaxed than the general skilled migration. Many are eagerly looking forward it as it might be their only opportunity to get PR"…
Short of placing electronic ankle tags on migrants, how can the Morrison Government's regional migration push be successful when it has failed repeatedly in the past, with the visa system systematically gamed? It cannot.
The truth is that Australia's border contains more holes than a block of Swiss Cheese, with many avenues available to game the visa system. These include, but are not limited to:
Migrants travelling to Australia on tourist visas and subsequently claiming asylum;
Students undertaking 'mickey mouse' courses for working rights and permanent residency;
People smugglers, criminal syndicates and illegal labour hire companies facilitating undocumented migrants to work at below market wages; and
Employers hiring migrant workers en masse under the ruse of 'skills shortages', in a bid to slash wage costs and undercut Australian workers.
The list goes on and is evidenced by the chronic infrastructure bottlenecks, rampant wage theft, and overall falling living standards manifested across Australia.
Photo: The Australian
SOURCE: https://www.macrobusiness.com.au/2019/10/migrants-line-up-to-game-australias-visa-system/
CAAN FACEBOOK:
https://www.facebook.com/Community-Action-Alliance-for-NSW-744190798994541/?ref=aymt_homepage_panel
WEBSITE:
https://caanhousinginequalitywithaussieslockedout.wordpress.com/