MB Q3 Subscribers' Report: Is Australia's housing recovery a bull trap?
By MacroBusiness in Special Reports
October 3, 2019 | 58 comments
In MB's Half-Year special report, entitled "Can ScoMo's miracle save housing and the economy?", we forecast a modest house price recovery for Australia into 2020.
Over the past quarter, however, the housing market has strengthened more quickly than we anticipated, with some commentators even declaring "the great Aussie housing boom is back".
This report reassesses Australia's housing market and finds that while the growth outlook has unambiguously improved over the next 12 months, downside risks have also risen further down the road. This raises the question of whether Australia's recovery represents a classic "bull trap"?
The housing rebound has begun:
Photo: AFR
The recent Australian housing correction was driven by Sydney and Melbourne, where prices fell sharply, as well as Perth, whose correction continues in earnest and has run for more than five years: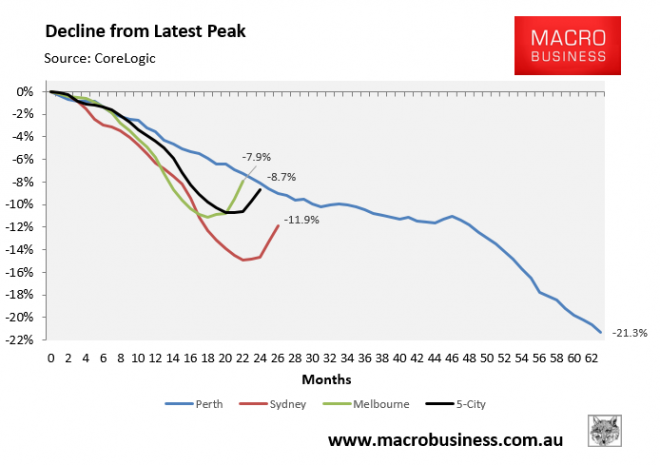 However, dwelling values across the combined capitals rebounded strongly over the past quarter, driven by Sydney and Melbourne.
At the 5-City level, dwelling values bottomed in June 2019 after suffering a peak-to-trough decline of 10.7%. In the three months since, dwelling values have rebounded by 2.3%.
Sydney's dwelling values bottomed in May 2019 after suffering a 14.9% peak-to-trough decline. However, in the three months since, Sydney dwelling values have rebounded by 3.5%.
Melbourne's dwelling values also bottomed in May 2019 after suffering a 11.1% peak-to-trough decline. But in the three months since, Melbourne dwelling values have rebounded by 3.3%.
By contrast, Perth dwelling values continue to decline, down 21.3% over 63 months.
The rebounds across Sydney and Melbourne are reflected in auction clearance rates, which are the best short-term leading indicator of house price growth.
As shown in the below charts, Sydney's and Melbourne's auction clearance rates have rebounded strongly and are now both tracking near 'boom time' levels in the mid-70% range: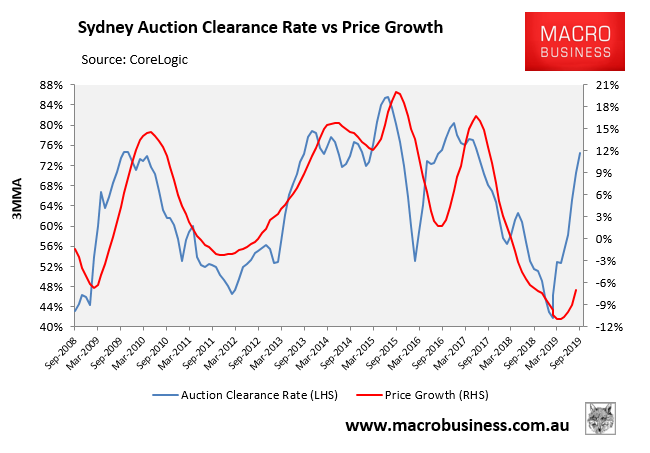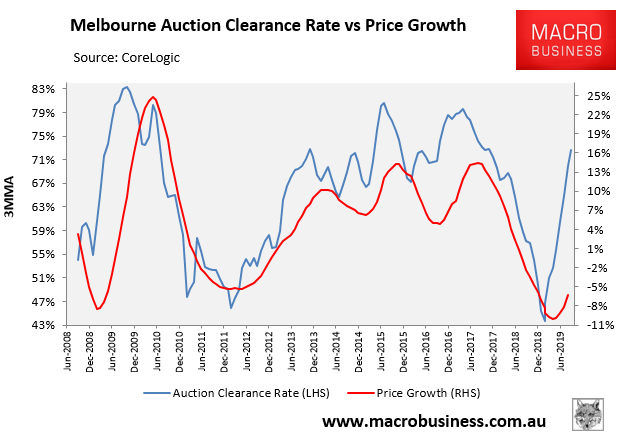 As you can see above, auction clearances typically lead house price growth. Therefore, the strong rebound in clearance rates is pointing to sharp house price appreciation over coming months.
However, the strength of the auction market, as measured by the clearance rate, is overstated. As shown in the next chart, overall auction volumes have fallen sharply and are tracking well below the 'boom' levels experienced between 2013 and 2017: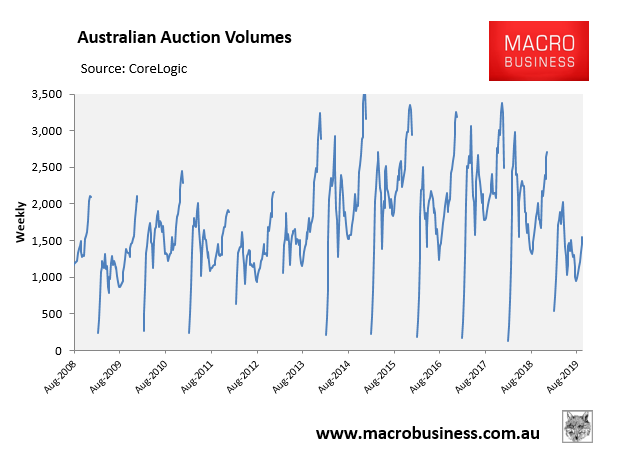 Overall sales volumes are also running well below the decade average, according to CoreLogic; although they have improved marginally over recent months: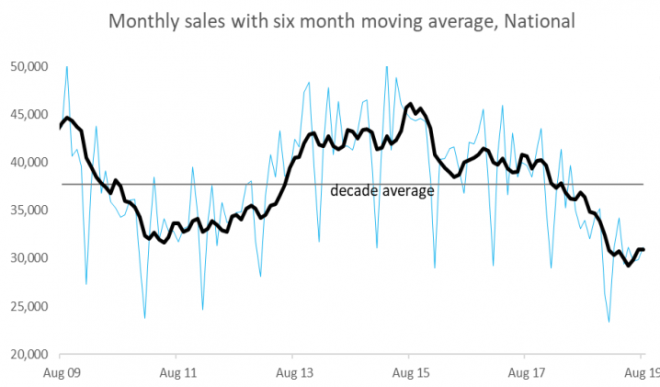 Therefore, the improvement in auction clearances and prices has occurred off a 'thin' market, reflecting a lack of homes available for sale: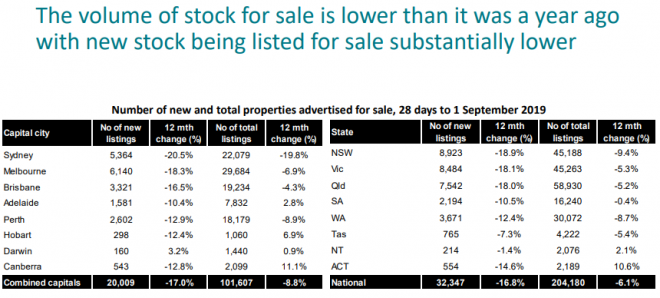 This suggests the price rebound is not as strong as it appears on the surface.
Housing finance commitments have also historically been a leading indicator for dwelling value growth; albeit not as timely as auction clearance rates.
As shown below, growth in the value of housing finance commitments (excluding refinancings) bottomed in March 2019 and has since rebounded: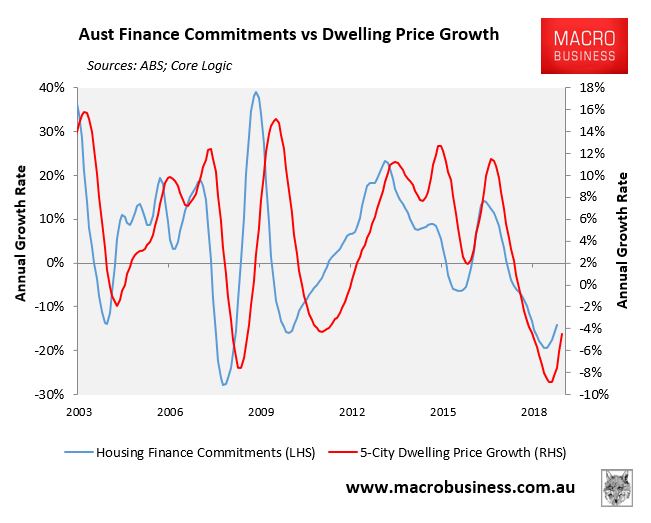 Therefore, like auction clearance rates, housing finance is also pointing to a rebound in dwelling values though not yet so strong.
Policy makers have engineered the rebound:
The turnaround in Australia's housing market was sown on 18 May 2019 when the Coalition unexpectedly won the Federal Election. Immediately, Labor's negative gearing and capital gains tax reforms were jettisoned and a 'property-friendly' regime was put in place.
*Prime Minister Scott Morrison's intention to support the housing market was signaled loud and clear a week prior to the election when he announced a surprise First Home Buyer (FHB) deposit subsidy scheme. Morrison admitted that this FHB scheme, which is due to come into effect on 1 January, had been devised by Australia's property lobby for the express purpose of lifting house prices: *
"We want to see more first-home buyers in the market, absolutely, and we don't want to see people's house prices go down" – Prime Minister Scott Morrison, 13 May 2019.
Since the election, we have witnessed Australia's financial regulators fall into line and launch a coordinated effort to support Australian housing values.
Just two days after the Federal Election, APRA announced that it would abolish its 7.25% minimum interest rate floor used in borrower loan serviceability assessments and replace it with a minimum interest rate buffer of 2.5% above the lender's mortgage rate.
These changes, which were finalised in July, are stimulatory for the housing market as they allow lenders to progressively lower their serviceability floor as the RBA cuts the cash rate, thereby enabling banks to extend bigger mortgages to more customers.
According to Fidelity International investment specialist, Anthony Doyle, "the APRA changes will improve the borrowing capacity of the average mortgagee by 8%. If you see two rate cuts by the Reserve Bank this year, the capacity of the mortgagee will increase by 15%". UBS similarly estimated that "APRA's removal of its interest rate serviceability floor may improve maximum borrowing capacity by around 14%".
Later in May, APRA loosened further, announcing that it would lower the standard mortgage risk weight applied to smaller Australian deposit-taking institutions (ADIs) by 10 basis points to 0.25%. This change is also stimulatory for housing as it will allow these smaller ADIs to hold less capital against mortgage lending and expand the amount of funds that can be lent (other things equal).
For its part, the Reserve Bank of Australia (RBA) has cut the cash rate three times since the election – in June, July and October – with the market predicting at least another rate cut.
These rate cuts will obviously increase the potency of APRA's relaxed interest-rate buffer, since loan serviceability requirements will now be eased proportionally as rates are cut.
As shown by the next chart from The AFR, mortgage serviceability floors have already been dramatically lowered across the Big Four banks, and this pre-dates the October rate cut: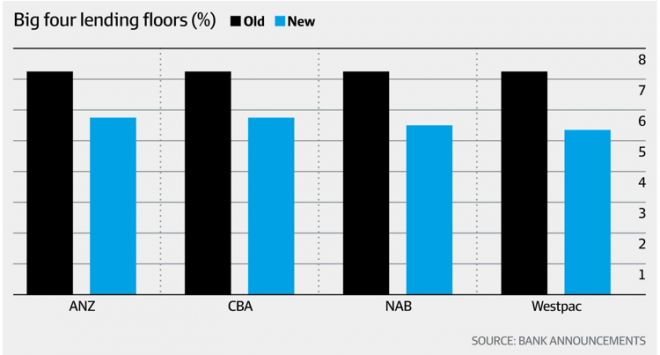 Moreover, these floors will continue to lower as the RBA makes future interest rate cuts.
The major banks have also slashed interest rates on a range of owner-occupier and investor mortgages. For example, Westpac and its subsidiary banks cut interest rates by between 15 basis points (owner-occupiers) and 130 basis points (fixed rate investors) in September. The CBA also announced that it would lower interest rates on a range of mortgage loans for owner-occupiers and property investors, from 10 basis points to 90 basis points.
On 13 August, ASIC lost its legal action against Westpac for breaching responsible lending laws and being overly reliant on the Household Expenditure Measure (HEM) – a relative poverty estimate – as their default credit assessment tool.
The Hayne Royal Commission's interim report found that "three out of every four home loans examined in the course of APRA's 2016/2017 targeted review into home lending practices… assumed that the borrower's household expenditures were equal to the relevant HEM".
While the Hayne Royal Commission's final report did not explicitly outlaw the use of the HEM in assessing a borrowers' capacity, owing to the pending Westpac versus ASIC case, it did state that "both income and expenditure must be considered in first inquiring about, and then verifying, the customer's financial situation". The final report also implied that lenders must continue moving away from using the HEM in order to meet the responsible lending provisions of the NCCP Act.
According to Endeavour Equities, using the HEM to measure borrower expenses "upwardly biased Debt Service to Income ratios by 10-15%", and "the size of the credit crunch is directly proportional to the unreasonableness of the HEM expenses benchmark".
However, the judge's ruling in the ASIC vs Westpac case undermined the Hayne Royal Commission's findings. Specifically, Justice Perram declared that banks should assess borrowers' ability to repay loans by looking primarily at their income, not their expenditure, and famously stated:
"I may eat wagyu beef every day washed down with the finest shiraz but, if I really want my new home, I can make do on much more modest fare".
That said, a newly updated HEM is reportedly in development that will more accurately match expenditure benchmarks with income.
This would constrain credit availability and prevent mortgage lending from returning to previous irresponsible 'boom time' levels.
According to UBS, this modified HEM should offset much of the monetary stimulus coming down the pipe:

ASIC has also appealed its case against Westpac to the Full Court of the Federal Court on the following grounds:
"ASIC consider that the Federal Court's decision creates uncertainty as to what is required for a lender to comply with its assessment obligation, nor does ASIC regard the decision as consistent with the legislative intention of the responsible lending regime…

The Credit Act imposes a number of legal obligations on credit providers, including the need to make reasonable inquiries about a borrower's financial circumstances, verifying information obtained from borrowers and making an assessment of whether a loan is unsuitable for the borrower".
Against this, the Federal Government is doing its best to push back against regulators being too stringent in enforcing responsible lending rules. In late September, Prime Minister Scott Morrison ordered "banks to keep lending", whereas Treasurer Josh Frydenberg warned that responsible lending rules could penalise "hard-working families" trying to get a mortgage and hurt the economy:
"It's in everyone's interest that the aspirations of hard-working families are not collateral damage in this regulatory process… Treasury estimates a 10 per cent increase in house prices could lift GDP by 1 per cent"…
"Given the key relationship between the health of the housing market and the wider economy, it is important that we continue to support the recovery that is underway" – Josh Frydenberg, 26 September 2019.
Photo: AFR
Essentially, the Morrison Government and its banker cronies have joined forces to neuter what is left of a well-meaning executive.
APRA has been show-trialed and corrupted.
The RBA has been summoned to the palace to explain why interest rates are not lower. And now the corporate regulator will be publicly shamed and legal process gutted to ensure that nothing prevents a return to mortgage fraud as quickly as possible.
While the situation is obviously fluid, we believe that Australia is likely facing significantly looser mortgage availability than existed pre-election, even if structurally tighter than the conditions that existed prior to the Hayne Royal Commission. This points to rising dwelling values, but not at the rampaging rates experienced during the 2013 to 2017 boom.
Domestic economic risks are rising:
While looser mortgage standards will provide strong tailwinds for Australia's housing market in the near term, the domestic economy will likely soften further into 2020, presenting downside risks for the housing market heading into 2021.
The biggest near-term risk is the heavy downturn in construction activity, which could easily wipe-out 100,000 to 150,000 jobs over the next 18 months.
According to the ABS' quarterly construction data, residential building activity fell by nearly 10% in the year to June 2018: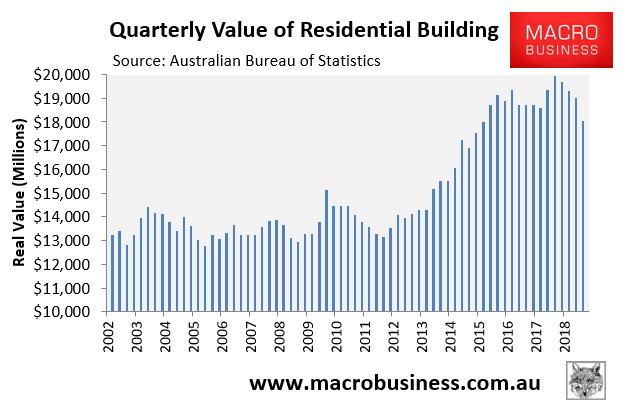 Dwelling approvals have also fallen off a cliff, down 30% from their peak, which points to a heavy construction downturn over the coming two years, given the long lead times between approvals and completions: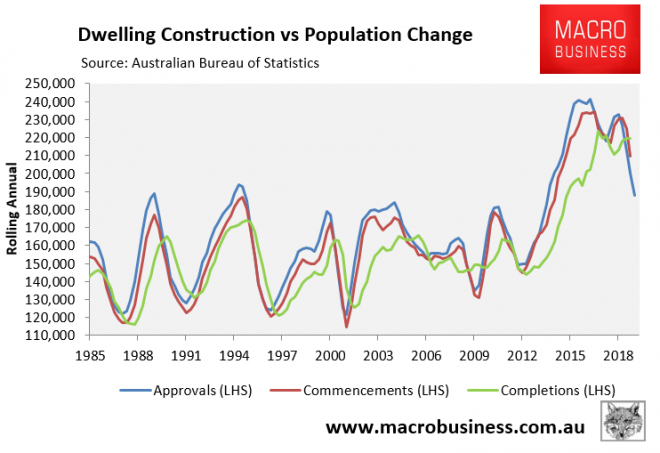 To date, the 10% decline in residential activity has yet to translate into construction job losses. In the year to August 2018, the number of Australians employed directly in construction increased to a near record high 1.2 million, accounting for 9.1% of total Australian jobs: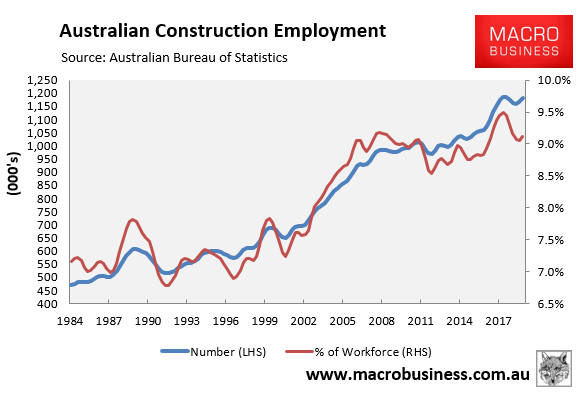 However, the heavy projected fall in dwelling construction, alongside falling infrastructure investment (see next chart), suggests construction jobs will retrench heavily over the period ahead.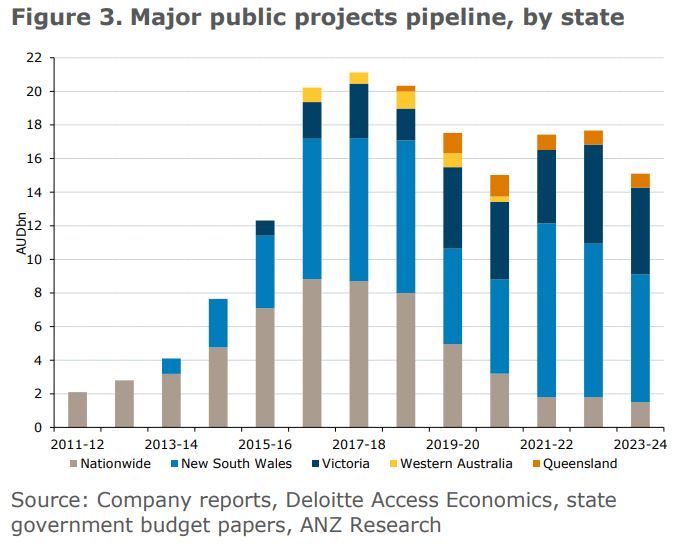 Indeed, construction job ads are a good leading indicator of employment. As shown in the next chart from UBS, construction job ads have declined by around 30% – commensurate with the decline in dwelling approvals – resulting in a "material drop in construction employment ahead":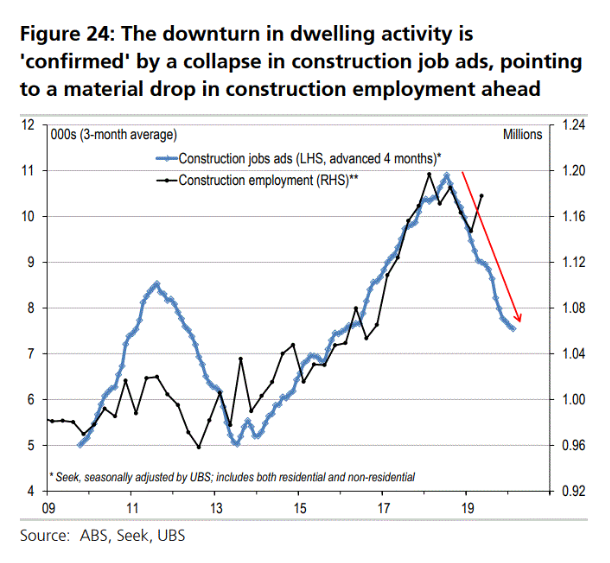 Moreover, overall job ads have fallen sharply, down 11% year-on-year in August, which points to wider job losses: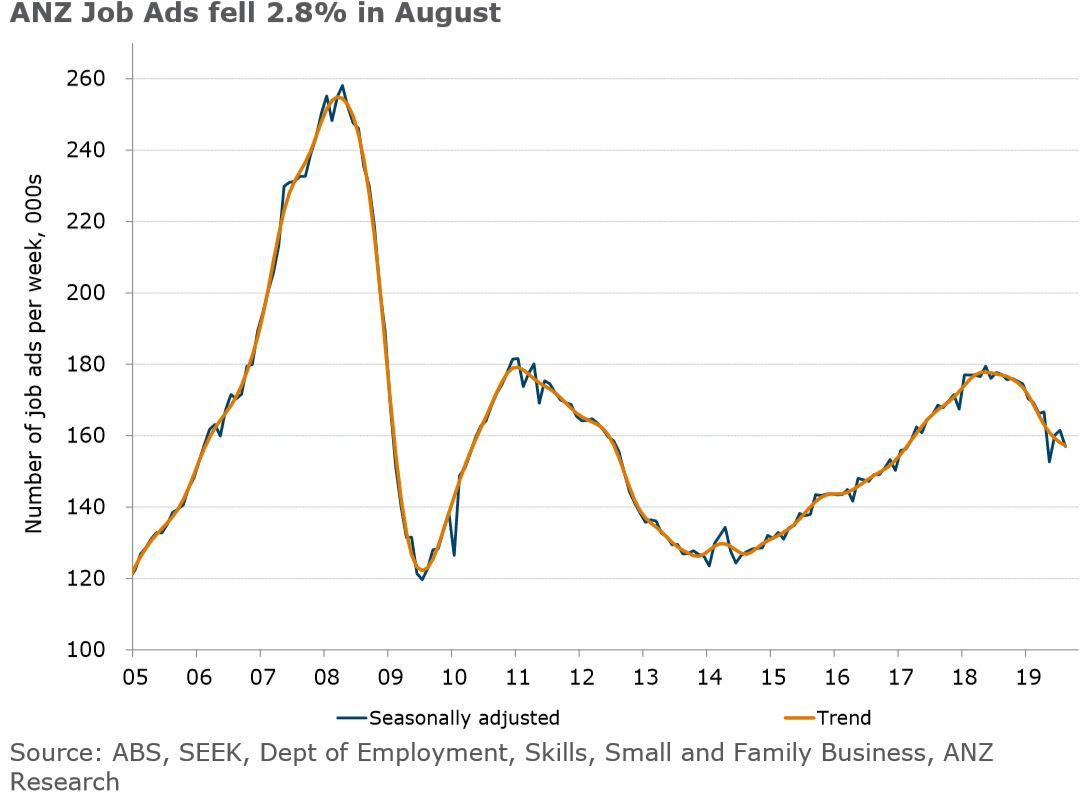 *Australia's authorities are hoping that the bounce in dwelling values will lift dwelling construction in due course. However we are skeptical that it can do so quickly or with any great substance. The reason is the extraordinary "defect crisis" that has swept east coast apartment markets.
*The use of flammable cladding, the rise of dodgy Chinese builders and "phoenixing" construction firms, and the shear unbridled pace of the last boom, has left a legacy of cracked foundations, towering infernos and shoddy workmanship across the sector.
Estimates of the remediation bill for these defects has run to as high as $1 trillion.
*This will leave a legacy of stalled buying interest and suppressed lending into the apartment sector, and it was this segment that boomed so powerfully during the last cycle.
The irony is that this supply-side paralysis may, in fact, drive buyers even more into existing property, creating a bizarrely low economic calorific rise in house prices.
All hail the consumer:
The other hoped upside from the forced lift in house prices is via consumption spending through the 'wealth effect'.
This is important because household consumption currently makes up around 55% of domestic demand: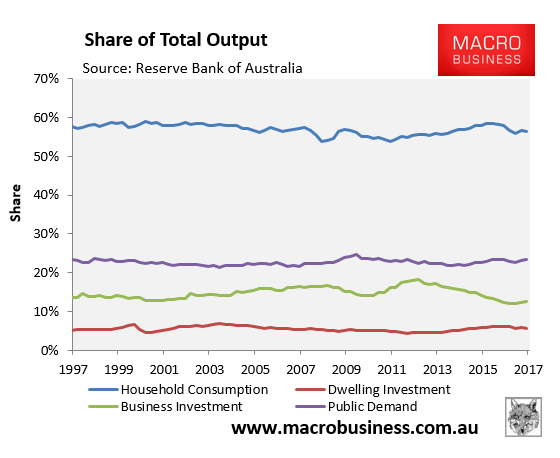 And growth in household consumption has plummeted to levels way below the historical average: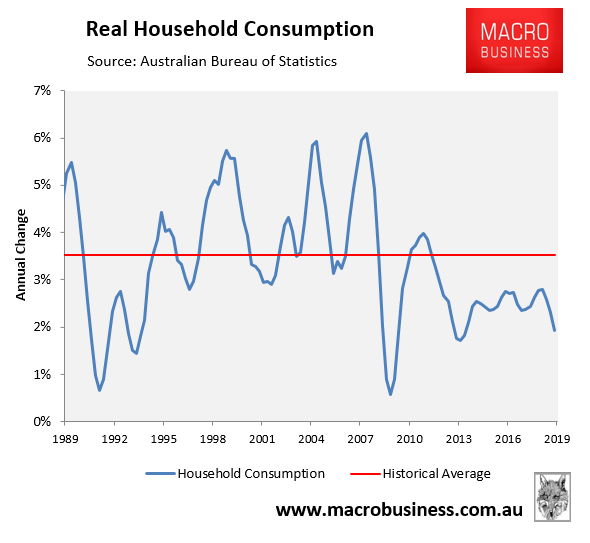 However, there are good reasons to believe that the 'wealth effect' on household consumption will be far smaller than previous house price booms.
*First, the household savings rate has already fallen to just 2.3%, the lowest since 2007: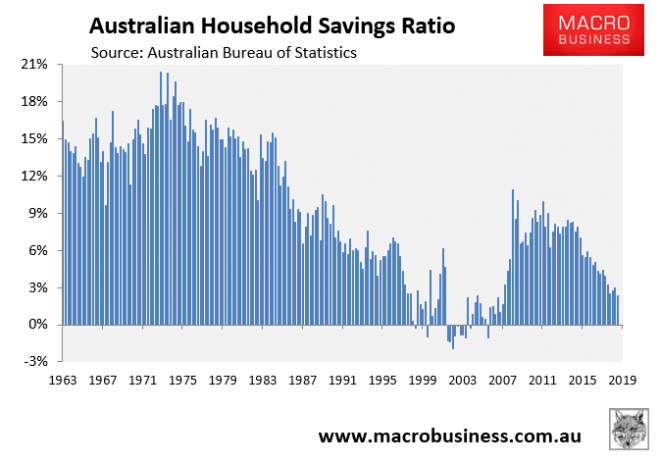 *Household debt is also the highest on record at 191% of disposable income as at June 2019: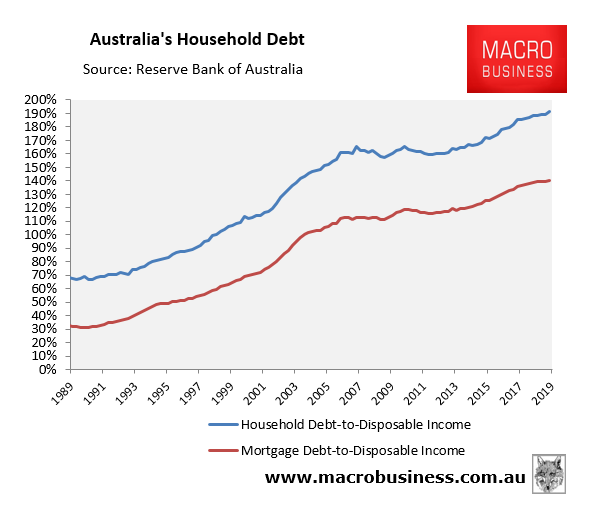 *Meanwhile, Australian households are enduring a seven year economic winter, whereby real per capita household disposable income is 0.5% lower today than it was in June 2012: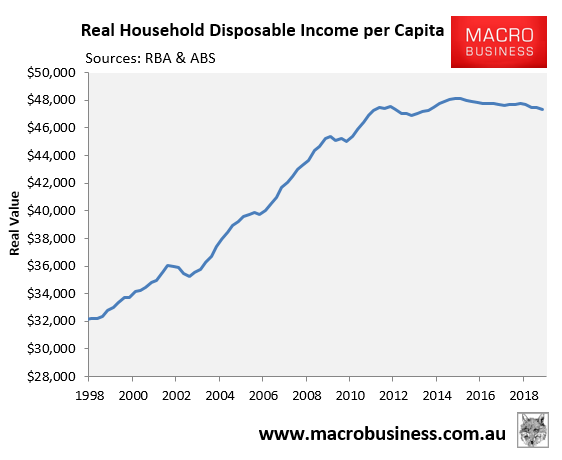 The upshot is that without income growth, and with debt levels already sky high, there is not a lot of scope for Australian consumers to lift their spending, despite interest rate cuts and rising house prices – a point acknowledged last month by RBA governor, Phil Lowe:
Photo: AFR
"Monetary policy has become less effective at the margin. Once upon a time, when we lowered interest rates, people would run off to the bank to borrow to kind of go on a holiday or buy furniture or kind of do some spending, they don't do that anymore" – Phil Lowe, 24 September 2019.
Indeed, the collapse in the stock of mortgage and personal loans, despite the cratering of interest rates, is proof that Australian households are dis-leveraging and paying-down debt: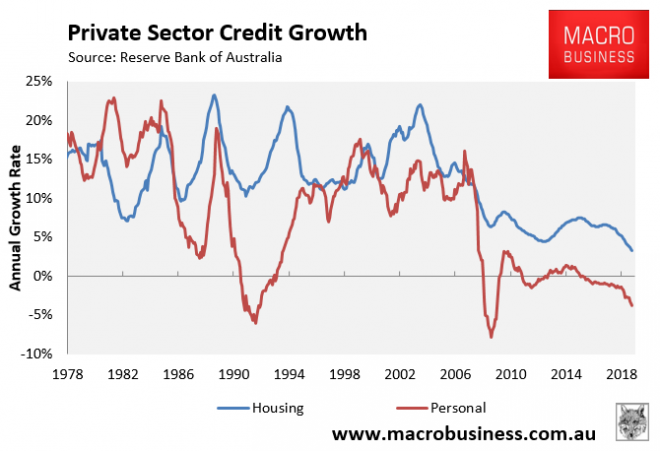 A recent round of $7 billion in tax cuts is also supposed to aid a consumer rebound but, for the same reasons, we see most of that also being saved and used to pay down debt.
The tax cuts are miscued given the private sector is retrenching. The money would have been better spent on traditional Keynesian stimulus.
Business investment treading water:
The June quarter national accounts revealed that growth in business investment has turned down and is running slightly below the historical average: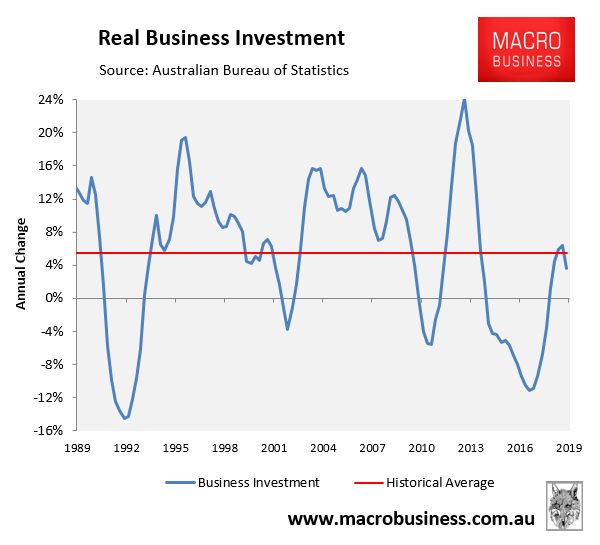 Based on the latest ABS Capex Expectations and NAB Business Surveys, we expect business investment – which accounts for 12% of overall final demand – to grow by around 1% in 2019-20. Therefore, it should add only slightly to overall final demand growth.

Economy on public sector life support:
With household consumption weakening and unlikely to recover to any significant degree, dwelling construction crashing, and business investment treading water, the Australian economy has become overly reliant on public spending, which is running well above historical averages: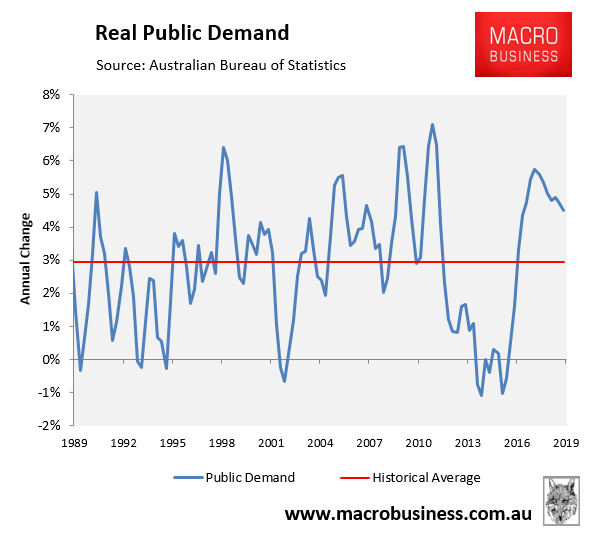 *In fact, public demand accounted for a whopping 62% of Australia's final demand growth in the 2018-19 financial year, making government spending the primary driver of the Australian economy.
This spending growth has arisen through several channels, including the ramp-up of the $22 billion a year National Disability Insurance Scheme (NDIS), as well as the boom in infrastructure projects, including the National Broadband Network (NBN).
However, the NBN's rollout is already past its peak, which is why the Major Public Projects Pipeline chart above falls all the way into 2020-21.
The story is similar for the NDIS, whose roll-out was expected to be competed by July 2019, with spending likely to peak this financial year.
Australia is running out of growth drivers:
The next chart tracking Australia's final demand by component summarises the dilemma facing the Australian economy over coming years: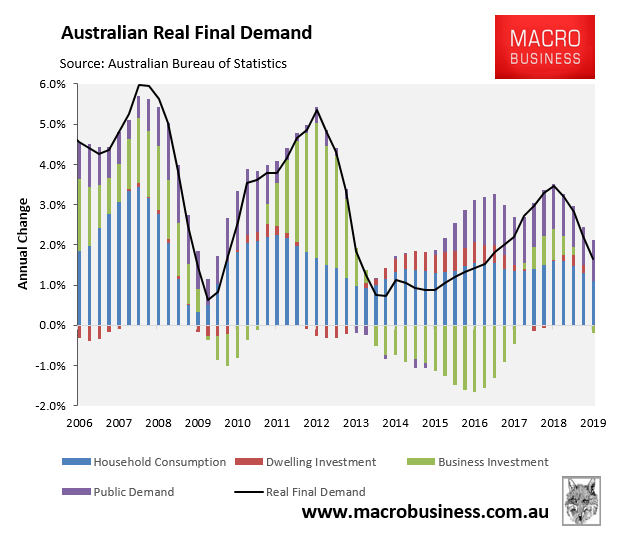 Australia's real final demand is already slowing fast, growing by just 1.7% in the year to June in seasonally adjusted terms.
As noted above, dwelling investment will fall over the next two years, subtracting from overall growth, and this will likely be only partly offset by business investment.
Public demand – currently the major growth driver – is likely to slow sharply as the NDIS and NBN move past peak spending, and this is unlikely to be offset by stronger growth in household consumption spending.
*The upshot is that real final domestic demand is likely to keep falling towards 1% over the next year, levels consistent with 2014/15.
External risks rising:
*Such an economy can be considered to be operating near to "stall speed". That in itself represents another headwind to house prices as unemployment also grinds higher.
*Secondly, such an economy is in no position to weather any other kind of shock. Yet that is precisely what we see transpiring in the global economy owing to a convergence of political risks that bear directly upon Australia:
the US/China trade war;
the Hong Kong insurrection, and
Brexit.
Of these, we are of the view that the trade war will not be resolved even if some kind of public relations deal is reached. The deterioration in US/China relations, and hardening of attitudes in the US political system, means more volatility ahead in the bilateral trade structure. Global supply chains will be henceforth be de-risked by shifting away from China regardless.*
*Hong Kong represents a standing risk that this process turns "nuclear". If the Chinese Communist Party forcefully intervenes in Hong Kong then that will derail foreign investment into China for a generation.
Finally, a "hard Brexit" is still odds-on favourite some time in the next six months meaning a Eurozone already stumbling into recession as its China exports fall will be hit by a second shock from Brexit.
*Combined, trade frictions as they are and Brexit are enough to push the global economy into technical recession around 2% growth. That will be enough to trigger greater stock market volatility, though not so great as to deepen a global recession. A Hong Kong crack-down would be severe enough.
Thus, our base case is a negative circumstance for commodity prices. The two that matter most to Australia, iron ore and coal, have been very strong since 2016 on rebounding Chinese and global growth plus supply side shocks. 2020 sees both of these tail winds reverse and iron ore dropping another 30% as the base case. Coking coal has already crashed 40% from its peaks with more ahead. Thermal coal is similar.
A nasty income shock is therefore already underway for Australia and it is going intensify into 2020 as the terms of trade take a whooping back towards (but not as low as) the 2015 shakeout: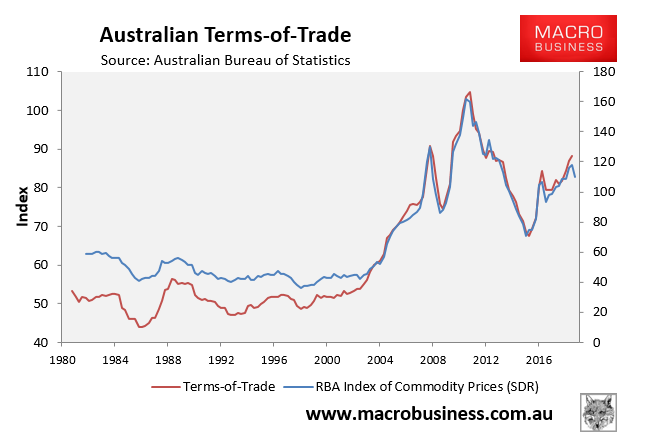 We know very well what this will do to the Australian economy:
national income and nominal growth will tumble;
the Budget surplus will evaporate and turn to deficit;
mining investment will fall;
wages growth will fall sharply.
While not specifically recessionary, these are very tough conditions for an economy already operating barely above stall speed. The income impacts in particular will make life very difficult for already strained households. At best, we can say that this will prevent any meaningful bounce in consumption and it may well intensify deleveraging. So it is likely to also lift unemployment.
At this point it is useful to recall what has happened to the Perth housing market in the past few years (see chart 1). The major difference between it and eastern cities was rising unemployment, along with lower but far from negative population growth. The result speaks for itself.
Is Australia's housing recovery a bull trap?
There are bull traps and there are bull traps. This one has the full faith and credit of the Australian sovereign behind it so it is not to be stepped around lightly.
We view it in terms of scenario analysis:
The base case of a 50% probability is for the current pent-up demand price takeoff to slow through the second half of 2020 as the above headwinds grow. Sydney and Melbourne could appreciate 10% apiece over the next year before prices plateau as Australia's structural growth and income problem worsens. Property prices then begin to lose value again in the medium term in real but not nominal terms as national income corrects lower around China's structural slowdown.
There are two 25% probability risk cases. The bearish case is that Hong Kong ends badly (or the trade war explodes into a capital war) and Chinese growth shunts lower. In that event, property would enter a double dip correction of an historic nature. See Perth.
The bullish risk case is that the world stumbles through and its longest ever business cycle keeps on keeping on via some kind of 'kick the can' trade deal.
The supply squeeze and defect crisis in Aussie property meets ongoing out-of-control immigration and government-forced credit to push another round of mad bidding into existing housing. That could trigger an echo boom until Australia's corrupt and broken regulators are forced to intervene somewhere around or above previous peaks owing to pulsating debt metrics.
The odds therefore suggest that this is a bull trap for Aussie property but how large, how painful and how fast is still up for grabs.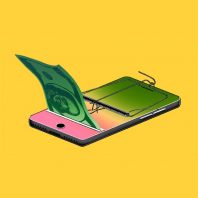 SOURCE: https://www.macrobusiness.com.au/2019/10/mb-q3-subscribers-report-is-australias-housing-recovery-a-bull-trap/
CAAN FACEBOOK:
https://www.facebook.com/Community-Action-Alliance-for-NSW-744190798994541/?ref=aymt_homepage_panel
WEBSITE:
https://caanhousinginequalitywithaussieslockedout.wordpress.com/