Photo: The Australian
CCP celebrates 70th birthday by abusing Australia
By Houses and Holes in Australian Politics
October 1, 2019 | comments
We begin with The Australian providing a platform to the Chinese diplomatic propaganda machine of ambassador Cheng ­Jingye who says Australia should ­remember it depends on China for its economic success:
…he said it could take ­another 30 years before China could be considered developed — a timeline that could deliver the country up to three more decades of concessional treatment under international trade and climate change agreements.
…"What China aims (for) is not domination of the world; we are aiming for a better life for our own people," he said. "Yes, we are going to grow richer and stronger. But we have no intention to seek ­hegemony, we have no intention to seek expansion, no intention to seek spheres of influence."
In a wide-ranging interview with The Australian to mark the anniversary, Mr Cheng:
declared Australia's relationship with the US should not be "at the expense" of China;
hit out at "unfounded" allegations of Chinese state-sponsored hacking and political interference in Australia's domestic affairs;
argued that China's military development was consistent with its economic growth and obligations as a UN Security Council member;
claimed the detention of up to two million people in the Muslim-dominated Xinjiang region was "not targeted at any religious group", and was no different from anti-terror measures undertaken by Western countries; and
pledged that detained Australian writer Yang Hengjun would get a fair trial but refused to detail the allegations against him.
And that he had just seen Elvis in the local mall.
Australia does rely on China to drive export revenue but it is nowhere near as dependent as made out. 95% of the revenue is cheap commodities, which are fungible, and they will get shipped regardless elsewhere.
If China cut off Aussie supply then we'd see price disruptions (up and down) and not much impact on GDP as volumes remained the same but went elsewhere. We're currently seeing this in thermal coal. Given China will keep slowing anyway this is all just a matter of timing so it's best not to listen to such drivel.
Where it might be more difficult is if people flows were cut off in education and tourism but that would in large part be offset by a falling AUD anyway.
As Chinese people flows have plateaued in the past year we've seen the AUD fall and other nations pick up the slack.
Also, a fall in Chinese numbers is very likely coming anyway as China is forced to protect itself from a currency crash so, again, why let it govern your policy stances?
Finally, the reason the CCP puts so much effort into corrupting Australia is because it needs commodities to support its growth-based social contract a lot more than Australia needs it.
In short, ignore the obnoxious CCP diplomatic corp. Or not, if you're a kow towing Labor, via Greg Sheridan:
Anthony Albanese and Richard Marles, Labor's leader and deputy leader, are taking their party on a dangerous, foolish, counterfactual, frequently plain wrong detour on China policy. Their strange new departure threatens the ­bipartisan nature of Australian strategic policy, threatens their own credibility, gives Beijing an incentive to bully Australia ­because it can rely on a quasi-­appeasement response from the opposition and therefore hurts Australia's national interests.

It is profoundly disappointing that Marles while in China did not raise the case of Australian citizen Yang Hengjun, who is in harsh ­detention in China, denied access to his lawyers and shackled while undergoing ritual interrogation sessions, all because he wrote some critical articles about the Chinese government. How can the deputy leader of the Labor Party go to China and not raise this case, in private or in public? Is Labor in favour of human rights except for human beings, especially Australians abused by the Beijing government?

Marles seems to have completed one of those Marco Polo-style journeys Australian politicians sometimes take, where on the road they discover Asia, especially China, with revolutionary new ­insights all unimagined before they left Australia.
I could not agree more. Marles is supposedly the ALP's biggest China hawk. This turn is both strategically stupid in that CCP just loves to kick the dog, is domestically dangerous as Chinese sharp power operations ramp up, and it is politically suicidal as the Australian polity's suspicions of Chinese interference hit record highs.
ScoMo smells blood in the water (notwithstanding "double agent" Gladys Liu), at the AFR:
The federal government has challenged Labor to spell out how it would fix the so-called "terrible" relationship with China as the split intensifies between the major parties over how to handle Australia's largest trading partner.

…A senior government figure, speaking on condition of anonymity, said the tensions which have infiltrated the relationship in recent years were a product of actions, not language.

These included the decision to ban Huawei from bidding for the 5G network and the introduction by the Turnbull government of foreign interference legislation.
Basically right though not entirely true. As Crikey notes:
However, Australian-Sino relations are now as bad as they have been since we established diplomatic ties just under half a century ago. As recently as March this year, China stopped unloading Australian imports because it didn't like a speech in Singapore by then-defence minister Christopher Pyne.

Recent visitors to Beijing say everyone in senior political positions is talking about Liberal backbencher Andrew Hastie's provocative anti-China op-ed in August and the mood is dark.
That said, why would we shut up, as Labor would like, given Hastie is right? The trade relationship is based upon national interest. It's not going to get disrupted by honest observations on the nature of the CCP. And if it does then such disruption is coming anyway as the values clash underpinning contrary systems comes to the fore owing to ours being disrupted.
Rounding us out, we turn to the ABC which reminds us, sensibly, that this is all about a criminal clique of cleptocratic fascists not the Chinese people: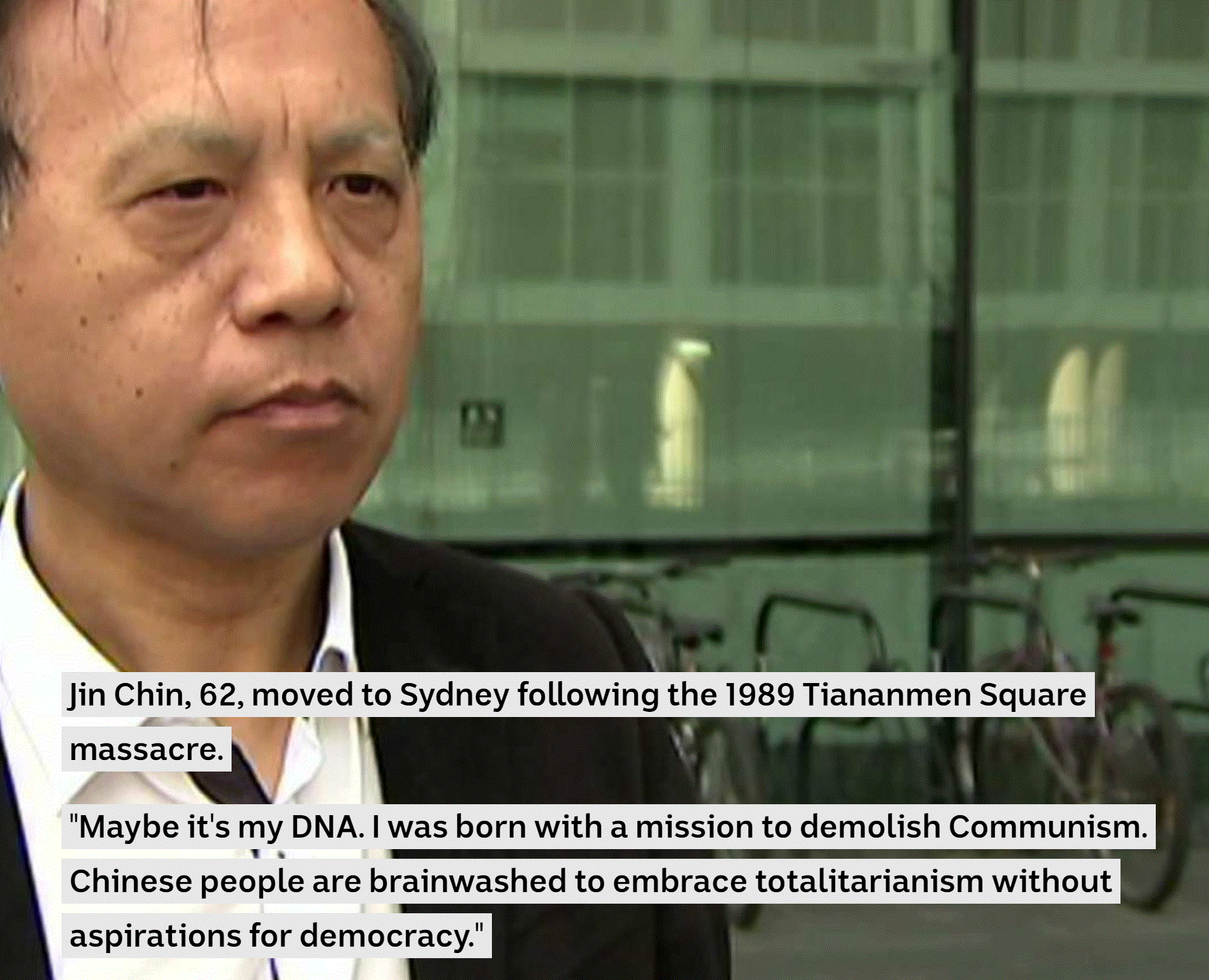 We can't do much to help the Chinese beyond supporting the US trade war. But we can, and must, prevent CCP poison from killing our own system.
Happy birthday, CCP.
SOURCE: https://www.macrobusiness.com.au/2019/10/ccp-celebrates-70th-birthday-by-abusing-australia/
CAAN FACEBOOK:
https://www.facebook.com/Community-Action-Alliance-for-NSW-744190798994541/?ref=aymt_homepage_panel
WEBSITE:
https://caanhousinginequalitywithaussieslockedout.wordpress.com/