DO you need somewhere to live?
DO you need problems like this?
The Berejiklian Govt now accuses the resident victims of devising a 'deliberate' loan strategy … but how did it come to this?
WHAT has happened with the urgent legal action concerning 'Peak Towers'?
Related Articles:
Photos Reveal how Mascot Towers Crisis could have been avoided!
https://caanhousinginequalitywithaussieslockedout.com/2019/08/30/photos-reveal-how-mascot-towers-crisis-could-have-been-avoided/
Soil Filled Water Cause of Mascot Towers Woes
https://caanhousinginequalitywithaussieslockedout.com/2019/08/30/soil-filled-water-cause-of-mascot-towers-woes/
'GUT WRENCHING': Mascot Towers owners say they face bankruptcy

September 24, 2019
The Berejiklian government has accused evacuated Mascot Towers residents of devising a "deliberate strategy" to force the state into paying for critical remediation work on the cracked building.
Residents from the apartments fear they will go bankrupt if they cannot access an urgent loan from the government to start restoration work.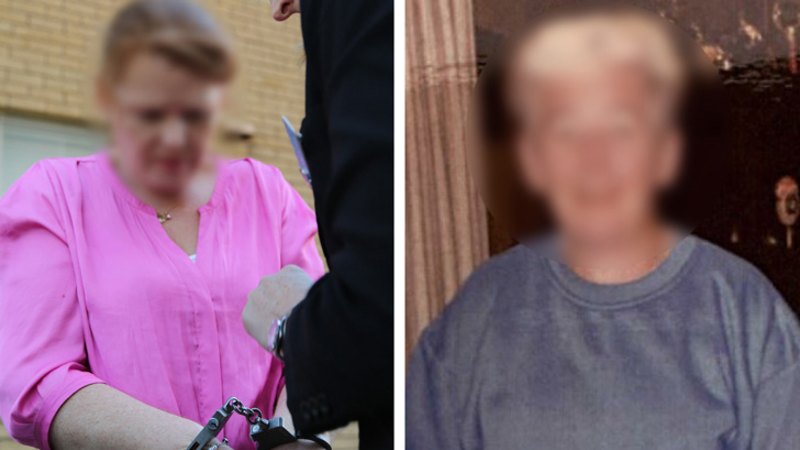 Play video1:06Residents from Mascot Towers ask for support from NSW state government
The residents have been forced to pay for repairs and say they need politicians to loan them the cash.
*Owners need to start paying special levies of between $5000 and $14,000 a month for the next nine months to ensure the apartment block can be stabilised before summer.
But many owners say they cannot manage repayments and are pleading for financial assistance in the form of low-interest loans from the government.
But a spokesman for Better Regulation Minister Kevin Anderson said the office had been told the special levy was a "deliberate strategy to make the repayments unserviceable for most owners in an attempt to force the government's hand to pay for the remediation work."
The spokesman said the residents were "divided over the decision to pursue a special levy".
Asked if the government would consider loans, Mr Anderson told Parliament on Tuesday that rental assistance for Mascot Towers residents had been extended by six months.
He also "implored" insurance companies to finalise claims and "release the funding" so residents would have access to money to pay the special levies.
Owner Brian Tucker, who was in the public gallery for question time, said he was "extremely disappointed" by the suggestion that displaced owners had devised a scheme.
"This is simply not true. We had to raise money for this work and our legal advice was that a high interest loan over 15 to 20 years was not in the best interest for owners," he said.
He said he felt questions to the government about loan options had been "fobbed off".
"Rental accommodation assistance has been fantastic, I don't know how we would have coped without it, but the bottom line is that the building has to be fixed before the weather heats up," Mr Tucker said.
"Our engineer says there will be thermal pressures on the building which will exacerbate any problems that we have."
Mr Tucker said residents could not delay works starting but also could not access bank loans.
"This is something that is very urgent, we don't have the money to come up with between $5000 and $14,000 … that's a huge amount for anyone," he said.
"Through no fault of our own we have been put in this situation and it is so depressing and upsetting and just so gut wrenching."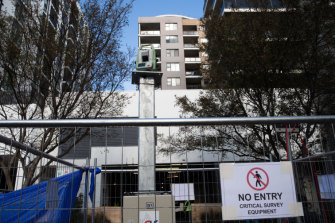 Mr Tucker said he did not expect insurance companies would "be coming up with any substantial money in the near future".
Another owner, Thomas Deakin, said many residents would be financially ruined.
"A lot of people are facing bankruptcy," he said.
His partner, Kasumi Kimato, said it was devastating to be homeless with a three-year-old son.
"We do all the right things, pay all the taxes, we saved the money to buy a place to live in. It's so unfair," Ms Kimato said.
Labor's spokesman for building reform Yasmin Catley said work needed to start immediately.
"This is an emergency. These people need to have some assistance so they can start the remediation work or else the engineers report says the building could become commercially unviable," she said.
She said the building commissioner had advised that low-interest loans were "one of the answers" at a recent parliamentary inquiry.
RELATED ARTICLE
The spokesman for Mr Anderson said the government has been "working closely with the owners, strata manager and building manager of Mascot Towers since the night of the evacuation to provide advice and financial support".
"Concerns have been raised with NSW Fair Trading by a number of owners in relation to financial decisions agreed to at the extraordinary general meeting. It is unclear why a strata loan payable and levied over 15 years was rejected in favour of a payment term of nine months, especially given the immediate subsequent advice from the owners corporation that a large number of owners would be unable to meet this obligation."
Alexandra Smith is the State Political Editor of The Sydney Morning Herald.
SOURCE: https://www.smh.com.au/politics/nsw/gut-wrenching-mascot-towers-owners-say-they-face-bankruptcy-20190924-p52uh3.html#comments
CAAN FACEBOOK:
https://www.facebook.com/Community-Action-Alliance-for-NSW-744190798994541/?ref=aymt_homepage_panel
WEBSITE:
https://caanhousinginequalitywithaussieslockedout.wordpress.com/