BRICKS are safer … hehe …
NOT that sub-standard building products are limited to high-rise towers …
NOT that deregulation has occurred across the property development industry …
NOT that there is anything preventing the same dodgy operators from moving across to the medium-density housing code of terraces, townhouses, triplex, duplex, Manor Homes, Villas …
IT is only because the low-rise Medium Density Housing Code has been delayed that perhaps some of these dodgy doers will hesitate, and may delay landbanking our suburbs … and outbidding aspiring Australian First Home Buyers …
LET's hope the apartment bust maintains … with 85 per cent or more of apartments defective on completion
THIS should no doubt be a major deterrant!
… many apartment owners remain unable to return to their homes in the OPAL TOWER and the MASCOT TOWERS … facing enormous legal fees for rectification …
WHILE developers Phoenix …
Brickworks MD "horrified" by flammable apartments
By Unconventional Economist in Australian Property
September 20, 2019 | 11 comments
Brickworks MD, Lindsay Partridge, says he is "horrified" by poor-quality building products and sub-standard construction practices, and has called for greater regulation and tighter controls. From The AFR:
Mr Partridge said he had personally seen situations of poor building work and materials. "There was a couple of ones that have horrified me"… [and] has put home owners at "serious risk".

There needs to be much tighter controls and tougher regulations put in place, he said.

"There's been an explosion of them in the past 10 years," he said of the sub-standard building products that had entered the market from rivals.

Australia's regulatory system had been failing, and there needed to be a much more robust approach with tougher on-site inspections…

"I think they could do with a bit more field experience," he said of the building inspection regime.
I don't want to take a shot at Lindsay Partridge, since Brickworks is not behind the sub-standard building products.
However, it is always curious to hear industry representatives lambasting dodgy practices long after the horse has bolted.
Where were the warnings five years ago when the dodgy building bubble was running rampant?
The fact of the matter is that the building industry chose to use materials and construction processes that were inferior, and these passed inspection by dodgy (or incompetent) private building certifiers.
The industry turned a blind eye because it was making mouth-watering profits. It is only now that the chickens have come home to roost that they are playing Monday morning quarterback.
Meanwhile, expect the apartment bust to continue.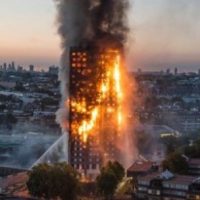 SOURCE: https://www.macrobusiness.com.au/2019/09/brickworks-md-horrified-by-flammable-apartments/
CAAN FACEBOOK:
https://www.facebook.com/Community-Action-Alliance-for-NSW-744190798994541/?ref=aymt_homepage_panel
WEBSITE:
https://caanhousinginequalitywithaussieslockedout.wordpress.com/