Illustration: Andrew Dyson

September 20, 2019 | comments
EXTRACT …
Liugate day whatever. The questions continue to mount. Today Domain has a good podcast on Gladys Liu, starring Dave Crowe and Chris Uhlmann, which leaks that Ms Liu addressed the Coalition party room on Hong Kong last week, leaving everyone bemused and concerned. At 15.40:
VIEW SOURCE LINK FOR PODCAST: https://www.macrobusiness.com.au/2019/09/what-did-gladys-liu-say-to-scomo-about-hong-kong-freedom/
What did she say? Why don't we know? Why is she buried in cotton wool?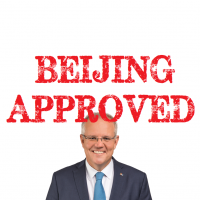 Shanghai Scott is off to Washington today. Perhaps the Americans can ask him what Gladys Liu said and they can tell us poor forgotten Australians.
SOURCE: https://www.macrobusiness.com.au/2019/09/what-did-gladys-liu-say-to-scomo-about-hong-kong-freedom/
CAAN FACEBOOK:
https://www.facebook.com/Community-Action-Alliance-for-NSW-744190798994541/?ref=aymt_homepage_panel
WEBSITE:
https://caanhousinginequalitywithaussieslockedout.wordpress.com/