'Under the code, certain types of medium density housing would be classified as "complying development," making it much easier for landowners and developers to gain development approval.'
'Complying development' means that the neighbours have no say about what goes up nextdoor … isn't this about fast-tracking development?
Meanwhile developers can 'landbank' many lots in a street as they come up for sale outbidding those seeking to buy a family home
'The code will apply only in areas where medium density housing is allowed' … unfortunately wherever a Council has previously allowed duplex development … developers can apply this Code!
-even for estates with lots less than 600M2, 500M2 such developments can be built forward of the setback
-will the Code continue to allow such dwellings to be higher than 2-storey homes?
-the code allows 10 terraces, a manor house – a block of 3 or 4 flats, and townhouses, and duplex on a 580M2 lot
VIEW CAAN Photos for the impact that the low-rise Medium-Density Housing Code will have on established low-rise zone communities!
CAAN Photo: Months of construction mess, excavation and relaying pipes
CAAN Photo: The street footpath and road excavated for new pipes. Neighbours lost easy access to their properties; tradie trucks parked out their street and neighbouring streets, noise pollution, dust!
Much of the 'exceptional local character' has already been eroded by NSW Inc …
CAAN Photo: Townhouse development in Lane Cove Electorate where there was one detached cottage now 6 or more townhouses with loss of garden and trees replaced with concrete and paving. A loss of privacy for the neighbours. More than 12 months of redevelopment from demolition to contruction and completion.
How can this Code benefit Australian first home buyers locked out when it is about maintaining the 'economic benefits' of the developer lobby to continue to market 'new homes' to foreign buyers 100% through the Foreign Investment Review Board ruling and the May 2017 Budget Regulation for developments of 49 dwellings or less?
Medium density housing code roll-out delayed after independent review

September 18, 2019
The NSW government will further delay implementing a code that makes it easier for landowners and developers to build terraces and other medium-density homes.
The medium density housing code came into effect in 2018. But the rollout of the policy – aimed at fast-tracking the approval process for "missing middle" housing such as terraces and manor houses – has been limited after nearly 50 councils obtained a deferral of the code until July this year.
Planning Minister Rob Stokes commissioned an independent review into the code after the one-year moratorium was lifted in July. Mr Stokes said at the time he hoped the code would be applied in more parts of Sydney by the end of the year.
But on Wednesday, the Department of Planning, Industry and Environment said that it would delay the implementation of the policy until July 2020.
This was in response to the review's recommendation that councils be given more time to change their local planning controls to prepare for the code.
Under the code, certain types of medium density housing would be classified as "complying development," making it much easier for landowners and developers to gain development approval.
The code will apply only in areas where medium density housing is allowed under planning laws developed by councils.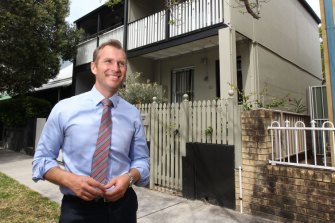 This means councils that are opposed to the code may be able to use the delays to try and change their planning laws.
The report, authored by UTS academics Roberta Ryan and Neil Selmon, said that councils were particularly concerned about the impact the code could have on the "local character" of established areas.
It noted that councils are currently preparing a clutch of new plans, including a local strategic planning statement, that are designed to inform the shape of future development in their areas.
"Given the significant concerns raised by council officers about the potential impact of the code on local character, and to allow time for local strategic planning work to be completed, we recommend that application of the code be further deferred until July 1, 2020," the report said.
The report recommended that some areas identified as being of "special local character" could be excluded from the code.
In its response to the review, the planning department said that the deferral of the code would be extended until next July for 45 councils.
Those council areas included Ryde, Canterbury-Bankstown, Hornsby, Inner West, Lane Cove, Mosman and Northern Beaches.
The code was "working well" in 82 council areas in NSW, the department said.
"The extension will allow councils to progress their strategic planning initiatives and demonstrate how they intend to meet their local housing needs," the department said in its response.
"The department will also use the time to work closely with councils to identify and map areas of exceptional local character."
The department said that the review "identified strong support for an increase in housing supply and diversity that the code seeks to provide.
"It also found that enhancing local character is important to the success of the code."
RELATED ARTICLE
The report's authors said that they understood that "the property industry, family and mid-sized developers are keen to see the code switched on without further delay.
"Ongoing deferrals can undermine certainty of investment and confidence in the planning system.
"The approach we are proposing will achieve improved understanding and acceptance of the code's intent and greater uptake of its provisions."
The authors also suggested the policy should be renamed the "two-storey housing diversity code" because research showed people often thought of "medium density" housing as three to five-storey apartment blocks.
Mr Stokes told an Urban Development Institute of Australia conference in Sydney on Wednesday that he was reviewing the report's 18 recommendations.
However, he is understood to be broadly supportive of its findings.
Urban Development Institute of Australia NSW chief executive Steve Mann said he would review the report in a bid to ensure that construction of "missing middle" homes could be achieved.
The report recommended that the implementation of the code be monitored for the first 21 months and then reviewed.
Megan Gorrey is the Urban Affairs reporter at the Sydney Morning Herald.
AND this is what the Low-rise Medium Density Housing Code will mean more of … for Sydneysiders … there may well be several demolitions and redevelopments happening simultaneously in your street!
CAAN Photo: large lot cleared for townhouse redevelopment in northern districts
CAAN Photo: 12 months or more of construction pollution of dust and noise; loss of privacy and many 'new neighbours'; area rezoned from R2 of large lots and detached homes for higher density of "Townhouses"!
CAAN Photo: A villa site initial preparation with asbestos removal; how many more have illegal removal?
SOURCE: https://www.smh.com.au/national/nsw/medium-density-housing-code-roll-out-delayed-after-independent-review-20190918-p52sha.html
CAAN FACEBOOK:
https://www.facebook.com/Community-Action-Alliance-for-NSW-744190798994541/?ref=aymt_homepage_panel
WEBSITE:
https://caanhousinginequalitywithaussieslockedout.wordpress.com/