WHY the BCA supports mass immigration and a 'Big Australia' because it means bigger markets, more customers to sell to, and lower wage costs
Key Points for what it means for Aussies …
–liveability, amenity and housing affordability been crushed
-our per capita GDP growth has underperformed
–a seven year recession in real per capita household disposable income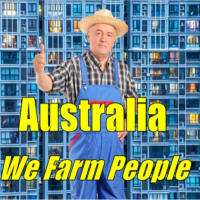 Business Council shill: 'Big Australia' will save economy
By Unconventional Economist in Australian Economy, Featured Article
September 19, 2019 | 26 comments
Adam Boyton, chief economist of the Business Council of Australia (BCA), has penned a spurious article claiming that mass immigration will prevent the Australian economy from experiencing the economic declines experienced in places like Japan and Europe:
One difference between the US on the one hand and the eurozone and Japan on the other is population growth. The US has a growing population. In Europe it's barely growing, and in Japan the population peaked some years ago and is now falling…

The US and Canada (and New Zealand and Australia for that matter) haven't fallen into a zero-interest-rate trap. Yes, interest rates in some of these economies might have been zero, but they have "escaped".

…Australia's skilled migration program brings a range of economic benefits. It adds to gross domestic product growth per person and hence helps increase living standards. It aids in the adoption of new technology and makes Australia more productive…
Of course, the BCA supports mass immigration and a 'Big Australia' because it means bigger markets, more customers to sell to, and lower wage costs.
But the outcome for ordinary residents has been an unmitigated disaster. Not only has liveability, amenity and housing affordability been crushed, but Australia's per capita GDP growth has underperformed other developed nations, including Japan and Europe, this decade: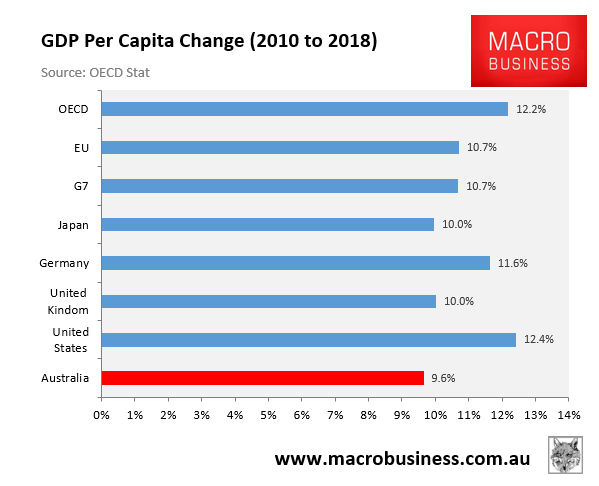 Australian households have also experienced a seven year recession in real per capita household disposable income (HDI), which has fallen by 0.5% over the past seven years: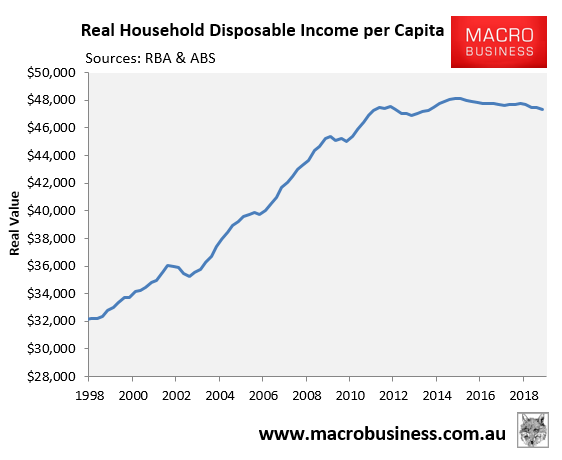 And Australia's real per capita HDI growth was the lowest among OECD nations over the five years to 2019: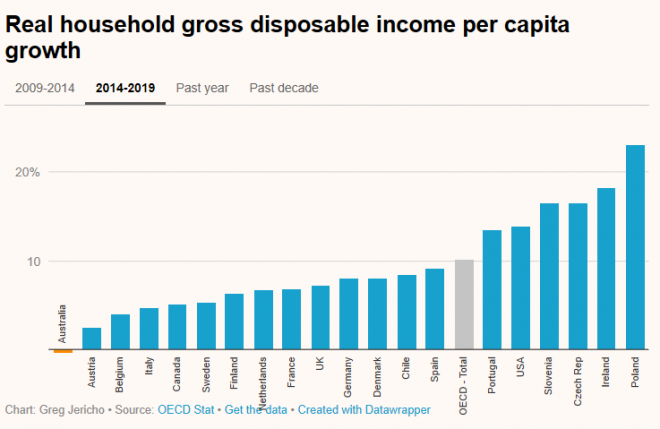 So how exactly is the Australian economy outperforming?
Household incomes are going backwards, and per capita GDP is in recession. It is only Australia's extreme population growth that is keeping Australia from a 'technical recession'.
And this is coming at the expense of productivity, amenity, housing affordability, and wage growth.
Per Capita outcomes are the primary measurements that Governments, economists and the media should be talking about.
But of course they wont, because it is much easier to import migrants and report headline GDP growth than actually earning it the hard way
Photo: AFR
SOURCE: https://www.macrobusiness.com.au/2019/09/business-council-shill-big-australia-will-save-economy/
CAAN FACEBOOK:
https://www.facebook.com/Community-Action-Alliance-for-NSW-744190798994541/?ref=aymt_homepage_panel
WEBSITE:
https://caanhousinginequalitywithaussieslockedout.wordpress.com/